Neighbors called shooting victim 'kind'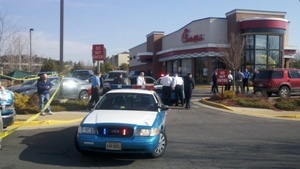 Update 3:30 p.m.
The victim in this morning's deadly shooting in Woodbridge has been identified as 48-year-old Alice Jenkins Everette, of Dumfries.
Neighbors say she was a kind woman with wonderful children, and say they are saddened by her tragic loss.
Her husband, 52-year-old Daniel Lunie Everette, of Burke, is charged with murder and use of a firearm in commission of a felony.
He was arrested following the shooting and is being held without bond, said Prince William police spokesman Jonathan Perok.
Everette was killed while inside of her car in the parking lot of a Chick-fil-A restaurant off Prince William Parkway.
Neither the victim nor her husband did enter the restaurant Thursday prior to the shooting, police said.
Everette lived with her three children in a home on Swans Creek Lane in Dumfires.
Outside the home today were Christmas decorations that still hung on above the door.
A neighbor who was too distraught to talk about the crime simply said Everete was a kind person with wonderful children.
Another neighbor said Everette would rarely come outside, and that her husband told neighbors she had disorder that kept her from wanting to come outside.
"I would see her husband mowing the lawn and I would ask him how his wife was doing. Lately there the house had been dark, with very few lights on as almost as if no one was home much of the time," said Cordula Dahal, whose lived in the neighborhood since 2000.
Everette would bring her children to trick or treat on Halloween, said neighbors.
Dahal said she would often see different cars parked in front of the house many nights during the week.
"This is a quiet community and we all have different schedules, and don't think any of us knew that things between her and her husband could've got this bad. It's just so sad," said Dahal.
Update 10:40 a.m.
Police say the victim in this morning's shooting was inside of her car when she was killed.
That car, a silver-colored sedan, remains at the scene in the parking lot of the restaurant covered up as a investigators appear to be searching it for evidence.
Police have one person in custody and are questioning him right now. They do not suspect anyone else to be involved, said Prince William police spokeswoman Jonathan Perok.
"It does appear the situation was domestic related. That's all were saying as far as we are interviewing at this time. We are not releasing relationship [of the victims]," said Perok.
The passenger side window on the car was shattered.
No one else was injured in teh shooting, and police did not say if the victim or the person being questioned was inside the restaurant priror to shots being fired.
Original Post 10:11 a.m.
Woodbridge, Va. –– A woman was shot and killed this morning in an apparent domestic dispute at a Chik-fil-A restaurant on Prince William Parkway in Woodbridge, police say.
The shooting occurred at 8:45 a.m. in the restaurant's parking lot, police say.
Investigators are on the scene but are releasing few additional details at this hour.
The restaurant has been closed off the public, and the normally busy shopping center that surrounds the fast food establishment is unusually quiet.
More as we have it on Twitter: @PotomacLocal
Post Your Email Notices, Press Releases, Event Fliers, and Photos
Subscribe to the weekday Breakfast Links email FREE!
Get
updates straight to your inbox.
Readers also enjoyed...
A word from our sponsors...