On a mission: Couple has helped others for 20 years
By URIAH KISER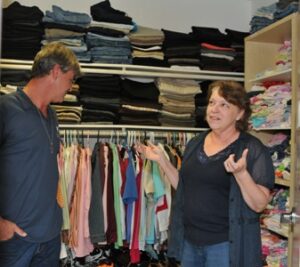 It takes two very dedicated people to run the homeless shelter in Woodbridge.
Gayle and Danny Sanders since 1990 have managed the shelter on U.S. 1, between Optiz and Dale boulevards, known as the Volunteers of America Chesapeake's Hilda Barg Homeless Prevention Center.
The shelter didn't get it's official name until it was upgraded in 1999, but Gayle and Danny call their program "AfterShare," because so many people who had once utilized the shelter's services have come back to donate their time by sorting and gathering donations, and simply helping out where they're needed.
It's a place that few expect to end up living in.
"We see a lot of single parents and their kids come in here because apartment rents have gone up, and it's hard for a single person to work a job and make enough money to live around here and support a family," said Gayle Sanders.
An island away from homelessness
Gale and Danny have made a sort of oasis for those who have lost their home, those who are looking to get off the streets, get out of tent camps, and have made a place for those who are working quit drinking.
If accepted into the program, there are nine rooms at the shelter that can accommodate 30 people for at least a month, provided they have a job.
If they follow the program's rules, which include abiding by a 9 p.m. curfew, and if they're making progress their stay can be extended up to 89 days.
The shelter has a full kitchen and dining room, a backyard playground, video room, library and computer lab, which makes it easier for residents to search for jobs, said Gayle.
A quest to help others
The sign on Gayle's door states "on a mission," a word that best describes she and Danny's life's work to help others.
Both met when they started volunteering at the shelter and then got married a year later.
Danny had his demons to overcome, which included alcohol abuse.
He credits his wife with helping him through the challenges, though Gayle doesn't like to credit for it.
Today he picks up donations for the center from big box stores, does word-of-mouth advertising for upcoming events – which includes a homeless prevention walk in Washington next month – and is a silent, sturdy rock for Gayle to lean on.
To this day, dealing with residents who don't want to change and ignore the shelter's ban on alcohol can be tough.
"There has to be rules here for structure, and a lot of people who come who don't want rules in their life. Those people can't stay here," said Danny.
At home
Gayle and Danny don't live far from the shelter, and they don't travel far for vacations either.
For Gayle, TV and Web sites, like social networking, news sites and sites about ending the homelessness problem in the U.S. take up most of her time.
For Danny, he's happy just to be able to relax and be near his wife.
"TV is like a mini vacation for us, and we watch at least one show together a night, and that's fine for us," said Gayle.
The couple also stays occupied with their young grandson, Lucas, who they say is the light in their life.
Solving the homeless problem
Prince William County officials in January counted how many people who were living without a home in the county. While the count can never be 100 percent accurate, officials say, 508 people were tallied in Prince William.
Of those, 191 of them were single and 317 of them were in families.
The number dropped two percent since the 2009 count, according to documents from the Washington Metropolitan Council of Governments.
Those numbers include those who are facing eviction from their home, those living in their cars, some who were living with friends or family and those who live in the woods.
The count is done each year in January, and it provides a snapshot of the homeless population in the region.
During the 2010 count, Gayle and Danny visited the woods in Dale City, near the homeless shelter, where they found at least 29 "active" tents that were home to some, though no one "home" for questioning.
Coming tomorrow: A snapshot of the homeless problem in Woodbridge, Northern Virginia region.
Post Your Email Notices, Press Releases, Event Fliers, and Photos
Subscribe to the weekday Breakfast Links email FREE!
Get
updates straight to your inbox.