Avoid these traffic hot spots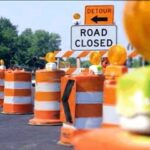 There are some major road construction projects that could leave you sitting in traffic this week if you don't avoid these areas, according to the Virginia Department of Transportation.
It's a good thing you checked here first before you got behind the wheel.
Fairfax County
-Drivers on Interstate 95 in Fairfax and Prince William counties, on both north and south stretches of the highway, should expect delays as the highway is being widened from Newington to the Occoquan River.
From 9:30 a.m. to 3:30 p.m. today until Thursday, from Va. 123 in to Newington in Fairfax County, the right or left lane of the northbound side of the highway could be closed.
On the southbound side, from Newington to Va. 123, it's much of the same. The right or left lane could be closed to traffic, from 8 a.m. until 2 p.m. Monday through Thursday.
-Construction crews will be doing milling and paving work on Va. 235 in Mt. Vernon, from U.S. 1 to the George Washington Parkway, from 8 a.m. to 4 p.m. starting today through Friday. A flagman will direct traffic around the work zone.
Stafford County
-Crews will be out filling potholes, installing reflectors in the road surface and doing bridge inspections along northbound Interstate 95 in Stafford County this week. The pothole repairs and reflector installation will take place from 9 p.m. Tuesday until 1 a.m. Wednesday.
The bridge inspection work will happen between 10 p.m. and 4 a.m. Monday through Wednesday.
-There's also ongoing construction on Va. 610 in North Stafford, at Joshua Road. Drivers are reminded that the lanes of the road have temporarily been shifted at that intersection and the posted speed limit at all times is 35 mph.
Post Your Email Notices, Press Releases, Event Fliers, and Photos
Subscribe to the weekday Breakfast Links email FREE!
Get
updates straight to your inbox.