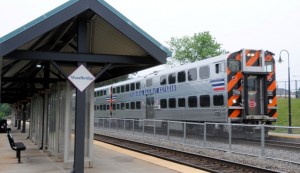 WOODBRIDGE, Va. – Virginia Railway Express' new express train was delayed during it inaugural run Monday.
The train left the Fredericksburg station on time at 5:15 a.m., but then hit delays in Stafford County and into Woodbridge, said VRE Board Chair Paul Milde.
Advertised as a train that will be able to get riders to Washington 25 minutes sooner than any other VRE train, the express pulled into Union Station about an hour behind schedule, according to VRE officials.
Trains that left the Fredericksburg station after the express train were also delayed.
Riders who took the express train were given free ride tickets for a future VRE ride, said Milde.
The new express, the first train on the Fredericksburg line each weekday morning, train does not serve each stop on the line.
After leaving Fredericksburg, it stops at the Leeland Road and Brooke stations in Stafford County, then at the Woodbridge station, then Alexandria and each station afterward.
Information form insidenova.com.