Traffic & Transit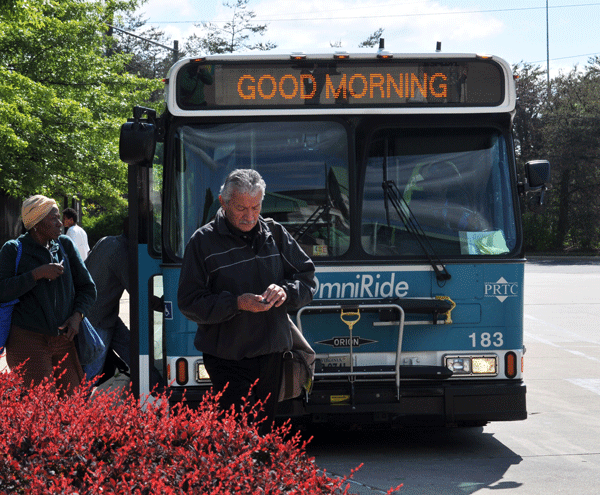 WOODBRIDGE, Va. – A new system will provide real-time information for local transit buses.
The Potomac and Rappahannock Transportation Commission on Nov. 19 deployed "Transit Now," a new technology that replaces old tech that supported the "Rider Express" email notification system that sends service alerts to passengers. The new system will be used in the same way but is directly tied into the computer aided dispatch system used by the commission's OmniRide and OmniLink buses.
PRTC spokeswoman Christine Rodrigo states the system is used for various of reasons:
We send a variety of messages through Rider Express. Most messages deal

with issues that affect the daily commute, such as delays because of an

accident or missed bus stops because a road is closed. Here are a few

other examples of messages that are sent through the system:

–ESP in effect because of winter weather or another type of emergency

–Holiday notices

–Public hearings about the PRTC budget

–Notification about transit studies that could impact our service area
Signing up for Rider Express is free. Those who were already registered for the Rider Express service will continue to receive notifications. 
The Cedar Rapids, IA-based company Trapeze, contracted to provide the Transit Now service, is still working out the kinks. A limit on the number of characters that could be included in a message needs to be relaxed. And, those using the Internet Explorer browser to use the Rider Express System will be prompted to download Java, according to PRTC documents. These modifications were expected to be made by Dec. 5.
The transit agency sent out the following notice to passengers informing them about the change and urging them to customize their accounts for more pinpointed information: 
Am I Still Registered to Receive Messages?

If you signed up for Rider Express messages in the past, you are now registered in the new system to receive messages for all routes and categories. However, if you subscribed only a phone number and did not provide an email address, you will still receive messages but you will not be able to log on to the new system to customize your account. In order to customize and take advantage of new features, those who subscribed only with a phone number should send an email to Omni@OmniRide.com (type Rider Express in the subject line) and list the phone number you previously registered and the email address that you would like to add to your account. PRTC will contact you once your account has been updated.

What do I Need to Do Now?

PRTC recommends that you customize your account to receive messages only about the routes you use. This will also allow you to take advantage of some new features that are now available! Please visit the Rider Express page on our website and follow these instructions:

• On the user login page, click "Generate New Password." (Your password was not saved in the old system and therefore, could not be exported to the new system.)

• Enter your previously registered email address and click "Submit."

• Open the email that will be sent to the address you previously registered and use the computer-generated password to log on to the new Rider Express site.

• Click the "Change Login Credentials" icon and follow instructions to change your password.

• NOTE: If you previously registered more than one email address, you now have more than one account and will need to follow these steps to register each email address.

• After establishing a new password, you can customize the types of alerts you want to receive and the time periods when you receive them.

• If you bookmarked the old Rider Express page, you will need to do so again to capture the new page.

Why was the Rider Express System Changed?

Because eventually, this new system will provide you with real-time data so you can more efficiently plan your trips and know exactly when your bus will arrive! PRTC anticipates that real-time data features will be available by Fall 2014.

What New Features are Available Now?

• Find the identification numbers for the bus stops you frequently use – If you know the identification number for your bus stop, you can set up alerts and get information about that location. If you don't know the identification number, simply enter an address or nearby intersection and you will see a map with information about all nearby bus stops.

• Receive stop-based alerts – Let's say you want to catch a bus at 4:05 p.m. at a particular bus stop. If you activate an alert for that bus stop, you will receive an email and/or text message at 3:55 p.m. reminding you that your bus is scheduled to arrive in 10 minutes. The alert also will inform you of the scheduled arrival times for the next two buses serving that bus stop. At first, this feature will be based on scheduled arrival times; later, when real-time information is available, the alerts will be based on up-to-the-minute data.

• Get information on all routes that serve a particular bus stop – From the main Rider Express page, you can select the bus stops you use most frequently and see a listing of all buses on all routes that serve that location, including scheduled arrival times.

• See links to PRTC's Service Updates – When you visit the Rider Express page on our website, not only will you see the features already discussed, but you also can have easy access to the most-up-to-date service advisories at a glance in the panel on the right side. Eventually this feature will also push out real-time alerts about your preferred routes via email and text message.
Posted in: NewsTraffic & Transit