Schools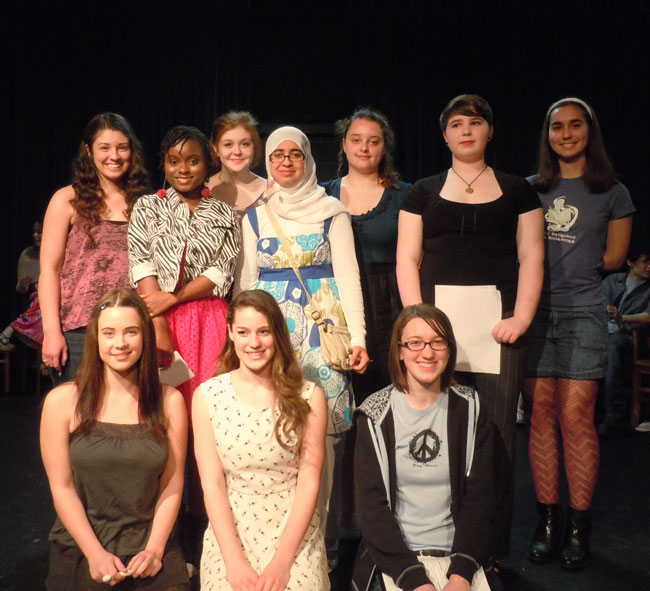 By RENEE ORDOOBADI
For Potomac Local News
WOODBRIDGE, Va. – For three years, Woodbridge Senior High School Center for the Fine and Performing Arts (CFPA) Creative Writing students performed self-written pieces at 'A Play on Words' for their friends and family. The event took place in the Studio Theater on Saturday.
CFPA is one of the many specialty programs that Woodbridge Senior High School offers. The program is broken down into various concentrations including Dance, Creative Writing, Music: Instrumental, Music: Vocal, Music Technology, Theater and Visual Arts.
'A Play on Words' gives freshman, sophomore, junior and senior CFPA Creative Writing students a chance to read fiction, nonfiction, poetry and script, all of which they have been working on since the beginning of the school year.
"I read a fictional piece called 'Heat Stroke.' The southern accent that I used came through partly involuntarily because I'm from Texas, but also because that is the accent I imagined my character would have," Junior Katelyn Portorreal said.
Portorreal admitted that she was completely terrified reading in front of the audience.
"Without Mrs. Hailey's (CFPA Creative Writing teacher) encouragement, I don't think I could have done it."
Mrs. Catherine Hailey said that her proudest moment was difficult to pin down.
"'Play on Words' is the only opportunity I have to listen to students read straight through – beginning with freshmen and ending with seniors – so it's a real testimony to the growth that occurs in our program. I feel pride in seeing that growth and knowing I've contributed in some small way," Hailey said.
Hailey was especially pleased seeing Maria Schleh's script 'The Firing Squad' performed.
"It was longer than we would usually pick for 'A Play on Words,' but hearing multiple voices made it very powerful for the audience. I was also pleased to hear Katelyn Portorreal read her fiction excerpt since she has often been hesitant to read in front of large groups. She told me later that she was glad she read, and I hope it is a turning point for her," Hailey said.
Hailey was not the only one enthused by the students' performances.
Junior Mikayla Thompson, who read a nonfiction piece about art and what it means it her, claimed that her parents enjoyed hearing her read.
"They were super proud when I got up there. They told me I was very elegant and poised," Thompson said.
Besides the senior showcases, which are on May 29, 'A Play on Words' is one of the last chances for CFPA Creative Writing seniors to perform their work in high school.
"I read my poem, 'Thoughts (The Consequence of a Rumor)' which is actually going to be in Eddas! (Eddas is Woodbridge Senior High School's lterary and ats magazine.) This is my first time getting published in Eddas," Senior Kadie Bennis said.
Bennis said that reading in front of people has slowly become easier for her.
"After having four years of reading in front of a big audience on a microphone, I was quite comfortable with it; not to mention I was with some really awesome friends I've known and been with since freshmen year. Through the years, I've learned to experiment with different styles of writing and I actually learned to revise my works based on other people's critiques," Bennis said.
Renee Ordoobadi is a student at Woodbridge Senior High School.
Posted in: Lifestyle Prince WilliamSchoolsWoodbridge