Politics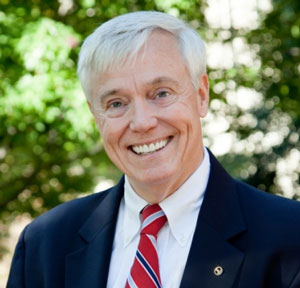 William "Bill" Howell has served as the 54th Speaker of the Virginia House of Delegates since 2003. He was first elected as a delegate representing the 28th House district in 1987 and remains unopposed.
Howell has a juris doctor degree from the University of Virginia School of Law and is an attorney practicing trust and estate law in Falmouth, Va.
During the last legislative session, Howell supported Gov. Bob McDonnell's transportation reform package, which will do away with the retail gasoline tax and raise the state's sales tax in an effort to fund repairs to roads and highways.
In recent news, Howell says he is pleased with budget for the fiscal year 2013. He says the surplus of a $261 million revenue surplus is an indication of good financial management.
"We've been able to manage our affairs in such a way that we've had four years of significant surpluses and I think that's very important," says Howell. "It shows that the government is run efficiently and effectively and the fact that we've been able to achieve those surpluses without any increase in taxes speaks volumes on how well we can manage our affairs."
Education
Along with teacher pay and retention, Howell says the General Assembly will need to address the issue of accountability.
"I think we need to have more opportunities or alternatives for people that are in public school systems that aren't performing," he says. "You want to get the best people that you can as our teachers, but by the same token they need to be held accountable and to do a good job."
Last winter, the General Assembly passed legislation that will assign an A-F letter grade for public schools in Virginia to measure performance. The bill is part of Gov. Bob McDonnell's education reform and is set to go into effect this fall. Howell says he supports this reform as a means to assure that schools are being held responsible.
"It is an example of the local schools being accountable to the parents who have children within that system," says Howell. "They now can look and see how their school is stacking up compared with other schools."
Obamacare
Howell says he is afraid that Obamacare will have a harmful effect to Virginia. He says it will end up increasing the cost of insurance for people who buy it on their own as well as cause employers to make significant hourly cuts.
"We already see companies changing their plans significantly," says Howell. "I think that it's a bill that is going to be difficult to implement and can be very detrimental to the country."
Economic Development and Jobs
Going forward, Howell says that the economy and jobs are still important issues that need to be addressed in Virginia, regardless of the success of the last legislative session.
"The economy is very fragile, it's been a weak recovery and I think that's the number one issue that is on people's minds right now," says Howell. "We need to continue to do what we've done very effectively the last few years and that is maintain a climate that is conducive to new businesses that are starting in Virginia or moving to Virginia."
Additionally, Howell says Virginia's education and transportation system as well as high rankings as a business state have all made fundamental improvements.
Posted in: News Politics Project ElectionVa. House 28