Crime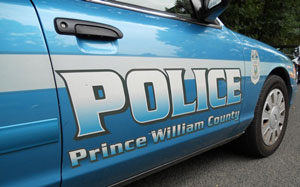 DALE CITY, Va. - On October 28, a 33-year-old man told police that he saw a red SUV approach the front of his home and fire shots at him and his friend twice. According to the report, there were no injuries, damage, or description of the driver or passengers.
Here's the latest from Prince William police: 
Discharging a Firearm from a Vehicle | Attempted Malicious Wounding – On October 28th at 0:11PM, officers responded to the 4100 block of Hoffman Dr in Woodbridge (22193) to investigate a shots fired call. The victim, a 33 year old man of Woodbridge, reported to police that he and a known acquaintance were standing in his yard when an unknown, red SUV pulled in front of the residence. Once stopped, an occupant of the SUV reportedly shot towards the victim and his acquaintance. The vehicle then continued down Hoffman Dr before making a U-turn and approaching the residence where the occupant fired towards the victim and the acquaintance a second time. No injuries or property damage were reported. Following the incident, the vehicle fled the area at a high rate of speed. No description of the driver or its occupants was provided to police. The incident does not appear to be random.
Posted in: Crime Dale CityNewsPrince William