News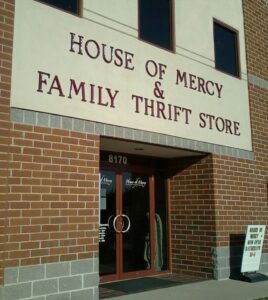 Using the data collection online tool city-data.com, the House of Mercy has determined that the nonprofit humanitarian organization, located in Manassas, serves about 16 percent of the poor overall in targeted areas of Greater Manassas combined, helping up to 34 percent of impoverished residents in some communities.
That's according to Ann Cimini, the agency's executive director, who said that House of Mercy clients number 1,575 of 10,089 poor and low-income residents throughout Manassas Park and the Census Designated Places (CDPs) of Buckhall, Bull Run and Loch Lomond, all in Greater Manassas, and the unincorporated Manassas communities of Wellington and West Gate. The figures are based on House of Mercy registered-client totals at the beginning of October and information on city-data.com on each area's population below the poverty rate, she said.
House of Mercy provides free food and clothing to its clients, which also include 84 families in Woodbridge, 36 in Bristow and 33 in Gainesville, said Cimini. The agency serves clients in almost all towns surrounding Manassas, she said. The average size of families that House of Mercy serves is 3.5 people, she said.
The City of Manassas was not included in the agency's report, which also excluded figures for the unincorporated Manassas community of Sudley Springs and Greater Manassas CDPs Sudley (which includes SplashDown Waterpark), Independent Hill and Yorkshire. The report focuses only on Greater Manassas areas where House of Mercy serves the most residents in need, Cimini said.
At nearly 34 percent, Loch Lomond, located about a mile and a half north of the City of Manassas, has the highest percentage of poor and low-income residents served by House of Mercy, Cimini said. The agency's clients include 215 of the neighborhood's 640 residents with income below the poverty rate, according to House of Mercy statistics. More than 27 percent of Loch Lomond's population live in poverty, based on figures for 2012 on city-data.com.
About 20 percent or 193 of West Gate's 976 poor and low-income residents are House of Mercy clients, the organization's report showed. According to data for 2009 on www.city-data.com, 8.4 percent of residents there live in poverty.
With 823 of the agency's clients residing in Wellington and 134 in Manassas Park, the agency serves slightly more than 16 percent of Wellington's 5,120 impoverished residents and 16.4 percent of Manassas Park's 816 community members living below the poverty rate, based on House of Mercy's statistics.
Greater Manassas areas the agency serves that have the lowest percentage of House of Mercy clients compared tototal number of poor and low-income residents include Bull Run, located about two miles northwest of Manassas city. The organization serves 8 percent or 210 clients of that CDP's 2,537 residents living below the poverty rate, based on the agency's report.
Buckhall, an expansive geographic area stretching from southeast to northwest nearly two miles south of Manassas city, has more than 23,000 poor and low-income residents, including 61 House of Mercy clients, according to the report. They all live in the Forest Park Mobile Home Community, the report stated.
While Manassas city was not included in the report, House of Mercy calculated that the agency serves more than 32 percent of residents living in Georgetown South, a Manassas neighborhood with among the highest poverty rates in the city, said Cimini. She noted that 651 House of Mercy clients live in the neighborhood, which has a population of 2,026 based on information on www.city-data.com, she said.
"This is a huge piece of information we've been missing. We know we're good at giving aid to people, but until now we weren't able to quantify our help's real value in the community,"said Cimini.
Such statistics are required on almost all grant applications, usually under the question, "How does the work you do impact your community?" she said.
The organization's goals include extending aid to more families to serve a greater percentage of those in need in the area, she said. However, the endeavor's success depends upon donations of money, food and clothing, and those are down in this troubled economy, while demand continues to grow, Cimini said.
To supplement food donations, House of Mercy purchases food from Capital Area Food Bank, the largest nonprofit food bank in the Washington, D.C., area. Once ordering about twice a year, the agency now places an order at least every six weeks, Cimini said.
"Before this year, food donations kept up with demand, and we made strides in providing clients with healthful foods," she said. "Now we're spending close to $3,000 a year to ensure that our clients have protein, fresh fruits and vegetables, whole grain breads and cereals and low-sugar and low-salt canned goods."
-Press release submitted by House of Mercy
Posted in: Manassas