News
Honorees credited for service to community
The Boy Scouts of America honored a president and a first lady – both who work in Prince William County.
Melissa Robson, president of Novant Health in Northern Virginia at the Prince William and Haymarket medical centers, and Ernestine Jenkins, dubbed "first lady of the Neabsco District" and wife of Prince William Neabsco District Supervisor John Jenkins, both now have the honor of being "good scouts."
A celebration dinner honoring the two women was held Oct. 22 at the Hylton Performing Arts Center in Manassas. The dinner raised $10,000 for the Boy Scouts of America and their operations in Prince William.
Jenkins is the mother of three Eagle Scouts, the highest rank a Boy Scout can achieve. She is credited for staying active in scouting and the community while raising her sons, all while their father was serving in the Vietnam War. Today, Jenkins remains involved in the community as serves the organizer of the Dale City Forth of July Parade – the largest Independence Day parade in Virginia.
"My family keeps telling me to slow down but I don't listen. I still need to serve. There's still more years left in me," said Jenkins, 74.
Robson thanked the scouting organization during her acceptance speech for their work to beautify hospital grounds.
"Scouts have contributed to the community, and specifically Prince William Medical Center, by creating a mural, a coy pond, and our patients and their families to enjoy when they are visiting for in-patient at our facility," she said.
The highlight of the evening was when the audience heard from Eagle Scout Charlie Nelson, a 14-year-old student at C.D. Hylton High School in Woodbridge. Nelson recalled his time as a Cub Scout before graduating to the Boy Scouts, as well as the many activities he participated in during summer camps.
One year, his teacher asked the class to write a recap of their summer activities and then turn in the paper to be graded. Nelson said he had so much fun the previous summer he didn't know where to begin.
"I wrote about how I flew through trees and touched a bald eagle. I was saved from a rattlesnake, chased by a bear, and I shot two bullseyes and got the gold bear claw. I told them I was going to become an eagle [scout] one day," Nelson reminisced. "Unfortunately my teacher gave me a bad grade… she ended up telling my mother that I was very imaginative and that I needed to learn how to separate facts from make believe."
The crowd then burst into laughter.
Prince William County is home to Camp Snyder, a 325-acre camp that provides outdoor experiences for Boy Scout troops and Cub Scout packs.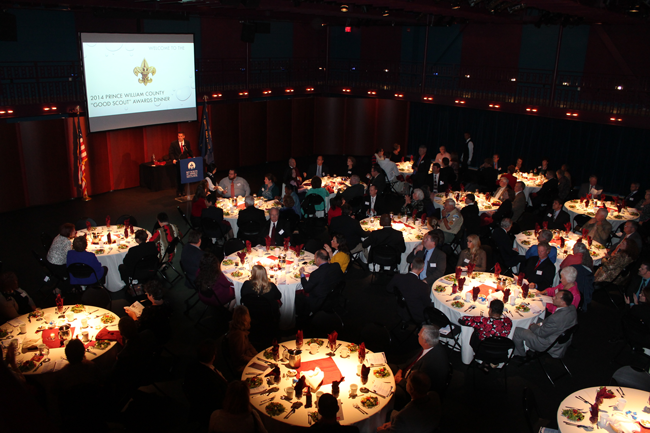 [nggallery id=277 template=dop-thumbnail-gallery]
Posted in: News