FREDERICKSBURG. Va. — The two major-party candidates in Virginia's 1st Congressional District wasted no time Monday night highlighting how they...
Keep Reading
More News »
Subscribe Now for Free!
Get
updates straight to your inbox.
Promoted Posts
Dr. Daniel Hampton at Sentara OrthoJoint Center at Sentara Northern Virginia Medical Center in Woodbridge reserves surgery as a last...
Keep Reading
Here are photos of Team Home Instead Senior Care of Manassas that participated in the Walk to End Alzheimer's in Manassas....
Keep Reading
Prince William County is home to many amazing historical sites, each with their own unique stories. Some of these stories...
Keep Reading
This is the third of six stories in our series that will examine the unique assignments within the Prince William County...
Keep Reading
After seven years in business, and having to turn away hundreds of tourists due to space limitations, the Manassas Junction...
Keep Reading
Diners in search of fast, novel, and delicious meals may soon have more choices as new rules enable food trucks...
Keep Reading
More Promoted Posts »
Submitted to Potomac Local: 
We are the only brick manufacturing facility in the area and was asked to host the SpecMix 500 Bricklayer Competition.

I apologize for the last minute invitation, but I'd like to invite you to attend our first bricklayer competition in this region on Thursday, Oct. 27 [9905 Godwin Drive, Manassas, VA  20110 at 11 a.m.].  There are 22 regional competitions. 

Winners will compete at the world championship in [Las] Vegas in January. Please see the website for full details.  The event itself is free. We are looking for spectators to come out and support these contestants and watch as these top masons compete for their spot. 

Our region have chosen to invite the American Cancer Society who has confirmed six volunteers for the event.  All proceeds from food purchases, games, and raffles will be contributed to the cancer society.
Keeping Reading...
Police across the region this past weekend participated in National Drug Take Back Day. 
From Manassas City Police: 
Manassas City Police participated once again along with numerous law enforcement agencies in the Twelfth National Drug Enforcement Administration (DEA) Drug Take Back Event.

Manassas City Police and volunteers from the Prince William County Citizens Police Academy Alumni Association and the community at large collected 451 pounds from citizens who brought their expired and unused prescription medications to Novant Health UVA Health Prince William Medical Center on Sudley Rd. The amount collected at the Manassas City site was larger than that at any other single collection site in Virginia State Police Division 7 this fall.

The amount collected at the Manassas City site was larger than that at any other single collection site in Virginia State Police Division 7 this fall.
From Manassas Park police: 
Manassas Park Police Department dropped off 22 pounds and had one volunteer.  Additionally, we have a permanent disposal drop box in our vestibule at 329 Manassas Drive.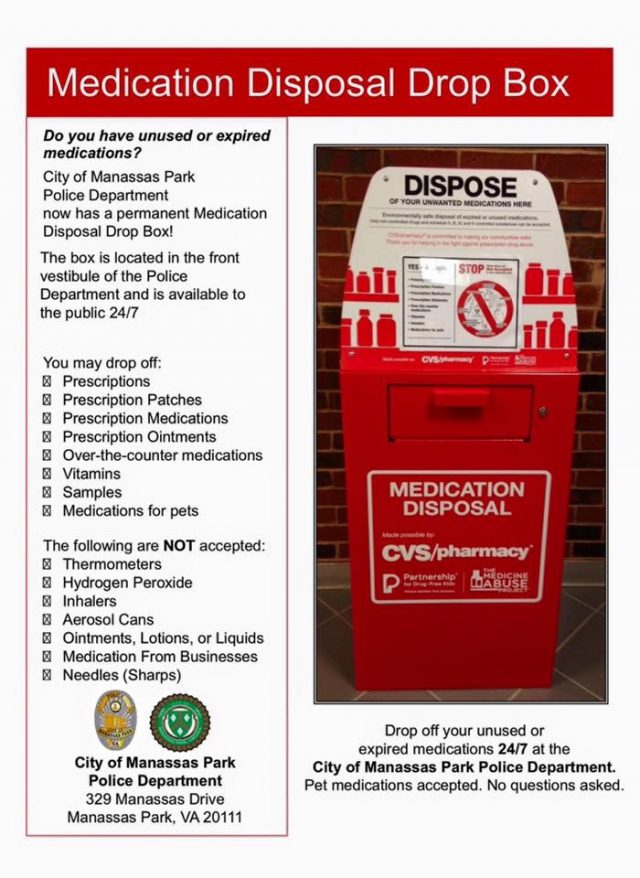 In Stafford County, volunteers collected 770 pounds of prescription medications.
The county's sheriff's office submitted these photos: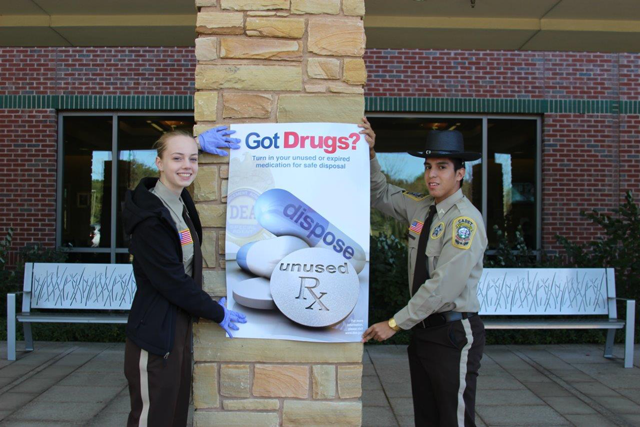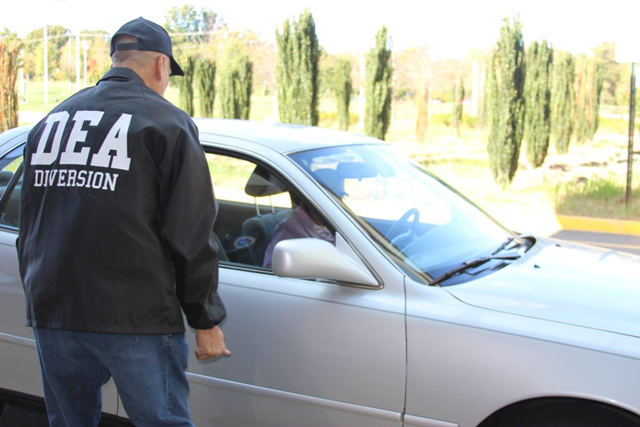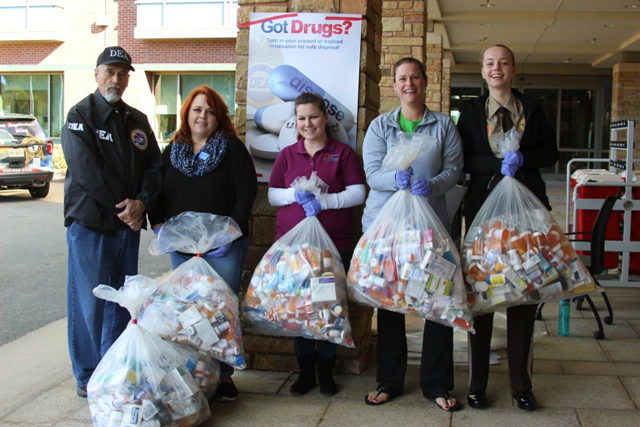 Keeping Reading...
From Prince William police: 
Commercial Burglary | Felony Eluding | Possession of Stolen Property – On October 17 at 2:12AM, Prince William County Police received a report about a possible drunk driver from Manassas City Police. Officers located and attempted to stop the vehicle in the area of the Prince William Pkwy near Black Forest Ln in Woodbridge (22192). The driver initially slowed the vehicle and traveled to the intersection of Touchtone Cir where it stopped.

When officers approached the vehicle, the driver quickly accelerated and fled onto Old Bridge Rd. Officers pursued the vehicle to the area of West Ridge Dr where the driver made a sudden stop and exited before fleeing on foot. Additional officers responded and located the driver, the accused, a short time later. The accused was determined to be under the influence of alcohol and was detained without further incident.

Upon checking the vehicle, officers determined that the license plates displayed were stolen. Following the investigation, the accused, identified as Timothy Lawrence HORTON Sr., was arrested. On October 20, officers further discovered that the vehicle used by the accused was stolen from a burglary at Cowles Ford on October 14. After learning of the burglary and vehicle theft, officers obtained additional warrants which were served on the accused at the Adult Detention Center.

Arrested on October 17:

Timothy Lawrence HORTON, Sr., 56, of 3871 Graham Park Rd, #105, in Triangle

Charged with burglary, grand larceny, driving under the influence, felony eluding, obstruction of justice, possession of stolen property, driving on a revoked license and unreasonable refusal

Court Date: December 7, 2016 | Bond: Held WITHOUT Bond
Keeping Reading...
From Stafford County Fire and Rescue Department: 
As a reminder, On Wednesday, October 26th from 10:00-12:00 we will sort and distribute coats to the children of Stafford County. Please feel free to stop by and assist with this wonderful event as we ensure approximately 700 children will receive a new winter coat! The packing and distribution will take place at the Berea Fire/ Rescue Station located at 20 Sebring Dr Fredericksburg Va. (Behind the Falmouth Post Office off Warrenton Rd)
Keeping Reading...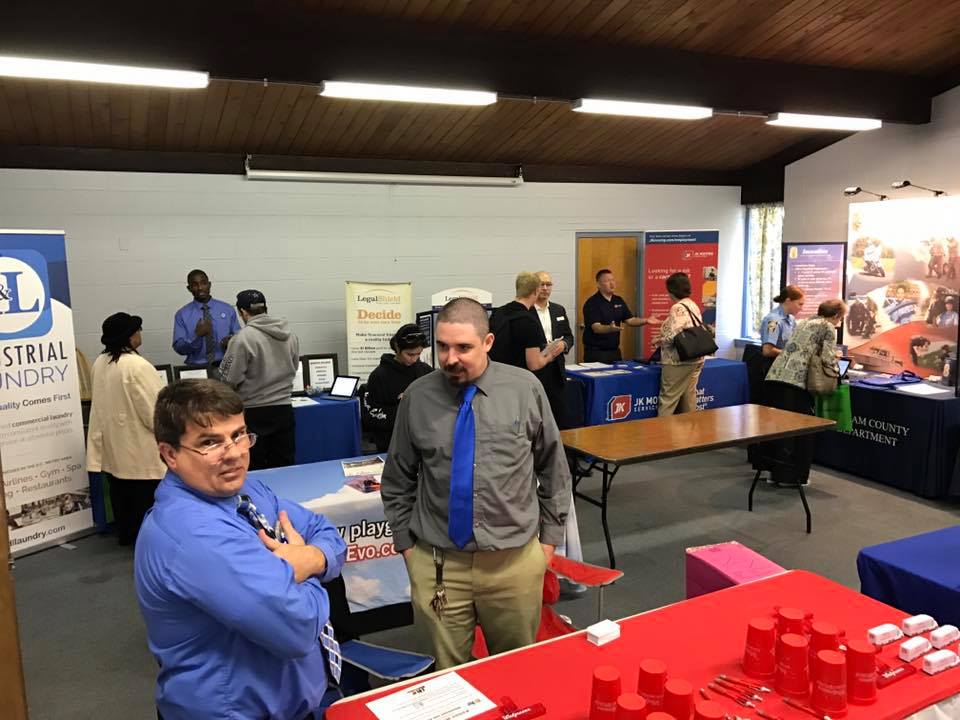 Manassas City Councilman Ian Lovejoy is sponsoring a job fair today goes until 6 p.m. at Bethel Evangelical Lutheran Church, located at 8712 Plantation Lane in Manassas.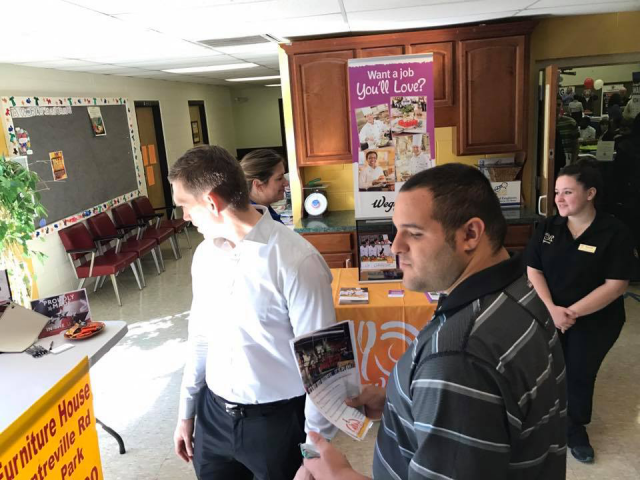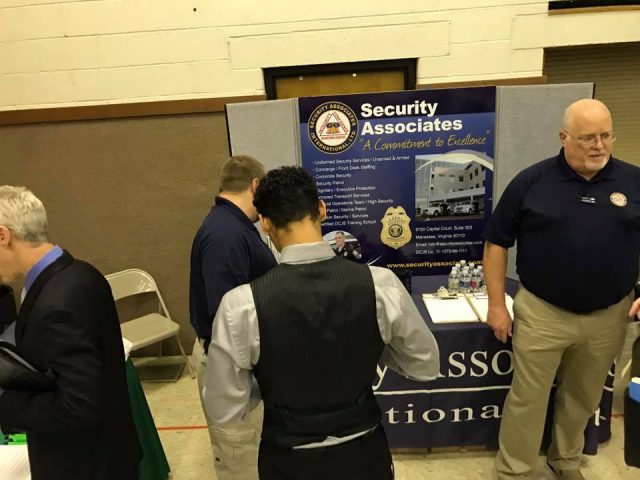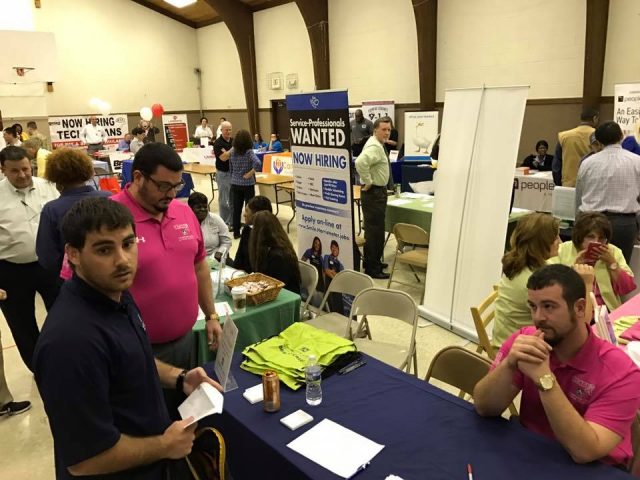 Keeping Reading...
The driver of a Nissan collided with a deer Monday in Falmouth. 
Emergency crews were called to the area of 125 West Cambridge Street about 4:20 p.m. Monday.
Initial reports indicate the deer damaged the rear of the car. One woman suffered injuries that did not appear to be life-threatening, according to initial information.
A Stafford County Sheriff's Deputy was called to the scene to investigate the crash.
Wildlife officials in Virginia say the fall season brings an increase in the number of deer walking near roadways. 
From Virginia Department of Game and Inland Fisheries: 
The Virginia Department of Game and Inland Fisheries recommend the following tips to drivers to avoid hitting a deer:

When driving, particularly at night (from dusk to dawn) slow down and be attentive. If you see one deer, likely there will be others. If one deer crosses the road as you approach, others may follow.

Deer habitually travel the same areas; therefore deer crossing signs have been installed by the Virginia Department of Transportation. Use caution when you see these signs.

Drivers should apply brakes, even stop if necessary, to avoid hitting a deer,but should never swerve out of the lane to miss a deer. A collision with another vehicle, tree orother object is likely to be more serious than hitting a deer.

Rely on your caution and your own senses, not deer whistles you can buy for your car. These devices have not been shown to be effective.

Any person involved in a collision with a deer or bear while driving a motor vehicle, thereby killing the animal, should immediately report the accident to a Conservation Police Officer or other law enforcement officer in the county or city where the accident occurred.

Drivers who collide with a deer or bear, thereby killing the animal, may keep it for their own use provided that they report the accident to a law enforcement officer where the accident occurred and the officer views the animal and gives the person a possession certificate.
Keeping Reading...
OCCOQUAN, Va — One person is in custody after fleeing a police traffic stop. 
Police tell us a Virginia State Police trooper tried to stop a driver in a Nissan Altima traveling on Interstate 95 southbound. The suspect fled the scene and police pursued the driver.
The driver took exit 161 and fled police. A helicopter and units from Prince William County were called in to search for the man. 
An unidentified person is in custody. 
Here's more from Virginia State Police: 
At 12:28 p.m., Tuesday (Oct. 25), Virginia State Police initiated a traffic stop on a Nissan Maxima traveling south on I-95 at the 168 mile marker. The Nissan refused to stop for the trooper and sped off. A pursuit was initiated. The Nissan took Exit 161 and then the driver fled on foot. Troopers lost sight of the suspect driver. With the assistance of Prince William County Police, a search was conducted and state troopers apprehended the male suspect without incident at approximately 1:10 p.m. Investigation remains ongoing at this time. No injuries reported.
*INCIDENT: Occoquan; officers aided Virginia State Police with a search for a suspect who fled from a traffic stop. Suspect is in custody. pic.twitter.com/vdqj8GnchG

— Prince William Co PD (@PWCPoliceDept) October 25, 2016
Keeping Reading...
Submitted by the Virginia Lottery: 
It was the day after the July 22 Mega Millions drawing, and Kevin Young was online checking the winning numbers. If the Bristow man had looked carefully, he would have seen he'd matched all six numbers, but that didn't immediately happen.

Fortunately, he went back and rechecked. That's when the retired engineer realized all six of the numbers on his ticket matched.

This ticket was one of two nationwide to match all six numbers in that drawing, so those two tickets split the $15 million jackpot. The other ticket was bought in Georgia. The winning numbers were 8-24-25-26-30, and the Mega Ball number was 7.

Mr. Young bought the ticket at the 7-Eleven at 7489 Limestone Drive in Gainesville. On October 24, he returned to the store to receive his check from the Virginia Lottery. He had the choice of taking the full $7.5 million over 30 years or a one-time cash option of $5,140,507 before taxes. He chose the cash option. 7-Eleven received a $50,000 bonus from the Lottery for selling the winning ticket. This is Virginia's ninth Mega Millions jackpot win.

Mr. Young waited three months after the drawing to claim his prize. He said he used the time to meet with financial experts and make plans for his winnings.
Keeping Reading...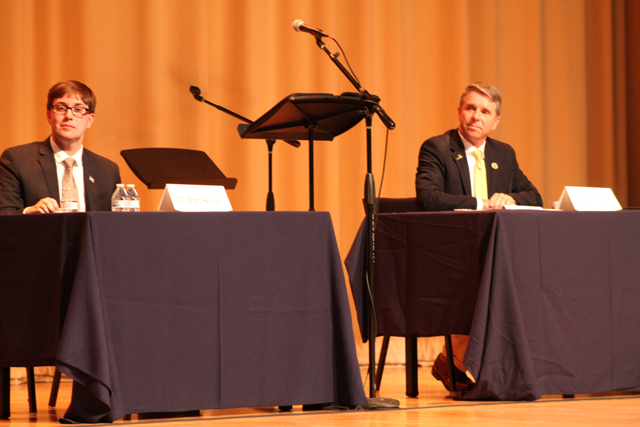 FREDERICKSBURG. Va. — The two major-party candidates in Virginia's 1st Congressional District wasted no time Monday night highlighting how they differ on the issues.
Robert J. Wittman, the incumbent Republican representing residents from Prince William County, Fredericksburg, to Williamsburg slammed the federal healthcare mandate calling for its repeal and replacement with a new program.
"I think the problems with Obamacare speak for themselves," said the Republican, just hours after double-digit increases were reported in insurance premiums for the coming year.
Increasing costs, increasing financial burdens on small businesses and the structure of the federal health care plan were all reasons Wittman said the measure must be repealed.
"Any time you have a [healthcare company] in charge you are not going to find a system that works in the best interest of the patient," he added.
Rowe was quick to fire back saying Republicans have taken ineffective, "symbolic" votes to repeal the federal healthcare mandate, but offered no acceptable replacement plan.
"Republicans say they are going to repeal and replace Obamacare. They've got the repeal side down pretty good," said Rowe "Symbolic votes to repeal healthcare won't get anything done."
Green Party Candidate Gail Parker was also on stage for the debate at The University of Mary Washington in Fredericksburg and said she would like to see a healthcare system that focused more on preventative and alternative measures so that fewer residents would rely on federal healthcare.
The audience inside Dodd Auditorium was partisan, with Democrats on one side and Republicans on the other. Each faction cheered when their candidate catered to their base. Rowe garnered applause when he called for a debt-free college education.
"I'm 35 years old and still paying student loans, on top of payments that we're making while we have three kids and paying a mortgage," said Rowe.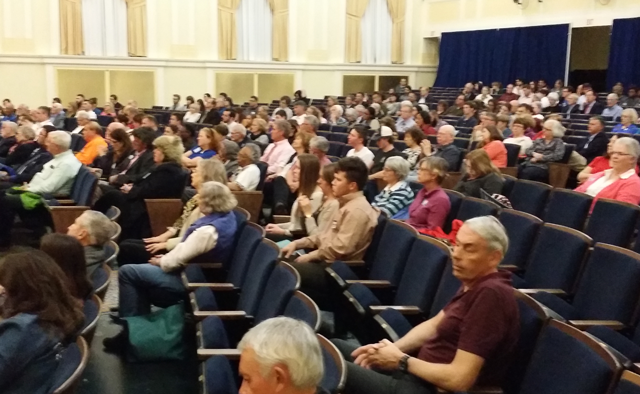 He also called for lowering the overall cost of tuition, and for schools to help students identify their options early on for entrances to a four-year college, a vocational school, or access to military service.
Wittman called for creating more courses aligned with the needs of businesses, and more online courses to reduce college costs.
"It can't be all bricks and mortar. That's the expensive part of it," he said.
Parker noted Green Party Presidential Candidate Jill Stein has advocated for giving students struggling to pay back college loan debt a bailout.
"Instead of a bailout for Wall Street, it's a bailout for students," she said. 
Parker also aligned herself with Donald Trump, who has called the federal election process "rigged" for Democrat Hillary Clinton.
"When you have four political parties, and only two are allowed in the debates, I have to agree with Mr. Trump," she said.
Wittman called for more oversight of voter fraud in the state, but "overall, is the system rigged? I don't think it is at that level." said Wittman.
Rowe quickly dismissed his voter fraud claims as GOP scare tactics. He also took Wittman — who said he doesn't agree with all of Donald Trump's statements — to task over his support of Donald Trump as the party's Presidential nominee, citing recent claims by multiple women of sexual abuse by the millionaire.
"I'd like to hear you talk more about what you don't agree with Trump about," Rowe told Wittman.
The Republican never directly engaged his opponents on stage and replied Trump is the nominee of his party and that he was chosen by a primary process.
"I have not asked my opponents to disagree with their nominee…Mr. Trump was chosen by the voters, and I think this election is about what the voters in the 1st District want," said Wittman.
Wittman seeks his fifth term in office. Elected in 2007, he's served as Mayor of Montross, and was elected to the Westmoreland County Board of Supervisors before serving in Congress. He will make a bid for Virginia Governor in 2017.
Rowe has served on the Bowling Green Town Council since 2015. He works as a mapmaker for the Stafford County Government.
Gail Parker spent 34 years as a federal employee, and 22 years as an Air Force Reservist. She's sought election to the 1st District seat multiple times, each time running on a platform of railroad expansion to spur economic development.
Keeping Reading...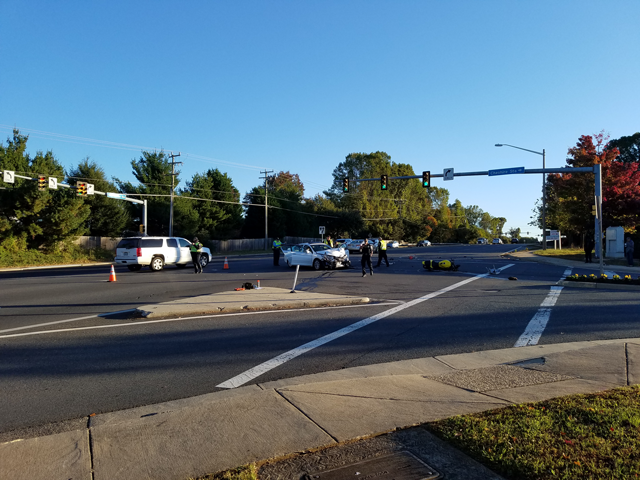 DALE CITY, Va. — A motorcycle and another vehicle were involved in a crash near the intersection of Minnieville Road and Dale Boulevard. 
Police closed multiple lanes Minnieville Road near Cheshire Station shopping center following the crash that occurred about 8 a.m. Tuesday. At least one person was taken to a hospital.
Traffic headed north on Minnieville Road was reduced to one lane about 8:15 a.m. 
Update from Prince William police:
Fatal Crash Investigation – On October 25 at 7:32AM, investigators from the Crash Investigation Unit responded to the area of Minnieville Rd and Cheshire Station Plz in Woodbridge (22193) to investigate a crash involving a motorcycle. The investigation revealed that the operator of a 2004 Suzuki GSX-R750 motorcycle was traveling northbound on Minnieville Rd when, at the same time, the driver of a 2015 Honda Accord was traveling southbound. The Honda Accord driver attempted a left turn into Cheshire Station Plz, crossing in front of the motorcycle operator resulting in a collision. The motorcycle operator was transported to an area hospital where he died as a result of his injuries. The other driver remained at the scene and was not injured. Speed, drug, and alcohol use are not factors in this crash. No charges have been placed at this time. The investigation continues.

Identified:

The operator of the 2004 Suzuki GSX-R750 was identified as John R. BACHMAN, Jr., 52, of Woodbridge

The driver of the 2015 Honda Accord was identified as a 69-year-old man of Woodbridge
Keeping Reading...