Subscribe Now for Free!
Get
updates straight to your inbox.
Promoted Posts
There's a story behind every Habitat for Humanity project Dee Vanterpool moved to her Manassas townhouse in 1992. A quaint...
Keep Reading
Sponsored by the Prince William County Police Department, this is the second of six stories in our series that will examine...
Keep Reading
Ph.D. candidates studying at George Mason University's Schar School of Policy and Government partnered with Habitat for Humanity Prince William...
Keep Reading
More Promoted Posts »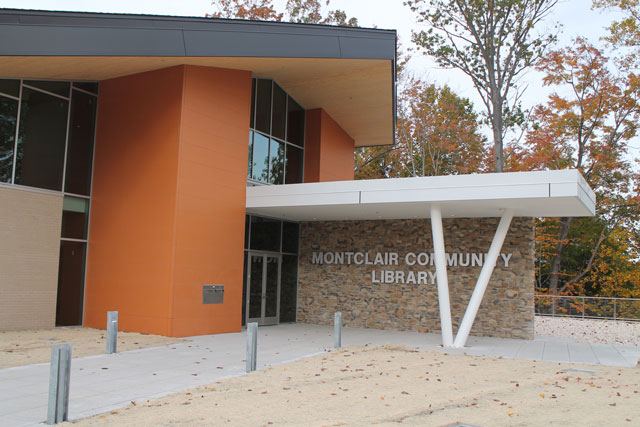 This press release was submitted to us by Building Corporation. The information was confirmed by Prince William County Public Library spokesman Andrew Spence.
The Montclair Community Library can now add another distinction to its name – LEED Silver Certification. Constructed by KBE Building Corporation (KBE) and designed by The Lukemire Partnership, the 20,000 sf library opened earlier this year, but just received formal notification from the US Green Building Council of its Certification. 

In keeping with a growing national trend towards sustainability in building design and construction, the stunning new library features a plethora of energy-efficient features that help reduce building operating costs while minimizing its impact on the environment.

KBE served as General Contractor for the $10.3 million project. Some of the sustainable aspects of the Montclair Community Library include a vegetated "green" roof, water efficient landscaping, and low-emitting materials.

Montclair Community Library | Project Highlights

new construction of a 20,000 s/f steel-framed library

o   2' x 6' timber ceiling with exposed ductwork, sprinkler system, and lighting, along with carefully placed clerestory glass allowing for maximum daylight

o   perimeter with elevated terrace with a combination of brick pavers and pea gravel protected by a stainless steel cable rail system

new construction of a 36,000 s/f parking garage

o   16"-thick cast-in-place perimeter walls

o   12"-thick cast-in-place ceiling with concrete beams totaling 96" x 36"

o   uniformly distributed openings on the east and north sides with an additional opening at the garage entrance on the south side

o   access to library by stairs and elevator

Developed by the U.S. Green Building Council (USGBC) in 2000, Leadership in Energy and Environmental Design, or LEED, provides verification that a building was designed and built using aspects of efficient environmental health conservation strategies. The certification is divided into four categories: Certified, Silver, Gold, and Platinum. Each category recognizes a building's performance in specific areas, including: sustainable site development, water efficiency, energy efficiency, materials selection, and indoor environmental quality.
Keeping Reading...
From Occoquan District Supervisor Ruth Anderson: 
Are you concerned about homelessness? Would you like to know more about homelessness in Prince William County? The Prince William Area Continuum of Care, Occoquan District Office and Lake Ridge Rotary invite you to partner to help end homelessness here in Prince William County by coming to our Landlord Summit.

On [Thursday] October 6, 2016, come learn about the current status of homelessness in Prince William County and understand how you can be a part of the housing solution through renting a livable area to individuals who are homeless. Learn how the Federal Government and PWC Staff support each homeless individual or family during the rental period…all coordinated by a case manager. You will have the opportunity to speak to the people who help these individuals every day and hear success stories from those who have experienced assistance. 

This event is to educate, connect, and empower residents, who have a space to rent, to help those in need of a home. The event will be held at the Realtor Association of Prince William, 4545 Daisy Reid Ave #150, Woodbridge, VA 22192. There will be a complimentary breakfast beginning at 8:30 a.m. and the program will promptly commence at 9:00 a.m.

This event is being jointly hosted by: Prince William Area Continuum of Care, Lake Ridge Rotary, & the Occoquan District Supervisor's Office.
Those who live in a homeless camp behind Bungalow Ale House in Woodbridge are facing the possibility of being removed from the land after the property owner posted "no trespassing" signs.
Keeping Reading...
Photos: Don Flory
Keeping Reading...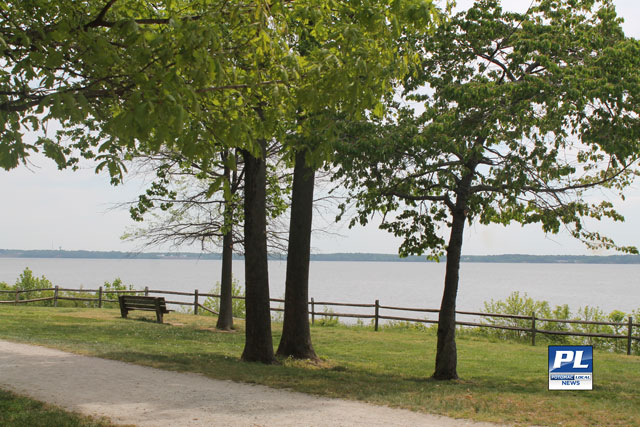 From Discover Prince William / Manassas
Tourism in Prince William County generated over $541.5 million in travel related expenditures in 2015, an increase of 3.1% compared to 2014 and supported 6,223 jobs, a 5.6% increase from 2014. Visitor related tax receipts provided $8.4 million dollars and provided over $62 in tax savings per household to residents of the county.

Tourism revenue in the City of Manassas generated over $67 million in expenditures, up 0.1% when compared to 2014 and continued to support 575 jobs, a 0.5% increase vs. 2014. Visitor spending related tax receipts provided over $1.7 million dollars to the City of Manassas and provided nearly $69 in tax savings per household to residents of the city. 

According to a 2015 Texas A&M University Study conducted of Discover Prince William & Manassas' impact on tourism and visitor spending, visitors to Prince William County spend an average $580 per visitor party with $76.6 million in spending attributable to the efforts of Discover Prince William & Manassas. Visitors to the City of Manassas spend an average $396 per visitor party with $7 million in visitor expenditures attributable to the agency.

Among the 135 counties and cities throughout the commonwealth, Prince William County ranks tenth in total visitor expenditures and shares that 'Top 10' ranking with other tourism leaders including Arlington, Alexandria, Fairfax, Loudoun, Virginia Beach, Williamsburg, Richmond and others.  In addition, Prince William County ranks sixth in the Commonwealth for counties exceeding 3% growth or more in tourism related economic spending.
Keeping Reading...
Dumfries leaders canceled the town's annual fall festival.
Mayor and Acting Town Manager Jerry Foreman said the town does not have enough staff to plan and execute the event that had been scheduled Oct. 15 at town hall. The annual event draws musicians, crafters, vendors, and food trucks to Dumfries.
Foreman said Community Services Director Brittany Heine, who is in charge of planning the festival, has been out on maternity leave. Other departments — many with only one person working in them — could not spare their time to help plan and execute the fall festival.
"Ms. Heine went on leave, though no fault of her own, and our staff is not big enough and is not wired, so to speak, to handle multiple events," said Foreman.
The town this year had budgeted $4,000 for the event. Instead, Foreman said staff will focus on Christmas events that include:
Christmas Parade December 10
Christmas Tree Lighting December 10
Christmas in Dumfries at Triangle Rescue Squad December 17
"We're stuck between a rock in a hard place," said Dumfries Councilman Derrick Wood "To eliminate [the fall festival] for a year… that void for a year… would definitely have to come back stronger and better."
Foreman added that town staff is focused "100 percent" on the Christmas events, and noted his disappointment in the lack of a fall festival to be held this year.
"We didn't want to do this event and have it come out poorly," he said.
Dumfries plans two outdoor festivals each year: a multicultural festival in spring and a fall festival in late September or October. 
Keeping Reading...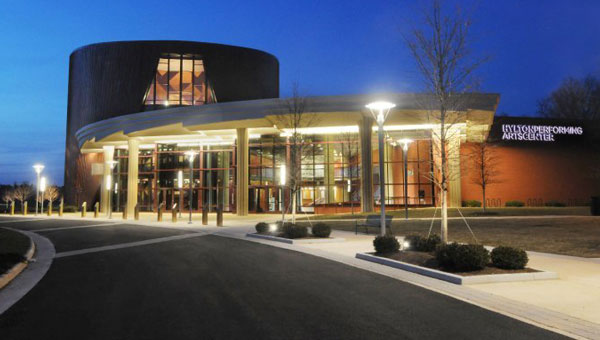 From George Mason University: 
George Mason University broke ground this week on an $8.5 million, 14,000-square-foot addition to the Hylton Performing Arts Center on its Science and Technology Campus in Prince William County.

The Education and Rehearsal Wing, slated to open in 2018, will be used by regional arts organizations, Mason students, Prince William County and city of Manassas schools, and the business community.

The 10-room addition, next to the Hylton's Gregory Family Theater, will be accessible from the Didlake Grand Foyer. It will feature six practice/teaching rooms, two classroom/ensemble rooms and two rehearsal spaces. The smaller of the two rehearsal halls will be named the Ballard Postma Studio in recognition of a generous gift from Hans and Mary Postma of Haymarket, Va. Ballard is Mary Postma's family name.

"This campus is where STEM becomes STEAM—Science, Technology, Engineering, Arts and Mathematics," said Ángel Cabrera, George Mason's president. "Discoveries of all kinds are being made here, and with this new wing, even more musicians, actors and dancers will have the opportunity to develop their skills and pursue their artistic passions."

"This much-needed new space will allow creativity and collaboration to flourish at the Hylton Center," said Rick Davis, the center's executive director and dean of Mason's College of Visual and Performing Arts. "Our community has spoken. This beautiful wing will be filled with teaching, learning and rehearsals on the day it opens."

The project is funded in part by $6 million from the Commonwealth of Virginia, and through the continued support of retired Virginia Sen. Charles Colgan.

An additional $2.5 million gift from the Cecil and Irene Hylton Foundation, along with the Postmas' gift and other private donations to be sought over the next two years, will complete the funding for the wing, including adding state-of-the-art equipment.

A groundbreaking ceremony was held Thursday and attended by about 200 guests, who heard remarks from Cabrera and Davis.

The project is expected to take 12 to 18 months to complete and is planned to open in time for the 2018-19 performance season at the Hylton Center.
Keeping Reading...
Photos: Ian Lovejoy
Following its grand opening event on Saturday, the store is set to open for regular business Tuesday, Sept. 27, 2016.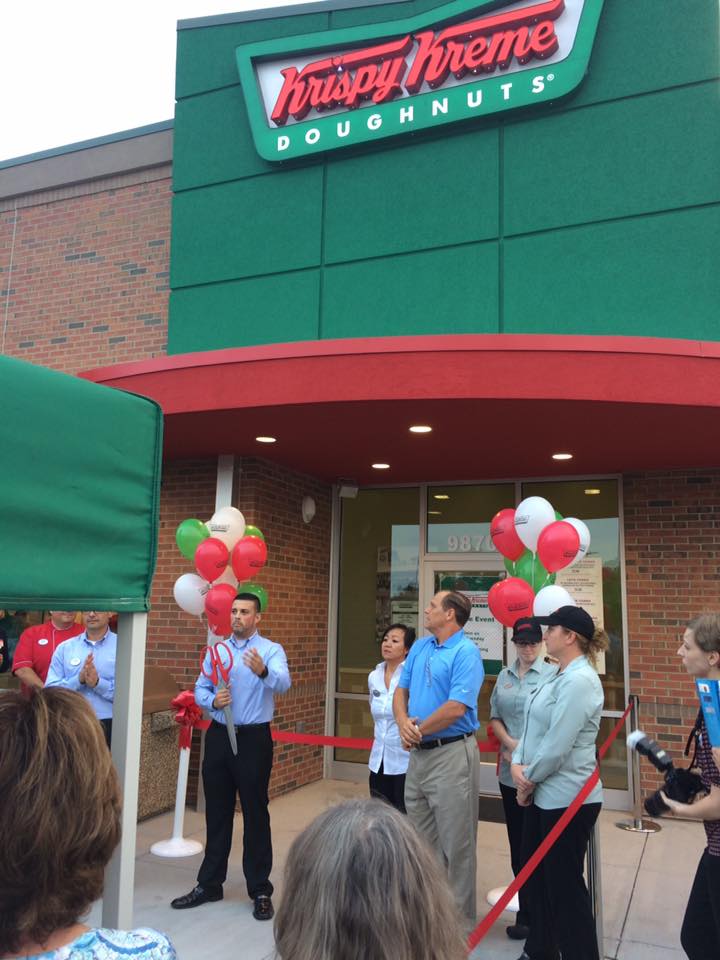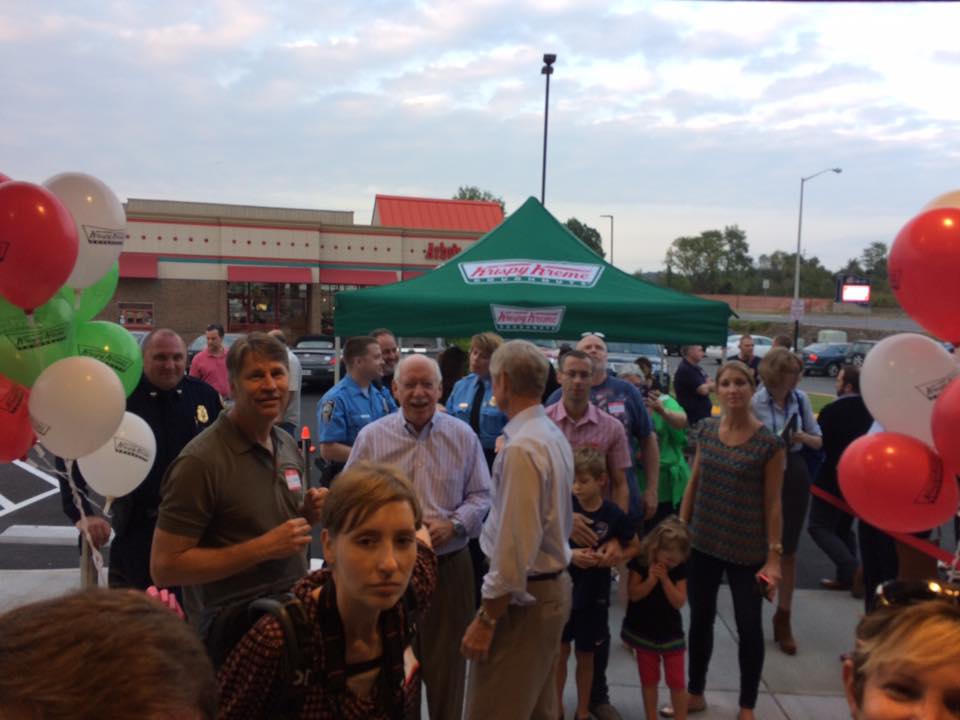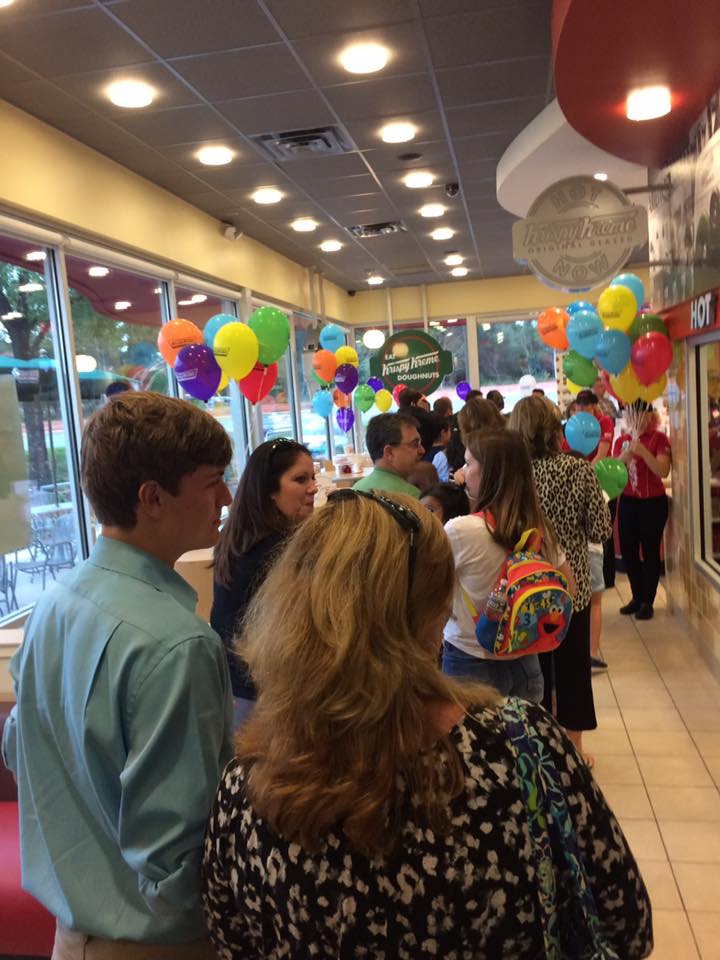 Keeping Reading...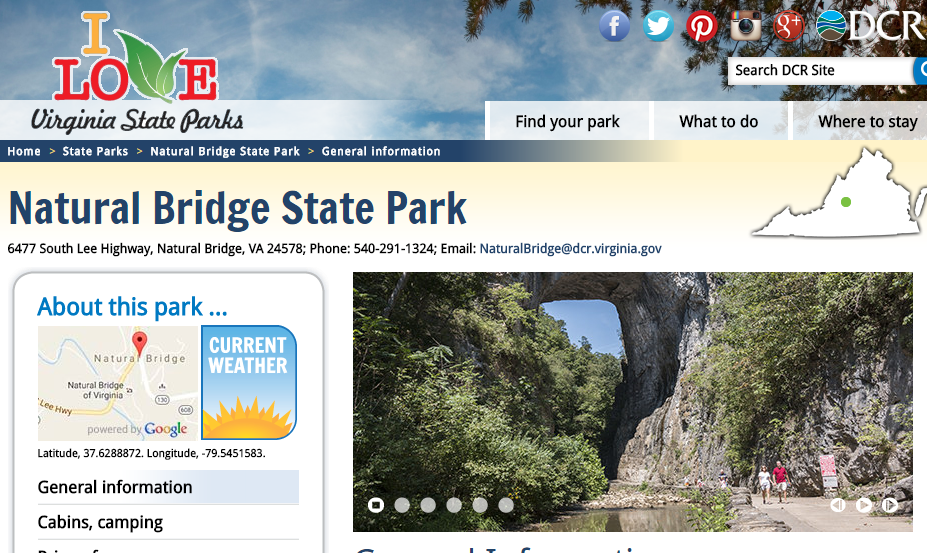 Welcome #37! @GovernorVA declares Natural Bridge a Virginia State Park pic.twitter.com/5A5mIkyG1b

— Virginia State Parks (@VAStateParks) September 24, 2016
Not local, but very cool. 
From the National Park Service: 
U.S. Secretary of the Interior Sally Jewell has designated the geologically and historically significant Natural Bridge site in Rockbridge County, Virginia as an Affiliated Area of the National Park Service (NPS).  The site, recently designated as a state park, will be managed by Virginia State Parks.

First purchased by Thomas Jefferson from King George III of England in 1774, Natural Bridge has captivated visitors for hundreds of years.  The limestone arch rises 215 feet above Cedar Creek and is located within a hilly, wooded landscape with hiking trails and scenic vistas.  It was designated as a national historic landmark in 1998.

"Growing up near and working at Natural Bridge in my early years may be the true source of my 40 years of commitment to the protection and enjoyment of our National Parks," said National Park Service Director Jonathan B. Jarvis. "It is with great pride that it is now part of the Virginia State Park System and an Affiliated Area of the National Park Service."   

Affiliated Areas are neither owned nor administered by the federal government, but they preserve important segments of the nation's heritage. Some of these have been recognized by Acts of Congress, others have been designated national historic sites by the Secretary of the Interior under authority of the Historic Sites Act of 1935.The National Park Service administers 22 national park sites in Virginia.  Visitors to national parks in Virginia spent $983 million in 2016 resulting in an overall economic impact of $1.3 billion.
RT @GovernorVA: Proud to announce the newest addition to our @VAStateParks – Natural Bridge State Park pic.twitter.com/McyOOFtABy

— Virginia State Parks (@VAStateParks) September 24, 2016
Keeping Reading...
Submitted: 
Two local businesswomen are first to bring new live action entertainment trend to the area

Escape Rooms – the hottest new trend in entertainment – are arriving in Woodbridge! Escape Room Woodbridge is scheduled to open October 15th, at 12668 Darby Brook Ct. in Woodbridge. With three differently themed rooms, each accommodating up to ten people, Escape Room Woodbridge will be the first to offer this kind of interactive live gaming in Prince William County.

An escape room is a physical and interactive adventure game where players are locked in a room and have to use elements of the room to solve a series of puzzles and clues in order to escape within a set time limit. The games are physical versions of "escape the room" video games.

Co-Owners, Angela Curtis and Birgit Campana, have each lived and worked in PWC for over 20 years. "We are bringing fun to Prince William County. PWC is our home and a place we want to help continue to grow. It's a great place to live and play." says co-owner, Campana. "Excitement and adventure are right here in our neighborhood. Stay home and play in PWC." Escape rooms started gaining attention in the U.S. about two years ago as locations first appeared in large cities and quickly became wildly popular. Before that, they were all the rage overseas, and it doesn't appear their popularity will fade anytime soon.

Each room at Escape Room Woodbridge is themed differently, such as "Adventures in Wonderland", "Lights, Camera, Murder" and "Dr. Jones's Apprentice." Co-owner Curtis says they are ready to help coordinate corporate events and personal celebrations, as well as individual players. "We would love to help you plan your team building event or party."

The price for the Escape Room Woodbridge adventure is $28 per person for 60 minutes of puzzle and clue solving, and takes place Wednesdays – Sundays. Their motto is find the clue, solve the puzzle, play the game. For more information and convenient online scheduling visit them at http://www.escaperoomwoodbridgeva.com/.
Keeping Reading...