Top Stories
STAFFORD, Va. – Shannon Broom was killed in a car crash 16 years ago. Fresh out of college, the 23-year-old Keep Reading...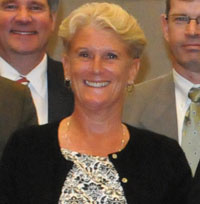 · Good morning  – The Retired and Senior Volunteer Program (RSVP) has an urgent need for volunteers' age 55+ to drive veterans to their doctors' appointments. We have one lady who also needs a ride to dialysis several times a week. This lovely lady lives in Bristow and needs a ride to Gainesville on Monday and Friday's. Either take her at 10am and/or pick her up at 3:30pm. This life saving task is easy and at very civilized time of day- please come join our team of volunteers to help folks with a ride. They are depending on us. Please call Coleen at (703) 369-5292 ext. 207 for more info.
· Leesylvania State Park needs volunteers on Sunday April 27th from 11am-1pm to build a Pollinator Garden for the Monarch Butterflies. Bring a pair of work gloves to pull weeds, plant host and nectar plants to give the butterflies a Way Station as they migrate across the country. It's sure to be a super fun time.
· Don't forget about the big Comcast Cares Project in Manassas on Saturday April 26th from 9am-1pm. Tons of volunteers will be cleaning up at the Boys & Girls Club, Jennie Dean School, the SERVE Shelter and the Winter Branch Trail. This is a wonderful community partnership and you can register with the project at: leadershipprincewilliam.org.
· Keep Prince William Beautiful needs volunteers for the Annual Route 1 Clean-up on Saturday April 26th from 9am-noon. It's safe and fun and easy way to complete your community service hours. Please call (571) 285-3772 or visit: www.kpwb.org for more info.
· The Prince William SPCA is looking for 2-3 volunteers to pick up donated pet food from the Manassas Mall Wal-Mart and drop them off at the City of Manassas Animal Shelter. Great job for anyone with a flexible schedule as pick-ups are on Tuesday anytime between 7:30 and 2pm. Please email them for more info at: volunteercoordinator@pwspca.org
· The Training Futures Program is looking for volunteer to tutor and assist students in their computer lab on weekdays between 8am and 3pm. This 6 month program works with unemployed and underemployed students to learn office skills to improve their employability. Please email Jan for more info at: jhawkins@nvfs.org
· BEACON Adult Literacy needs volunteers to work with ESL adult learners. No prior experience is needed as you will be given all the tools needed to make a successful partnership with your student. Please call Caroline at (703) 368-7491 to learn more as the next tutor training is April 26th.
· You don't want to miss Compost Awareness Day on Saturday April 26th from 10am-2pm at the Balls Ford Yard Waste Composting facility. The Master gardeners will be there as well of lots of other neat exhibits. Please visit: pwcgov.org/trashandrecylcing for more info.
· Attention Golfers – mark your calendars for the Senator Charles Colgan Charity Golf Tournament on Monday May 12th at Evergreen Country Club. This event benefits the women and children living at BARN Transitional Housing. Lots of prizes, contests, lunch and all for just $150 per player. Gather your friends and family for this event. Please email Tammy at:adminmanager@barninc.org for more info.
· Literacy Volunteers of Prince William are looking for volunteer tutors to work with adults. The next training is May 17th. Please visit: lvapw.org for more info.
· The March for Babies is right around the corner on Sunday April 27th in Old Town Manassas at 9am. Gather your family, friends and colleagues to join in the fun exercise for a great cause. Please call (571) 257-2330 to learn more
· Brain Injury Services needs a volunteer to take a gentleman fishing in the Manassas area. All that is involved is getting together a couple times a month for a super fun outing for fishermen. Please call Michelle at (703) 451-8881 ext. 232 to learn more
· Please don't forget that Hurricane season is right around the corner so mark your calendars for our annual Hurricane preparedness sales tax holiday – May 25th-31st. It's a great time to stock up on chainsaws, ice packs, batteries, light sources, first aid kits, radios, tarps and fire extinguishers to name just a few. I will have more to come so mark your calendars!
· If you are looking for other opportunities, please don't forget to call my wonderful team at Volunteer Prince William. Coleen can help you with the Retired and Senior Volunteer (RSVP) opportunities at (703) 369-5292 ext. 207, Shelley can help with any individual or group project and send you weekly updates if you'd like. Shelley is at (703) 369-5292 ext. 201, and Bonnie can help you with opportunities available in Disaster Preparedness at (703) 369-5292 ext. 202. Please visit our newly re-vamped website at www.volunteerprincewilliam.org. Thanks so much for all you do in our community.
Man facing possible life sentence found not guilty – A Stafford jury took about 20 minutes to find a man who Keep Reading...
Posted in: News
DUMFRIES, Va. – The construction of the first community garden at Ginn Memorial Park in Dumfries is well underway. The Keep Reading...
Posted in: DumfriesNewsPrince William
WOODBRIDGE, Va. – When it's complete, it'll be a more modern building in which to have surgery. Sentara, operators of Keep Reading...
Posted in: Business Health NewsWoodbridge
In Prince William budget process, focus is on libraries – At Tuesday night's public hearing on Prince William County's fiscal 2015 Keep Reading...
Posted in: News
NOKESVILLE, Va. – One of the most unique wildflowers to bloom each year in our area will peak today. The Keep Reading...
Posted in: Guide NewsPrince William
Update From Prince William County Department of Fire and Rescue: At approximately 10: 30 a.m., fire and rescue units were Keep Reading...
Found Dog – Mountain View Road – North Keep Reading...
Daphne is a 4 year old, spayed female kitty who is Keep Reading...
Harmony Harmony is a beautiful, 4 year old tuxedo female. Keep Reading...
Samantha: She is a spectacular young cat, about 3 yrs old spayed female tabby. She is a fabulous, friendly, young, Keep Reading...
WOODBIRDGE, Va. – Police are investigating an argument that turned violent Wednesday in Woodbridge. Prince William police provided the following Keep Reading...
WOODBRIDGE, Va. – A woman was robbed at Potomac Mills mall outside a JCPenney store. Prince William police provided the Keep Reading...
Prince William police were called to two separate incidents of malicious wounding on April 14. Here's the unedited reports of Keep Reading...
Here's the latest unedited crime reports released by Manassas police: Hit & Run – Arrest On April 11, 2014 Manassas Keep Reading...
STAFFORD, Va. – School officials in Stafford County want to give teachers a raise. Salary increases, to the tune of Keep Reading...
WOODBRIDGE, Va. – Residents tonight will have their say on how and government and schools should be funded in the Keep Reading...
WOODBRIDGE, Va. – Sirens warning of a budget shortfall for Prince William County's public schools have silenced for now. School Keep Reading...
LAKE RIDGE, Va. – Work will soon begin on a new sidewalk that will provide students a safer route to Keep Reading...
I just got an email from a grade school friend, telling me St.Augustine Church is undergoing some renovations. If you Keep Reading...
Muppets Most Wanted – Rated PG – 3 1/2 stars out of 5 So what if I saw "Muppets Most Wanted"? I Keep Reading...
When my eyes flash open in the morning, (They do "flash" open. None of this slow leisurely awakening for me!) Keep Reading...
Editors note: Prince William & Manassas offers exceptional activities and unique attractions for people of all ages to enjoy. Everyone Keep Reading...