Subscribe Now for Free!
Get
updates straight to your inbox.
The Latest
From Virginia Department of Transportation:
The public is invited to attend a location and design public hearing for the I-95 Express Lanes Fredericksburg Extension project next week to review the proposed design and submit comments.

The I-95 Express Lanes Fredericksburg Extension project would extend I-95 Express Lanes approximately 10 miles from Route 610 (Garrisonville Road) to the vicinity of Route 17 (Warrenton Road) in Stafford County.

As part of this project, new access to the Express Lanes corridor is proposed in the vicinity of the Route 17 and Route 630 (Courthouse Road) interchanges along Interstate 95. New access is also proposed on I-95 at Exit 148, which connects with Russell Road near Quantico Marine Corps Base.

The extended Express Lanes would connect to the I-95 Southbound Rappahannock River Crossing project. The Rappahannock River Crossing is doubling the capacity of I-95 southbound to six lanes from just north of Route 17 to just south of Route 3 in Fredericksburg.
(more…)
Keeping Reading...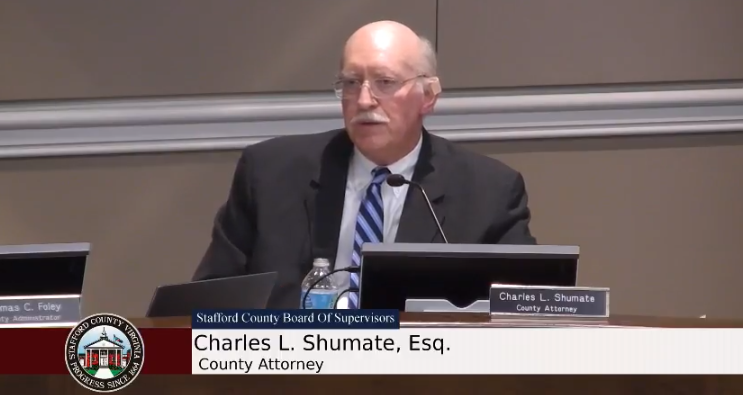 STAFFORD — There have been weeks of public comment and debate over a Confederate battle flag that has become a staple of the skyline over Interstate 95 in south Stafford.
At the Stafford County Board of Supervisors meeting Tuesday night, elected leaders allowed county attorney Charles Shumate explain why he says the county cannot force the removal of the flag that sits on private property.
This issue that you have before you is not isolated here in this Fredericksburg, Stafford, Spotsylvania area as you well know. It's it's an issue that we've got throughout the country.

But you know there are a lot of things that we deal with in a free society that are hard to sometimes understand. How can you do this? How can how can you allow somebody to fly this flag or how can you put up a Nazi swastika? Or how can you burn a flag?

I served 11 months and 29 days in Vietnam in a combat zone. To this day if I see someone burning the American flag… Fortunately I've never been present. That is so disrespectful and hateful to me. And I relate that to what you're saying about how hateful it is to you to see that Confederate flag. (more…)
Keeping Reading...