MANASSAS, Va. — It's called the city's first waterfront development. When it opens, it may not be called "Gateway." A...
Keep Reading
More News »
Subscribe Now for Free!
Get
updates straight to your inbox.
Promoted Posts
If you wait until an emergency to contact a plumber, you could be left shivering in the shower or cleaning...
Keep Reading
182 Washington Street, Occoquan, Va. 22125 Neighborhood: Historic Occoquan Listing Price: $495,000 Open Sunday, December 11th from 2 -4 p.m....
Keep Reading
Beginning in the spring 2017 semester, Northern Virginia Community College students can finish a semester's worth of classes in only...
Keep Reading
The Christmas spirit is alive and well in Manassas, as the town gears up for its annual festivities to be...
Keep Reading
This is the fourth of six stories in our series that will examine the unique assignments within the Prince William County...
Keep Reading
The first Saturday of December will be something special, as it has been for the past 70 years: Crowds will...
Keep Reading
More Promoted Posts »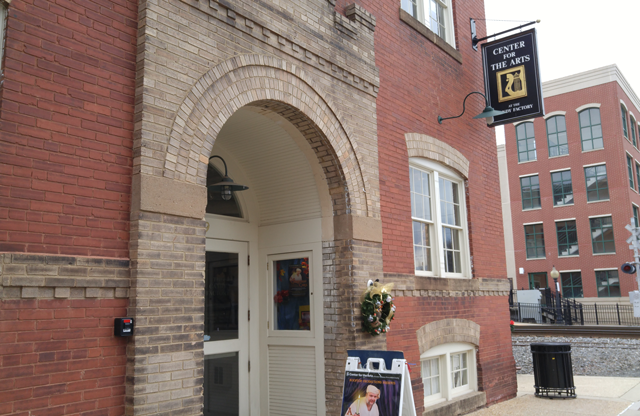 MANASSAS, Va. — The 13th annual "Off the Wall" exhibit will take place December 15 to Jan. 20. 2017 at the Center for the Arts at the Candy Factory.
More from Jordan Exum at the Candy Factory:
Area high school students show us what they've got for year number 13 of this highly anticipated competition.

Visual Art, Poetry, Wearable Art and this year, sponsor Lockheed Martin is enthusiastic for our new Category: Art & Technology. 3-D printing anyone?

Join us for our Open House on January 7, 2017, from 2 – 4 PM. Light refreshments will be provided and you may get a chance to meet the artists themselves! Students participating in the Wearable Art category will also show off their creations during the Open House. Awards will be given to the top 3 student works, as well as honorable mentions.

Meet the emerging artists at the Open House, Saturday, January 7, 2-4 p.m.

This project has been extended from the Center for the Arts into an exhibition partnership with our sponsor, Lockheed Martin. The exhibit ends on January 20, many of these works of art will travel to the Lockheed Martin Manassas location to be on display through February 28, 2017.
A total of 40 students will showcase works in the exhibit.
Keeping Reading...
From Prince William police:
Gang Participation & Recruitment – On December 6, a School Resource Officer (SRO), with assistance from detectives of the Gang Unit, concluded an investigation resulting in charges being placed against a juvenile in connections to allegations of alleged gang recruitment occurring at Osbourn Park High School located at 8909 Euclid Ave in Manassas (20111). Last week, the SRO at Osbourn Park High School was informed of possible recruitment activity involving the criminal street gang Mara Salvatrucha, commonly known as MS-13. This information was obtained through students and staff at the school. During the investigation, the SRO was able to identify three of the recruiters as juvenile students who attend the school. Following the investigation, the juveniles were charged. The investigation continues. Parents can learn more about recognizing and preventing gang involvement by reading the Parents Guide to Gangs, an informative publication produced by the National Gang Center.

Charged on December 6: [Juveniles]

Three 17-year-old male juveniles, all of Manassas

All three were charged with gang recruitment and gang participation

Court Date: Pending | Status: Unavailable
Keeping Reading...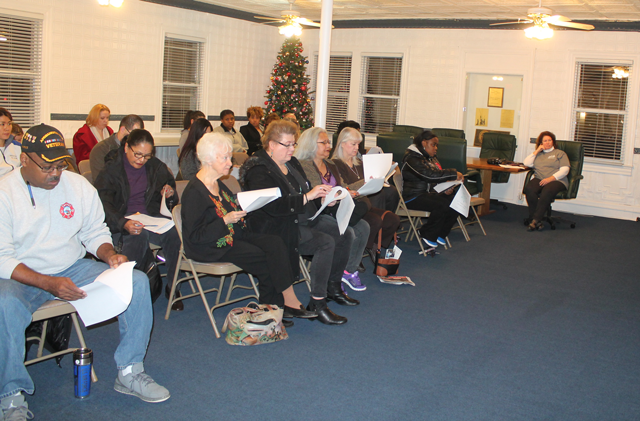 DUMFRIES, Va. – The 42nd annual Dumfries Christmas Parade begins Saturday at noon.
More than 60 floats, businesses, and community organizations will march on the parade route that winds from Town Hall down Main Street, left on Graham Park Drive, and then into Dumfries Plaza on Fraley Boulevard.
Main Street (Route 1 South) will close to traffic at 10 a.m. to allow parade participants to line up near Town Hall. All southbound traffic will be diverted onto the northbound portion of Route 1, which will become a two-way street with one northbound lane and one southbound lane.
Fraley Boulevard (Route 1 north) is expected to close about 12:30 p.m. as the parade crosses that portion of the road. All of Route 1 in Dumfries will then be closed for the parade but is expected to be reopened to all traffic after the parade concludes.
Drivers not headed to the parade should take Interstate 95. Drivers headed to the parade may park in various parking lots and shopping centers in town.
Volunteers for the parade may park at Dumfries Elementary School, located at 3990 Cameron Street in Dumfries. Volunteers and parade participants were issued red passes to show to police to gain access to the closed portion of Route 1 to get to the parade parking and staging areas.
Ed and Thelma McGlothlin will be the Grand Marshall's of this year's parade. Both served on the Dumfries Town Council and live on Main Street.
"Our Town Council voted unanimously to ask them to serve as Grand Marshall's for our parade," said Community Services Director Brittany Heine.
A parade reviewing stand will be located just south of Town Hall. Unlike in year's past, performing groups will not stop in front of the reviewing stand to perform but will continue walking so as to not slow the progression of the parade, said Heine.
Following the parade, Mayor Jerry Foreman will light the town Christmas Tree at Town Hall at 5 p.m. The ceremony will include a performance by the Dumfries Elementary School Chorus, tree decorating, and the arrival of Santa.
On December 17, volunteers will take children-in-need shopping for Christmas gifts at a nearby Walmart store.
Keeping Reading...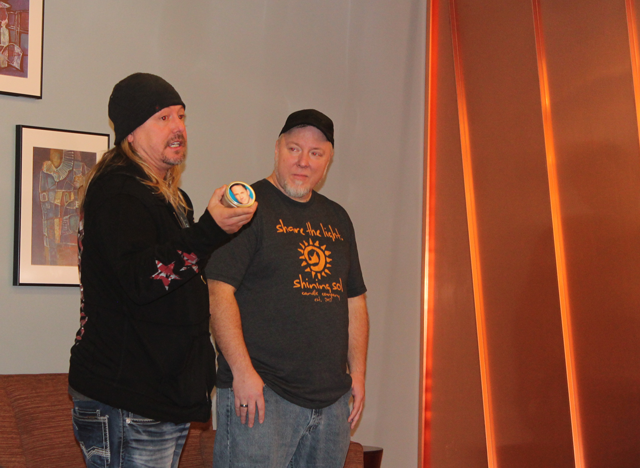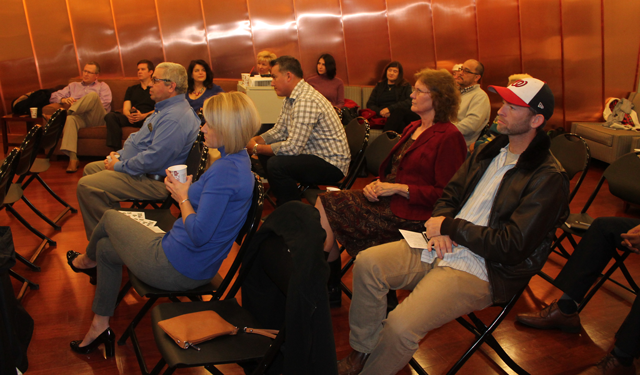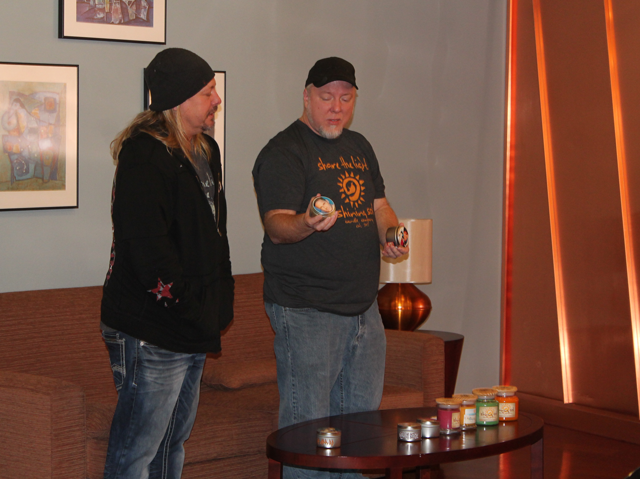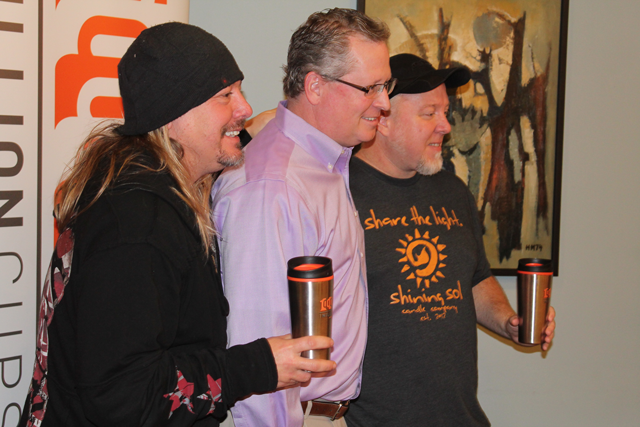 Shining Sol Candle Company was the presenter at 1 Million Cups Prince William on Wendesday.
Prior to presenting, the Manassas-based company founded by Pete Evick, lead guitarist for Brett Micheals, shared their story with us.
1 Million Cups Prince William meets at 8:30 a.m. Wednesdays at the Hylton Performing Arts Center in Manassas. The group brings an entrepreneur to the front of the room each week to talk about their business. The leader also presents a challenge question to the group, and the group helps to mastermind a solution to the challenge.
The event is free to attend.
1 Million Cups Prince William will hold its final meeting of the year on Wednesday, December 14. The group will return to the Hylton meeting on a regular, weekly basis on January 11, 2017.
Keeping Reading...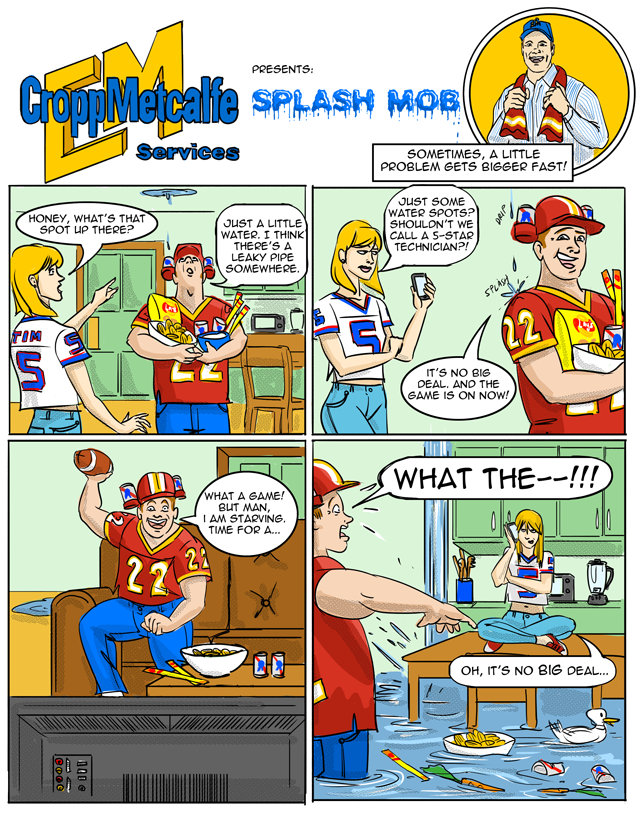 If you wait until an emergency to contact a plumber, you could be left shivering in the shower or cleaning up a flooded room. Call a plumber at the first sign of a plumbing problem to avoid costly consequences.
5 signs you need a plumber
1. A funny smell: A musty smell or the odor of mildew points to water damage somewhere in the home.
2. Ceiling or wall stains: Yellow, brown or copper stains come from leaky pipes in the wall. These telltale blemishes, paired with a sagging ceiling, is a recipe for disaster.
3. Rust: Look for signs of rust around pipes, fuse boxes or appliances.
4. Damaged floors: Pay attention to the floors, especially in the bathroom and kitchen, to make sure there isn't any water damage. Signs of water damage include spongy, stained or buckling floors.
5. Dripping faucet: A slow drip might not seem like a huge deal, but can be a drain on your wallet when the water bill arrives.
Risks of DIY plumbing
You may be tempted to fix the plumbing problem yourself, especially since the internet is overflowing with DIY plumbing tutorials, but be mindful of your experience level. A bad DIY plumbing job could be catastrophic. Before getting started, ask yourself the following questions:
— Do I have the right tools for the job?
— Have I done anything like this project before?
— Do I have the time to do this project right even if there are unforeseen complications? (Consider whether you're taking your kitchen or only bathroom out of commission.)
If you decide to DIY a plumbing job, then follow this key advice from Ben Kelley, director of residential operations for CroppMetcalfe.
"Always shut off the main water supply valve before getting started, or if your home allows, you can isolate certain areas," Kelley says. "Watching videos online helps, too, so you know how it's done prior to trying."
If you get in over your head and find yourself in hot water, put down the tools and pick up the phone. CroppMetcalfe has serviced the Washington, D.C., metro area since 1979. You'll be plumb pleased with the service provided by our 5-star plumbing technicians.
Keeping Reading...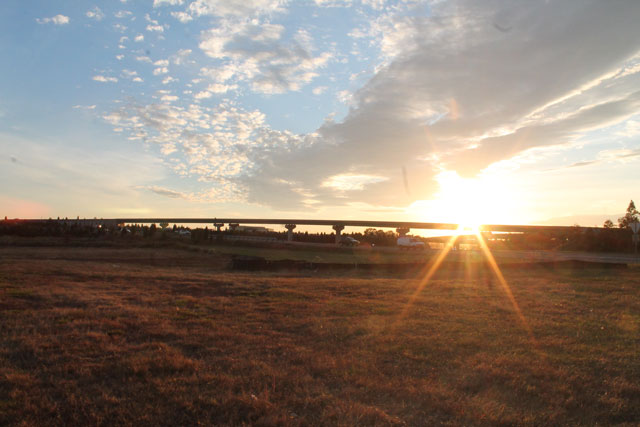 MANASSAS, Va. — It's called the city's first waterfront development. When it opens, it may not be called "Gateway."
A groundbreaking ceremony will be held Tuesday, December 13, at 2:30 p.m. at the Manassas Gateway property located at 10500 Gateway Boulevard next to the Manassas DMV. The site is where 270 new townhomes, 112 condos, a 125-room hotel, retail, and commercial offices will be built.
Located on large storm retention pond on Cannon Branch just off Prince William Parkway, it is one of the last large undeveloped sites in Manassas. It would be the city's only "waterfront" property.
The development is expected to tie into businesses at the Manassas Regional Airport, the largest municipal airfield in the state, as well as Innovation Park, home of multiple technology companies, FBI, and George Mason University Science and Technology Campus located just across the boundary line in Prince William County.
Officials have labored under the working name of "Manassas Gateway" since the project was approved last fall. On Tuesday, officials are expected to announce a new name for the project on Tuesday.
In addition to homes, a pedestrian plaza will connect all of the commercial buildings, and surface parking lots will be built at the site. An additional four buildings, to be built down the line, will require a covered parking deck.
An expansion study underway now at Virginia Railway Express could recommend moving the Broad Run Station about 2 miles east, relocating it to the Gateway Development. Transit officials Wednesday night said that developments at or near VRE stations traditionally attract more business than developments outside VRE stations.
Keeping Reading...
Press release from U.S. Eastern District of Virginia Attorney Dana J. Boente:
James C. Bedford, 50, of Dumfries, pleaded guilty today to charges of conspiracy to commit bribery and bribery of a public official.

According to the statement of facts filed with the plea agreement, in 2006, the computer systems of the Bureau of Industry and Security (BIS), a bureau within the Department of Commerce, were infected by a computer virus that required BIS to shut down internet access to its computer systems and to construct a new computer network that had not been infected by the virus. Because BIS employees needed access to files that resided on the old system, files needed to be migrated from the old, infected network to the new, uninfected network.

According to the statement of facts, from May 2010 through October 2011, Bedford conspired with Raushi J. Conrad, then a BIS employee, to pay bribes to ensure that Bedford's companies were awarded and maintained a lucrative subcontract and contract to perform the data migration work. Conrad was then serving within the Office of the Chief Information Officer for BIS and had been designated to oversee the data migration project. Conrad has been indicted for his role in the conspiracy and bribery scheme.

According to the statement of facts, Bedford made $208,000 in payments through a construction company he owned to a restaurant business owned by Conrad, many payments were concealed through false and fictitious invoices created by Conrad. The fake invoices made it appear that Conrad's restaurant business had performed various services for Bedford's construction company, when in fact no such services ever had been provided. Bedford also paid for over $7,000 worth of renovation work performed at Conrad's residence. In exchange, Bedford's companies reaped over $1 million in profits from the data migration subcontract and contract.

Bedford faces a maximum penalty of 20 years in prison sentenced on March 31, 2017. The maximum statutory sentence is prescribed by Congress and is provided here for informational purposes, as the sentencing of the defendant will be determined by the court based on the advisory Sentencing Guidelines and other statutory factors.
Keeping Reading...
From Prince William police:
Armed Robbery – On December 6 at 1:36PM, officers responded to Ventura Gold which is inside of the B Thrifty store located at 13412 Jefferson Davis Hwy in Woodbridge (22191) to investigate a robbery. An employee reported to police that two unknown men approached the counter displaying a knife. The men took an undisclosed amount of money before fleeing the business. No injuries were reported. Officers searched the area for the suspects who were not located. The investigation continues.

Suspect Descriptions:

Black male, between 20 & 28 years of age, with brown eyes – No further description provided

Last seen wearing all black clothing

Black male, between 20 & 28 years of age, 5'10", 180lbs with brown eyes

Last seen wearing a tan hoodie
Keeping Reading...
STAFFORD COUNTY, Va. — A new man will carry out the orders of the Stafford County Board of Supervisors.
From a Stafford County press release:
Stafford County proudly announces the appointment of Thomas C. Foley to the position of County Administrator. Thomas Foley comes to Stafford from Albemarle County where he has served as County Executive. He will take over the reins from Interim County Administrator C. Douglas Barnes on February 1, 2017.

During Thomas Foley's time at Albemarle County, Albemarle received its third 'AAA' bond rating, making it a triple 'AAA' rated community, a very prestigious financial designation. 'AAA' is the highest bond rating given to localities, allowing those communities to borrow money for projects at lower rates and freeing up money for other services. Stafford has two 'AAA' ratings from Standard & Poor's and Fitch and is aggressively pursuing a third with its responsible and accountable financial practices.

Foley has also led efforts to better organize the county government and was involved deeply with developing a combination career/volunteer fire department, all under the auspices of the principles of high performance, a long-time practice in Stafford County. He was instrumental in consolidating the shared services between schools and county government in Albemarle which is also a high priority for Stafford's Board. Foley is recognized for his skill in building regional and community relationships, a valuable skillset to have as Stafford and area localities move forward with regional transportation and economic goals.

Thomas Foley was appointed County Executive in Albemarle County in 2011. Before that, he was the Assistant County Executive for two years. He also served as County Administrator in both Caroline and Cumberland counties. He holds a Master of Public Administration from Virginia Commonwealth University and a Bachelor of Business Administration from Marshall University.
Foley grew up in Dale City after he moved to Virginia from Massachusetts.
He replaces Anthony Romanello who left Stafford for Henrico County in July. He served in the role of County Administrator for about nine years. Prior to that, he served as Deputy County Administrator in Stafford County.
Keeping Reading...
From Prince William police:
Armed Robbery *ARRESTS – On December 6, detectives from the Robbery Unit identified the suspect involved in a robbery which occurred in the 7-Eleven parking lot located at 1701 Featherstone Rd in Woodbridge on December 4. Following the investigation, detectives obtained warrants for the arrest of the suspect, identified as Anthony RYANS. A search warrant was subsequently executed at his residence and the accused was arrested without incident.

Arrested on December 6:

Anthony RYANS, 28, of 14919 Enterprise Ln in Woodbridge

Charged with robbery and use of a firearm in commission of a felony

Court Date: January 26, 2017 | Bond: Held WITHOUT Bond

Armed Robbery [Previously Released] – On December 4 at 8:40PM, officers responded to the parking lot of the 7-Eleven located at 1701 Featherstone Rd in Woodbridge (22191) to investigate a robbery. The victim, a 31-year-old woman of Woodbridge, reported to police that she was sitting in her car in front of the business when she was approached by an unknown man. During the encounter, the suspect brandished a handgun and took an undisclosed amount of money and car keys from the victim before fleeing the area on foot. No injuries were reported. A police K-9 was used to search for the suspect who was no located. The car keys were recovered a short time later. No injuries were reported. The investigation continues.
Keeping Reading...