Subscribe Now for Free!
Get
updates straight to your inbox.
More News
From Prince William police:
Brandishing a Firearm – On April 27 at 8:44PM, officers responded to Hylton High School located at 14051 Spriggs Rd in Woodbridge (22193) to investigate a fight with a weapon. The investigation revealed that the victim, an 18-year-old male, and the accused, an acquaintance, were involved in verbal altercation which escalated. During the encounter, the accused brandished a firearm which he had retrieved from his vehicle. The parties eventually separated and the police were contacted. Following the investigation, the accused was located and arrested without incident at his residence later that evening. Further investigation determined that the firearm was a BB gun.
Arrested on April 28:
Jose Angil MULLER, 18, of 14704 Delano Dr in Woodbridge
Charged with brandishing a firearm on school grounds
Court Date: June 28, 2017 | Bond: Held WITHOUT Bond
Keeping Reading...
From Prince William police:
Sexual Assault Investigation – On April 10, detectives from the Special Victim's Unit responded to investigate a sexual assault that was reported to have occurred at a residence in Woodbridge (22191) sometime after January 2017. The investigation revealed that the victim, a 13-year-old female juvenile, was inappropriately touched by the accused, an acquaintance. The victim recently disclosed the incident to a family member who contacted police. Following the investigation, the accused was arrested on April 26 without incident.
Arrested on April 26:
Omar Anael MONTERROSO-REYES, 20, of 2926 Wythe Ct in Woodbridge
Charged with 1 count of indecent liberties with a minor, 2 counts of sexual battery, and 1 count of use of communications systems to facilitate certain offenses
Court Date: Pending | Bond: Held WITHOUT Bond
Keeping Reading...
Sponsored Posts
WOODBRIDGE, Va. — Missing your child's baseball game because you're stuck in traffic: There's an app for that.
It's called the Interactive Scorebook, and it was developed at the Workforce Development Center in Woodbridge as part of an intensive 14-week coding boot camp. The application can be used to score games, pinpoint players on the diamond, and to post the data for real-time monitoring for those who can't make it to the field.
"If you've ever scored a baseball game, there's a lot of paper involved. We've eliminated all of that, and we've made it more user-friendly," said the application's developer Kevin Allen.
Later, he and his partner Olympew Jordan might add more features like the current weather on the field, a text message function to alert parents to canceled games, or a feature that allows team moms to coordinate who is bringing the snacks. (more…)
Keeping Reading...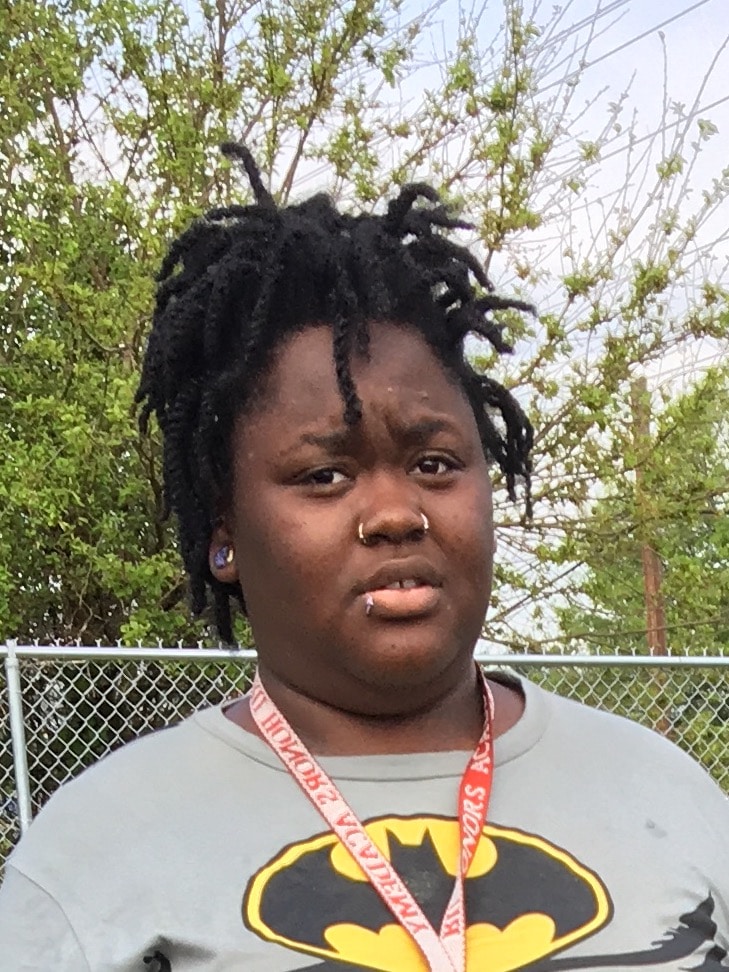 From Prince William County Fire and Rescue Department press release:
On April 21, the Fire Marshal's Office received a complaint from a member of the Sudley Road/Lomond Drive homeless community indicating that people were vandalizing other members of the homeless community's tents and personal belongings by means of fire. Investigators from the Prince William County Fire Marshal's Office developed a suspect and obtained a warrant for SHAVONIA "Mi Mi" EAFFORD.
During the course of a witness interview, Fire Marshals determined that the same suspect also threatened the life of the witness by means of fire, and illegally burned the witness' property.
Arrest warrants were obtained and executed by the Fire Marshal's Office and members of Prince William County Police Department.
Arrested on April 28th:
SHAVONIA "Mi Mi" EAFFORD, 21 years old, no fixed address.
Charged with Class 4 Felony 18.2-52 attempted malicious bodily injury by means of any caustic substance or agent or use of any explosive or fire, Class 1 Misdemeanor 18.2-81 burning or destroying personal property, standing grain, etc. by fire.
SHAVONIA EAFFORD is being held on $3000 bond and is currently at the Prince William/Manassas Regional Adult Detention Center.
Keeping Reading...
Every Obituary in Prince William County by:

A fire broke out on the roof of a building inside the Quantico Corporate Center at Stafford.
Fire and rescue units from Prince William County and Quantico were called to help douse the blaze.
A press release from Stafford County:
Stafford County Fire and Rescue units responded to an automatic alarm at 800 Corporate Drive this morning at 10:29 a.m. The building is a commercial office building in the Quantico Corporate Center. As units responded, dispatchers advised them that callers were reporting black smoke from the roof.
The assignment was upgraded to a Commercial Fire with a request for a second alarm being transmitted. Fire and EMS units from Stafford County, Marine Corps Base Quantico and Prince William County responded to the incident. Upon arrival, the crews found smoke evident from the roof of a four-story building that was in the process of being evacuated. The crews found a fire on the roof of the structure that was spreading across the area. The fire was ultimately contained to the roof and fourth floor of the structure. Smoke had traveled through all four floors making ventilation difficult. One civilian incurred non-life-threatening injuries during the event.
Personnel operated on the scene for five hours assisting occupants and working to remove smoke from the structure. The damage to the building is estimated to be $400,000.
Keeping Reading...
From Prince William Fire and Rescue:
On Thursday, April 27th at 2:51 p.m., fire and rescue units were dispatched to a townhouse fire located in the 2100 block of Gunsmith Terrace in Woodbridge.
Upon arrival, firefighters observed smoke showing from the rear of the first and second floor. As fire and rescue crews made entry they encountered a small kitchen fire which was quickly extinguished.
One occupant was transported to a local medical facility for minor injuries. No additional injuries reported.
According to the Fire Marshal's Office, the townhome sustained minimal damage estimated at $25,000. The Building Official has posted the home unsafe.
Red Cross was on scene to assist the family, 3 adults, 5 children and their pet.
The origin and cause of the fire was unattended cooking on a kitchen stove top and has been determined as accidental.
Keeping Reading...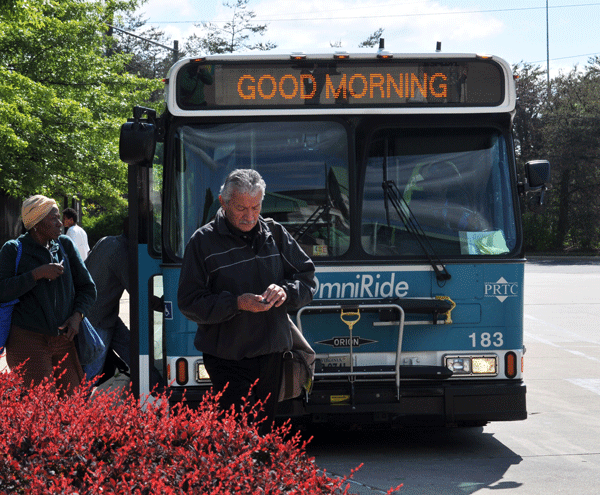 Riding OmniRide buses to the Franconia-Springfield Metro station this weekend?
A closure of two one southbound lanes of I-95 at the Neabsco Creek bridge near the Dale City rest area will cause delays for bus riders.
From the Potomac and Rappahannock Transit Agency:
All PRTC bus services that use I-95 and Route 1 may experience significant delays on Saturday, April 29 and Saturday, May 6 due to lane closures for bridge repair work on I-95 between Dale Boulevard and Cardinal Drive.
During the weekend repair work, the Express Lanes will remain pointed southward. This is expected to cause delays for Prince William Metro Direct buses serving Franconia-Springfield Metro Station. It also will prompt many drivers to use Route 1, causing increased congestion for Saturday OmniLink buses on routes serving Dumfries, Woodbridge/Lake Ridge, and the Route 1 corridor.
The Express Lanes are expected to be open for northbound traffic for the commute on Monday, May 1.
Keeping Reading...
From Prince William County Police:
Armed Robbery *ARREST – On April 26, detectives from the Robbery Unit identified and arrested the suspect involved in the robbery which occurred in the area of Vantage Dr and John Diskin Cir in Woodbridge on April 25. The suspect, identified as Demetrious Jerome DONIGAN, was arrested without incident.
Arrested on April 26:
Demetrious Jerome DONIGAN, 18, of 15481 Chopawamsic Ct in Woodbridge
Charged with robbery and use of a firearm in commission of a felony
Court Date: June 5, 2017 |Bond: Held WITHOUT Bond (more…)
Keeping Reading...
From Prince William County Police Department:
The Crime Prevention Unit of the Prince William County Police Department is hosting a Neighborhood Watch training on Tuesday, May 2, at 7 p.m. The event should last about an hour.
Has it been awhile since you and your Watch members were trained? Are you a new coordinator taking over an existing Watch, or a new coordinator looking for training for everyone in your neighborhood? If you answered "yes" to any of these, then this training is for you! (more…)
Keeping Reading...