Sponsored Post

Tour historic Rippon Lodge this holiday season for 'Christmas Through the Ages'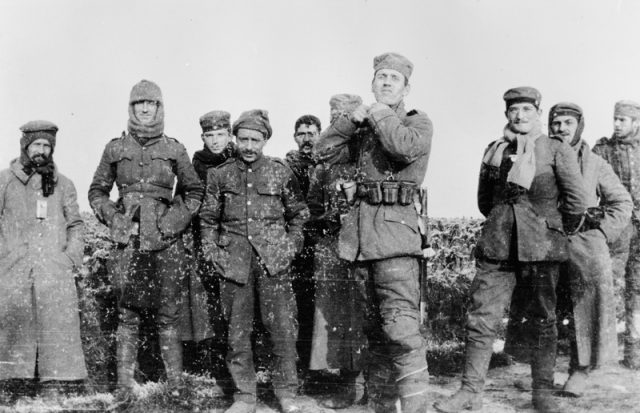 What had started as a fast-paced struggle across the Low Countries of Belgium, the Netherlands, Luxembourg, and finally into France itself, the First World War was already five months old by December of 1914.
In September, the French and British Armies had stopped the German drive short of Paris, at the Marne River. Warfare slowed down as soldiers dug trenches; the 'front' facing enemy positions were only the very tip of a system that stretched miles deep.
Infantrymen, in contact with the enemy, did not expect much of a Christmas celebration that year under such desperate conditions. Units rotated periodically, with a day of rest in less exposed trenches to the rear, where they would not be under direct fire. This brief relaxation would be the most men would expect for the holiday.
Ignored by officials on both sides, Pope Benedict XV attempted to arrange a truce between the warring powers for Christmas.
What actually happened came from men in the field, without any apparent organization. It started after men settled into the trenches in November… it began with arrangements (ceasefires) while recovering the dead from No-Man's Land. Burial parties, from opposing sides, then exchanged information and food with each other.
In many places, the lines were close enough that the soldiers could shout across at each other, whether to taunt or simply chat. Conversing was especially clear among the German and British armies, because many men had visited or lived in both nations, and could communicate with each other in English.
On Christmas Eve, British soldiers reported that German soldiers started singing songs and playing music. Soon, the British responded with their own tunes and songs. The shouts between men took on a festive tone, exchanging seasonal greetings. Who first raised their head above the trenches goes unrecorded, but officers and infantrymen from both sides, began to emerge. And no one fired. Artillery fell silent in some sectors.
Orders, of course, strictly prohibited any of this fraternization, holiday or not. Many company officers and Generals were afraid that it would prevent men from continuing the fight afterward. There seemed to exist among the soldiers in the trenches, a sort of understanding, born from their shared condition, regardless of general orders.
This did not extend to all soldiers, of course. Captain Billy Congreve of the Rifle Brigade wrote in his diary, "We have issued strict orders to the men not to on any account allow a truce, as we have heard rumours that they will probably try to. The Germans did. They came over towards us singing. So we opened rapid fire on them, which is the only truce they deserve."
On the other side of the issue, Captain Bruce Bairnsfather of the Royal Warwickshire Regiment observed among his men that, "There was not an atom of hate on either side that day; and yet, on our side, not for a moment was the will to war and the will to beat them relaxed. It was just like the interval between the rounds in a friendly boxing match." While there was suspicion, mistrust, and prejudice on both sides, it was pushed aside for that peaceful meeting.
The high command's fears came to fruition in some of the battlefields the day after Christmas. Private Frank Richards of the Royal Welch Fusiliers, wrote in his memoirs, "During the whole of Boxing Day (December 26th) we never fired a shot, and they the same, each side seemed to be waiting for the other to set the ball a-rolling."
In the end, as units rotated back to different positions, and simply as time passed, the informal truces ended. These 'truces' became a distant memory, as the first year of a brutal struggle would go on another four years, with 29 million soldiers killed or wounded, over 57% of those serving. There would never be another Christmas quite like the one in 1914.
This December at Rippon Lodge in Woodbridge, Prince William County's Historic Preservation Division will be presenting Christmas Through the Ages. This special holiday-only program starts off with a tree lighting on the lawn December 2 and continues every Friday, Saturday, and Sunday through December 23. The first tour of the day begins at 11:00 am and the last at 3:00 pm.
Each walk through the Lodge with one of the guides takes a visitor through some American holiday-time traditions; from the 1700s celebration of the time between Christmas and Epiphany, known as Twelfth Night, through the Victorian age, 1920s, and 1930s, learn how we came to celebrate Christmas as it is today.
Another special occasion will be a visit from Santa Claus on December 9th from 1:00 pm to 3:00 pm. Parents will be given a 'Things Santa Should Know' card before their child meets that right jolly old elf in his temporary residence in Rippon Lodge's cabin.
Send news and photos to Potomac Local
Subscribe Now for Free!
Get
updates straight to your inbox.
A word from our sponsors...