Traffic

Unusual I-95 delays have slowed OmniRide commuter buses since April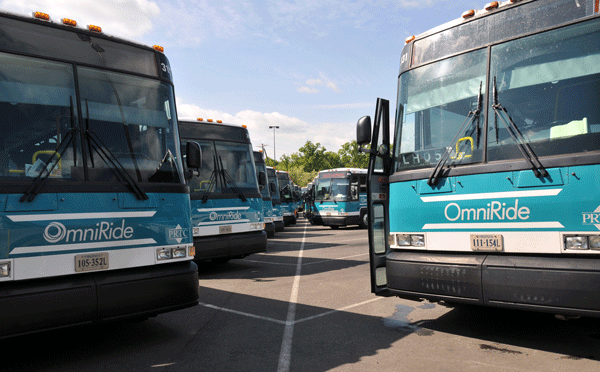 It's common knowledge that traffic on Interstate 95 north is slow in the mornings as commuters head to work in Washington, D.C. In the afternoons, traffic on the interstate slows again as workers head south for home.
In the past month, however, that rule of the road has been tested. OmniRide commuter buses from Prince William County headed north on I-95 were delayed at least 12 times between May 25 and June 23.
The delays were caused by a mix of traffic congestion and crashes. The buses' operator Potomac and Rappahannock Transportation Commission relies on a smooth flow of northbound traffic in the afternoons to send empty, or "deadheaded" buses to Washington, D.C. to pick up evening commuters, and then turn around and use the I-95 E-ZPass Express Lanes to bring them home.
From PRTC spokeswoman Christine Rodrigo:
"Yes, there has been an increase in the number of days that PRTC buses have experienced afternoon traffic delays. The congestion is typically northbound in Newington from early afternoon until the evening. Later in the evening, the traffic is tending to back up northbound from the Pentagon to the 14th Street Bridge.

To maximize efficiency and minimize costs, many of our buses operate two separate trips in the afternoons – traveling from Woodbridge to D.C. early during the rush hour, dropping passengers off in the Prince William area, and then returning to D.C. to pick up more passengers.

These second rush hour trips are particularly vulnerable to traffic conditions because at that time of day the Express and [I-95 E-ZPass Express Lanes] are pointed southbound. As a result, northbound PRTC buses are using the general lanes with everyone else."
The delays have forced PRTC to re-assign bus drivers to other routes, as well as "constantly monitor" on-time performance.
The regional summertime traffic pattern is unlike other times of the year, as people take vacations, or leave work early on beautiful weather afternoons. But these delays are different.
From Rodrigo:
"We first noticed the delays in mid-April, so we can't attribute it to summertime traffic. One possible explanation is that the low gas prices are encouraging more people to drive."
PRTC is set to roll out new bus schedules on Monday. The new timetables take into effect the northbound delays.
"Because the delays have been occurring consistently for the past two months, we have accounted for the increased running time in our new schedules which take effect on Monday, July 3. PRTC updates its schedules twice a year to reflect necessary changes to routing, bus stops and running times. Once the new schedules are in effect, passengers should see improved on-time performance."
Send news and photos to Potomac Local
Subscribe Now for Free!
Get
updates straight to your inbox.
A word from our sponsors...