Sponsored Post

The Prince William K-9 Unit: Ready at a moment's notice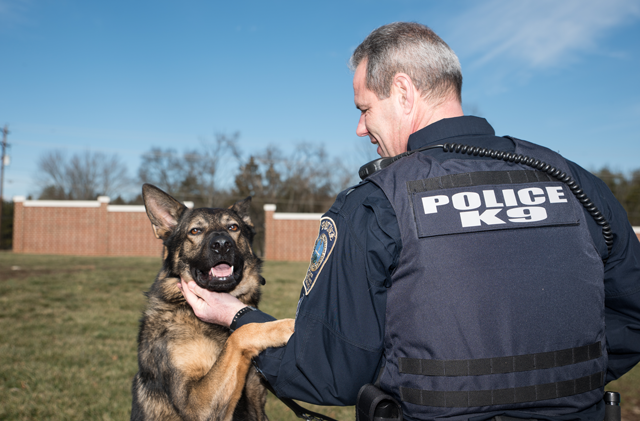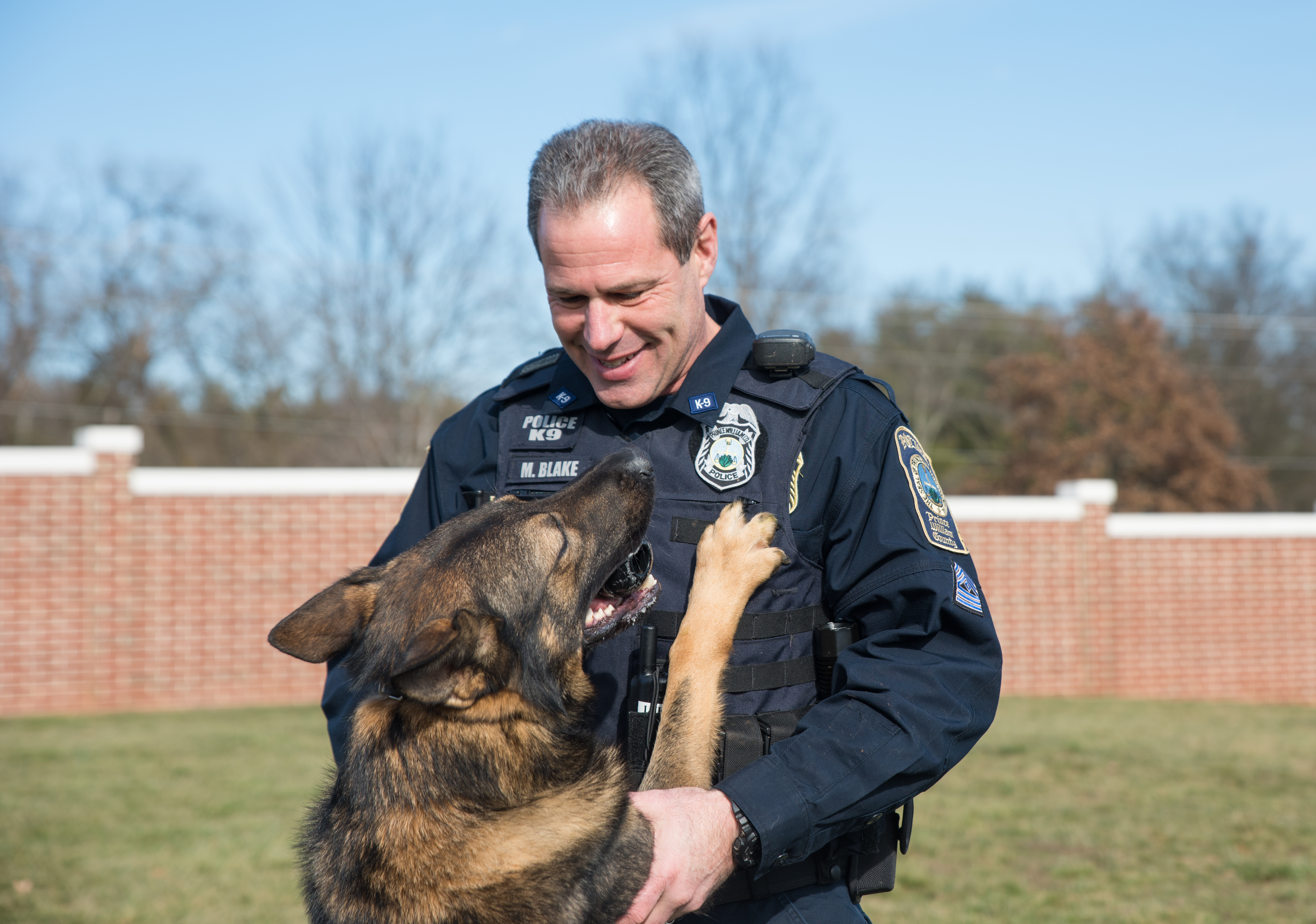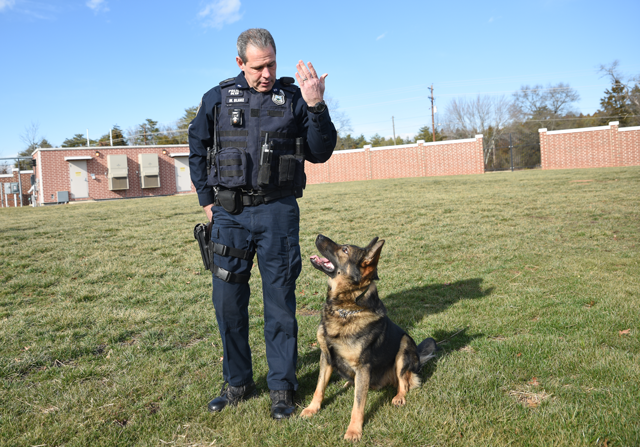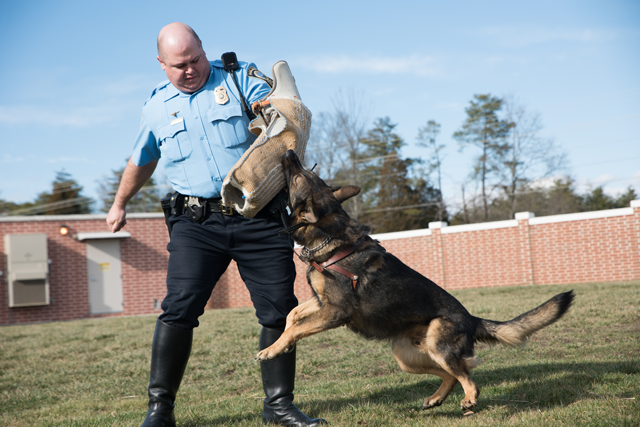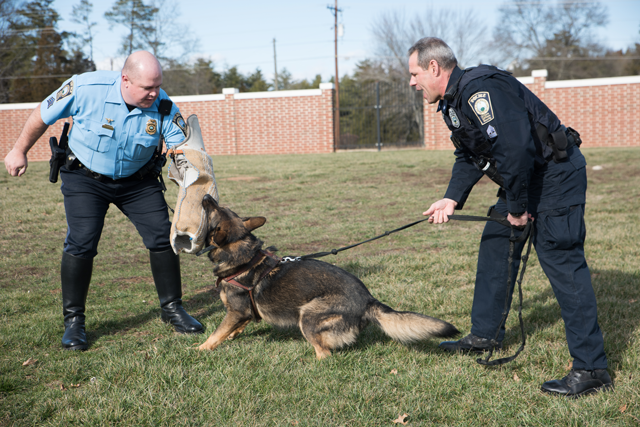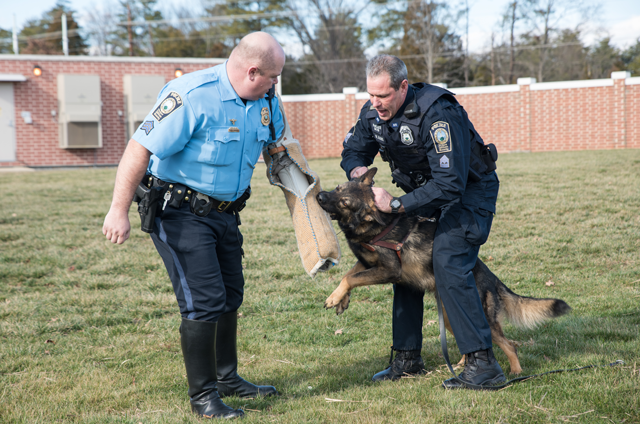 1st Sgt. Michael Blake and K-9 partner Luke make a great team. Blake has been with the Prince William Police Department for almost twenty years. Luke is a German shepherd rookie – he will only be two in March. But Blake has already said when it's time, he wants to retire with Luke.
The Journey and Training Begin
The Prince William County Police Department doesn't buy dogs like Luke at the local pet store. They bring these intelligent animals from the Netherlands, Slovakia, Czech Republic and parts of Eastern and Western Europe. The male dogs bought from this region are worth the $7,000 price tag because there is less chance of them having inherited conditions like hip dysplasia. Since German Shepherds are active dogs, a condition like hip dysplasia could limit their mobility early in life.
The dogs have an average lifespan of ten to twelve years. This means that K-9 German Shepherds are career dogs because they typically work until they are nine to ten years old unless they get hurt.
Dogs that work in the K-9 unit undergo training to go out "on the job." Luke completed fourteen weeks of full-time training to graduate to support the patrol officers. Luke continues to attend reinforcement training two days per month."
Home Life
K-9 officers get to bunk with their handlers. The dogs do best if they are integrated with the family, Blake said, so Luke lives at home with Blake and his family. Blake and Luke bond over playing in the backyard, and tummy rubs. But when it's time to work, Luke can be at attention and sprint off in a matter of seconds.
"The bond you create with these guys is incredible," Blake said. "We're inseparable at home."
Luke loves to play with his toys. His favorite toy is a "Kong," a kind of rubber ball. "He'll do anything and everything for that ball," said Blake, "but he has to do what I ask him to do first."
In this way, Luke learns discipline in both work and play.
On the Job Experience
On and off the job, Luke follows verbal commands like "heel." He also follows hand signals to sit and stay.
But a police K-9 isn't there to do tricks. Police dogs are trained to sniff out different things. Luke supports the Patrol Unit by sniffing out the human scent to help locate suspects and items a suspect might have touched. And when it comes to apprehending a suspect, dogs like Luke are taught to bite.
Like most police dogs, Luke is trained on a "bite sleeve," a special padded sleeve that protects an officer's arm during training. During the interview, Luke demonstrated some of his bite sleeve skills.
Sgt. Heath Oyler volunteered to wear a bite sleeve. Luke first started on a lead when he lunged and bit onto the sleeve. After he was let off the lead, he sprinted towards Oyler, bit the sleeve hard and would not let go. Blake encouraged Luke, saying, "Hold him, buddy!"
Then Oyler let the sleeve slip off while Luke held on to it. When the dogs bite, they bite to hold, not to tear, Blake said.
In another practice drill, a credit card was thrown into the field at the Manassas Western District Station, and Luke ran around the field, sniffing and hunting. When he found the card, he didn't pick it up in his mouth – he laid down next to it, waiting for Blake.
Even though Luke must stay alert, be prepared and ready to go, Blake said the department is only allowed to use dogs in certain circumstances.
When they do, they must announce to the suspect that they are releasing the dog. They give the warning in English and Spanish. Blake said most suspects are smart enough to stop and put their hands in the air once they know the dog has been released.
A Popular Unit
The K-9 Unit is often coveted by recruits eager to work with the dogs. However, not all on the waiting list will be eligible for the position. First, officers must serve two to three years in the Patrol Unit before applying.
Then, they must pass a specific agility test. Those with tactical experience are preferred. They must also live in the county in order to be ready at a moment's notice.
The greater lead time a suspect has to get away, the harder it is for the dogs to find the suspect's scent or items the suspect has left behind, so K-9 Unit officers must be local.
See more about the Prince William Police Department K-9 unit.
Read about last year's K-9 graduates.
For more information and to apply online, go to joinpwcpd.org
Read more from our series
Prince William County Police detectives chosen to work for a higher cause
Prince William on patrol: 'This Job is About Integrity'
Prince William County Police Digital Forensics team puts heart, soul, and mind into solving cases
How a love for animals and a vet degree spawned a career as a Prince William County Police officer
Send news and photos to Potomac Local
Subscribe to the weekday Breakfast Links email FREE!
Get
updates straight to your inbox.
A word from our sponsors...