Obituary

Manassas journalist and photographer Bennie Scarton Jr. dies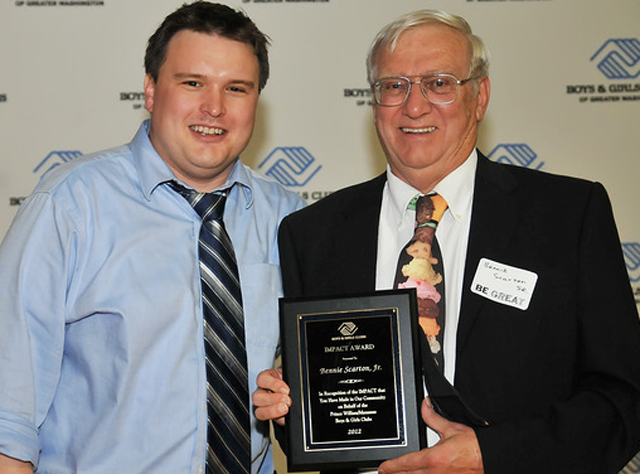 Manassas journalist and photographer Bennie Scarton Jr., who celebrated his community in the long-running column, "It's My Town," died on January 1. He was 80.
His survivors include his wife, Ramona, whom he married the day after Christmas 57 years ago, and his two daughters, Tamara Scarton Morales, of Crofton, Md., and Kyra Scarton Newman of Glen Allen, Va. He is also survived by two sons-in-law, Paul Morales and Jon Newman, as well as four grandchildren: Matthew and Hannah Morales and Sarah and Zachary Newman.
Arriving in Manassas in 1959, Scarton joined the newspaper staff of The Journal Messenger, working principally first as a photographer and eventually moving up the editorial ranks. During his 52-year tenure at the afternoon daily, which had merged with the cross-county Potomac News to become the News & Messenger, he covered historical milestones – including the 100th and 150th commemoration of the Civil War and the First and Second Battles of Bull Run; reported on the city's emergence from a sleepy small town and establishment of the Manassas Museum; took a stint as sports editor; and ended his tenure penning the weekly "It's My Town" column.
That original 1961 Civil War reenactment almost brought a short end to his career. "I nearly got my head blown off when I got too close to a firing cannon while getting pictures," wrote Scarton, who was the only reporter onsite to cover both anniversary events. "Despite my too-late warning to keep away from the cannon firings, I got the picture I wanted. It took up nearly one-third of the front page on July 20, 1961."
In an interview shortly before his 2012 retirement from the News & Messenger, Scarton recalled that his most memorable day on the job was covering the flooding of Hurricane Agnes in 1972. "I found a pilot to take me up, and I shot some memorable pictures of the flooded areas," he said. "While we were in the air, the wind picked up. The pilot made several attempts to land but was repeatedly blown over the (Occoquan) River. On the fifth or sixth approach, he said, 'Come hell or high water…' We made a really rough landing, and I was ready to kiss the ground."
His family would have laughed that no trip out of town was complete without a stop by the office – because that was his anchor point from which to head any direction – if it wasn't true.
Unable to really stay retired, for the past four years, he worked as a reporter for The Manassas Observer, with his articles also appearing in its sister publications, including The Bull Run Observer. Scarton continued to work almost daily until late fall, never missing a deadline. In 2011, after suffering a broken ankle, knee and wrist after he took the brunt of a crash from a car that struck his vehicle primarily on the driver's front quadrant, Scarton was motivated by the lure of his career to push through rehabilitation and get another front-page story published.
During his tenure, Scarton watched the transformation both of his community and his industry. In his first decades in the newspaper business, printing presses operated in the same building, wire ticker tapes spewed out of a corner machine bringing in national headlines, newspaper pages were assembled and reviewed by hand, and film was developed and photographs were printed manually in his favorite hideaway in the building, the dark room. Evidence of the business came home with him daily, with his wife eventually giving up trying to get printer's ink out of his clothes or inky fingerprints off the doorframes.
Never missing a day of work for being sick, Scarton also never showed up at the office or an interview without being dressed in a shirt, tie and sports jacket – even on the most humid summer day. He noted that he could always walk the few blocks from home to work even in the worst weather, and "I also feel it's my obligation to show up for work. In the newspaper business, you have to," he said.
Over the years, he watched as the small hamlet of Manassas, which in the 1960s required a long-distance telephone fare to call Washington, D.C., only 32 miles to the east, exploded into a major suburb, slowly, at first, after the opening of Interstate 66 and rapidly in the past 20 years. He wrote about large-scale development that transformed former farms into new neighborhoods, retail and other industry.
As his articles became a history of both the city and surrounding Prince William County, Scarton still found a few particular areas that always captured his interest. The preservation of the heart of Manassas, from its railroad origins to its small-town charm, was a favorite, and he was eager to report on such initiatives as The Harris Pavilion and expansion of City Hall. In his last decade, he spent much time writing stories about local businesses, helping to showcase their contributions and role in today's economy. And each August, he spent weeks at the Prince William County Fairgrounds covering homemaker awards, the Midway and the agricultural entries, which now come less from his home county and more from still-agrarian counties. Of course, fair week wasn't all work: Each year, he made sure his grandchildren visited and spent time at the fair.
His family occasionally became part of his daily work. His eldest daughter, Tammy, was called into action for a Baby New Year photo, even though she was 8 months old at the time, and his youngest, Kyra, added to his deadline stress when she decided to arrive on a Wednesday – the production day for the then-weekly newspaper (and the advertising manager's wife went into labor at the same time). In preparing for the special multi-pound edition to commemorative the 100th anniversary of the Civil War, Scarton vowed not to shave until the newspaper went to bed. He recently recalled that "Ramona told me the beard or her had to go. Guess I made the right choice." The family also developed an off-the-record policy for dinner-table conversations.
The winner of countless Virginia Press Association awards over his nearly six-decade career, Scarton took a career highlight photo of an albino mouse that apparently had moved into a payphone at the local Laundromat. His image of the mouse peeking out from the change compartment was picked up by a national news wire service, leading to its publication in newspapers and other media across the country, including My Weekly Reader and LIFE magazine. This was decades before the current trend of memes that go viral.
In 2002, he was asked to serve as Grand Marshal of the Manassas Christmas Parade, riding in the designated convertible with Ramona. He had covered the parade every year since arriving in Manassas, and the Grand Marshal honor reflected his role in shaping the community.
The eldest child of a high-producing coal miner and his wife, Scarton was born on July 7, 1936 and spent his childhood in Bretz, W.Va., a three-block community in Preston County. Originally planning for a military career and fulfilling his parents' wishes to stay away from the unsteady work and often risky mine conditions, Scarton enlisted in the U.S. Air Force after graduating from Masontown High School in 1954, spending a year in basic training before receiving a medical discharge for the reemergence of a childhood bout of rheumatic fever.
With his veteran benefits under the G.I. Bill, Scarton returned home and enrolled at West Virginia University, studying journalism with minors in political science and French (although he has never been able to speak a word of that language – a fact attributed to the time he spent instead napping in the library stacks and perfecting his table tennis slam shot at the Mountain Lair, WVU's student union). Scarton and his high school buddies took the daily 25-minute commute along curvy, mountainous roads in every weather condition, which allowed him to master driving on snow and parking on 45-degree slants, even if his family never trusted him completely on a open highway in the clearest conditions.
When Scarton failed to show up at the daily carpool meeting point at 5 p.m., his crew cruised over to Women's Hall South and honked the car horn, waiting for Scarton to finally scamper out of the dormitory after a visit to court Ramona Matlick, another Preston County native and WVU student. The two married in 1959.
During college summers, Scarton worked in Washington, D.C., as a federal government typist, where he mastered that skill and often boasted his rate was 185 words-per-minute – an impressive feat given that he was operating manual typewriters that required more dexterity and impact than modern keyboards. While he eventually transitioned to computers, he still pined for his original Royal typewriter.
He applied to The Journal Messenger after college and accepted the job during the interview, then returned to Washington, D.C., and called to say he had changed his mind. Then-publisher Garry Willard insisted that Scarton take the job and became his mentor.
Scarton enjoyed traveling, and he and Ramona were known to venture off on a weekend day to check out antique markets and thrift stores. For nearly three decades, he collected Little Golden Books, a series of children's titles. His collection tops more than 4,000 volumes, including some early rare editions with original dust jackets. Scarton also participated in a fantasy football league, enjoyed listening to country music and occasionally tried his luck at Hollywood Casino at Charles Town Races.
Northern Virginia Community College hosted an exhibition of Scarton's travel photography at its Manassas Campus. The Manassas City Council also honored Scarton in 2012 for his 52 ½ years of service starting at The Journal Messenger.
On the road or at home, Scarton was always ready for an adventure, often heading out for another tour or experience after his family or traveling mates had settled in for the night – including checking out the late shows on the cruises he enjoyed in recent years with his wife or a late trip to the casino when traveling with family members. He earned his nickname while on a fishing trip with a handful of Manassas buddies, who often traveled to the Outer Banks when it was still a quiet seasonal destination that closed down after Labor Day. The men were out on the water when a storm brewed up; their boat couldn't get past the breakers so they called for back-up support. Scarton barely let the rescue vehicle pull up alongside before jumping for safety, earning the "Flying Squirrel" moniker that stayed with him for decades.
Scarton, who died of pancreatic cancer, has additional survivors, including his sisters, Joan Hansen of Orlando, Fl., and Margaret Jones, and her husband, Ronald, of Springfield, Va., and his brother, Robert Scarton, and his wife, Carol, of Manassas Park. Survivors also include his wife's family, Gareth and Jo Matlick of Brooksville, Fl., Sharlene Gordon of Virginia Beach, B.K. and Mariann Matlick of Palmyra, Pa., and Kirby Matlick of Roanoke, Va. He is survived by 13 nieces and nephews. He was preceded in death by his parents, Bennie and Leona Scarton.
In lieu of flowers, the family suggests donations to support programming efforts at the Manassas Museum, 9101 Prince William St., Manassas, VA 20110.
The family will receive friends at Pierce Funeral Home and Cremation Services, 9609 Center Street, Manassas, VA 20110 on Friday, January 6, 2016 from 2-4 and 7-9 PM. Mass of Christian Burial will be celebrated at All Saints Catholic Church, 9300 Stonewall Road, Manassas, VA on Saturday, January 7, 2016 at 10:00 AM. Interment will be private.
A word from our sponsors...