News

Shining Sol Candle Company to present at 1 Million Cups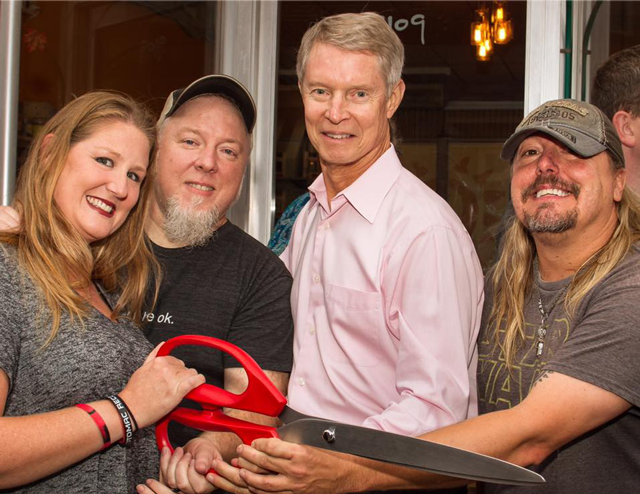 MANASSAS, Va. — The founders of the Shining Sol Candle Company in Manassas will be the featured presenters at 1 Million Cups Prince William at 9 a.m. Wednesday at the Hylton Performing Arts Center.
The candle shop, founded by guitarist Pete Evick, who plays with rockstar Bret Micheals, will be joined by Deron Blevins. Both will discuss the recent opening of their new storefront in Manassas and growing their business from an online-only company into a brick and mortar storefront.
More from Shining Sol:
From Pete:
I started Shining Sol Candle Company in 2012, along with Sara Rodriguez, as an online only venture operating in my hometown of Manassas. Using the worldwide visibility of my life long career as an award winning musician/touring guitarist with rock music icon Bret Michaels, I was able to spread the word and gain national brand recognition within an industry that generates almost $3 billion a year. Being somewhat of an environmentalist, I chose to use a combination of all natural soy wax and wood wicks. This unique combination does not release the toxins typically found in traditional paraffin wax and (most) cotton wicks.
Trying to set yourself apart within the candle market is not an easy task. Using my entertainment industry knowledge and contacts, I launched a line of officially licensed candles with some of the world's largest entertainers including legendary bands such as Aerosmith and Kiss. As the company grew, I was fortunate to have a childhood friend (Deron Blevins) who was not only a web/graphic design and marketing professional, but who also was passionate about all the things I and the company needed to go to the next level. To my good fortune, Deron was keeping a mindful eye on the company from afar. Deron brought to the table an overall knowledge that exceeded what a lot of small business owners hope to find in a partner, and also a well studied knowledge of business in general.
From Deron:
I spent the last 20+ years of my professional career honing my skills in graphic/web design and marketing with a handful of companies (including my own). I've assisted several local clients in growing their businesses into multi-million dollar companies, and maintaining those increases to this day. A couple years ago I was watching as Pete developed Shining Sol into a quality candle company. While I knew I could utilize my knowledge and help him with his vision in the early days of Shining Sol, I did indeed "watch from afar" so as not to be one of those "me too" friends. There came a point in 2014 where, being the picky web guy I am, I could no longer let his old website detract from the candles he was creating. I offered my help in building Shining Sol a new website for free, and as they say, "The rest is history." We quickly realized that, working together, there was a real opportunity to take Shining Sol to a level that most only dream about. With the combination of Pete, Sara and myself – the sky truly is the limit in this ever growing industry.
From Shining Sol:
The most amazing thing we've experienced with Shining Sol is the wide range of people who love our products. They range from male to female, teenagers to senior citizens, and literally any and every person in between. Our customers look for many things in a candle; comfort, warmth, ambiance, freshness… the list is truly endless. When everyone else in small business is trying to take their brick and mortar stores worldwide with internet marketing, we chose the opposite. We couldn't be happier with the result so far. There is a sense of realness and self accomplishment you just cant get from the Internet only business.

We chose this particular point in time to launch our storefront because we know we have a superior product when matched up against most other store bought candles. We spend a lot of time making sure our candles have long burn times, scent a whole room (and some), retain their scent, do not blacken our customer's walls/ceilings/air vents, and that they also provide many other benefits. There has been a growing backlash against many large candle companies the past couple of years for not accomplishing, what we consider to be, essential items on the "candle checklist."

To be a part of the Small Business movement that is sweeping across America right now is, without a doubt, the right choice for us. Both Deron and I were born and raised in Manassas, Virginia and we are beyond grateful for all the local support so far. We have been in Old Town Manassas for only a short time and we have seen our business grow and exceed our already high expectations.
Send news and photos to Potomac Local
Subscribe Now for Free!
Get
updates straight to your inbox.
A word from our sponsors...