News

Lake Ridge Storm Water Improvement Cost Estimates Top $1.1 Million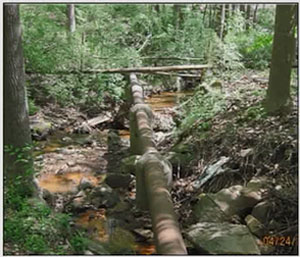 LAKE RIDGE, Va. — Two storm water management ponds have floated to the top of the list of needed storm water improvements along the Occoquan River.
Prince William County officials walked six miles and looked at 20 streams in the Occoquan River watershed, which includes streams and creeks that collect rainfall in areas like Brenstville and Independent Hill and points south of Manassas, where it then flows toward the Town of Occoquan and Lake Ridge.
Of those looked at, a storm water management site nestled underneath power lines along Old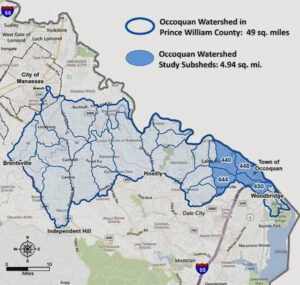 Bridge Road, between Antietam Road and Oakwood Drive in Lake Ridge, is in the most in need for improvements. Here, large sewer pipes are exposed after years of erosion from an unnamed creek that flows water into the storm water management pond. It's feared that logs could strike the exposed pipes rupturing the sewer line. The storm water pond also sits near multiple homes in a densely populated suburban area.
"This is exactly the kind of project we're looking for," said Prince William County Chief of Environmental Services Marc Aveni. "The project will give a lot of credit when looking at storm water management with the state…we're not just fixing a storm water management, we're fixing a stream that leads into the facility."
Officials said the improvements are needed to curb pollutants from flowing from streams into the river, and ultimately into the Potomac River to the Chesapeake Bay.
The improvements would be similar to those made to the Cow Branch, a stream that runs underneath U.S. 1 in Woodbridge and flows into the Quantico Creek. The county, which managed the Cow Branch project, says these stream restoration projects help reduce or prevent flooding, improve water quality, and protect flood plains when the projects are complete.
A second storm water management area in Lake Ridge that is marked for improvement is in a wooded area near Mayflower Drive and Old Bridge Road. It's the Ballywhack Creek that runs into the Town of Occoquan and flooded out the town during period associated with Tropical Storm Lee in 2011.
"This is one of the facilities that we've had our eye on for a long time. A retrofit to make this facility bigger would help with downstream flooding concerns in the Town of Occoquan," said Aveni.
Aveni pointed out that the study that identified the need to fix the storm water management area is not a flooding study for the Town of Occoquan.
The improvements would be funded by county tax dollars to the tune of $965,000 per year. Grants and federal and state subsidies can be tapped to help offset the cost of the projects.
The project between Antietam Road and Oakwood Drive is slated to cost $519,000, and the Ballywhack Creek project should cost $600,000, according to initial estimates. Both projects remain unfunded.
Both of the areas identified for restoration sit on land owned by the Lake Ridge Parks and Recreation Association (LRPRA). The projects were on a long list of recommended sites along the Occoquan Reservoir LRPRA said the county should look at. That list includes sites at Golden Eagle Drive, Avariy way, Collingwood Court and Shearwater Court.
"There's small relative to these larger storm water management ponds in the area," said LRPRA Assistant Facilities Director Brodie Freer.
In all, there are 14 storm water ponds in the Lake Ridge area. Freer says he plans to meet again with county officials to learn what next steps will be taken to begin work on the projects on Old Bridge Road.
Send news and photos to Potomac Local
Subscribe Now for Free!
Get
updates straight to your inbox.
A word from our sponsors...