News

Bristoe Station Battlefield on List of Most Endangered Historic Places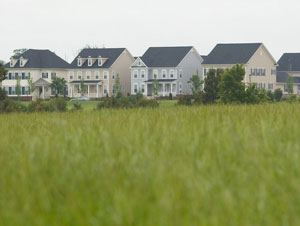 BRISTOW, Va. — A new report identifies Bristoe Station Battlefield, just outside Manassas in Prince William County's Bristow area, as one of the 11 most endangered historical sites in Virginia.
The Civil War battlefield on Bristow Road just south of Va. 28, coupled with Civil War battlefields in Williamsburg, is being threatened by development, the report notes. Additionally, an 80-acre cemetery threatens the unprotected areas of the Bristoe battlefield.
Here's a snippet from the report issued by Preservation Virginia, an organization advocating to preserve historic places in the state:
The Bristoe Station Battlefield is the site of two significant battles: the August 27, 1862, Battle of Kettle Run, and the October 14, 1863, Battle of Bristoe Station. Various winter encampments took place in this same area, and various cemeteries exist, most still unidentified.

Both battlefields have been recognized as among the Civil War's most significant sites by the Congressionally-appointed Civil War Sites Advisory Commission (CWSAC) and its Report on the Nation's Civil War Battlefields. Bristoe Station Battlefield is eligible for listing on the National Register of Historic Places, and the Virginia Department of Historic Resources holds a historic easement on the 133 acres that incorporate the Bristoe Station Battlefield Heritage Park.

Locally, Prince William County identifies the current Bristoe Station Battlefield Heritage Park as a County Registered Historical Site.
The battlefield in Bristow has been under Prince William County's purview since 2006. Here's how it got there in en explanation from Brendon Hannifin, of the county's Historic Preservation Department:
Bristoe Station Battlefield Heritage Park was acquired by Prince William County from the Civil War Preservation Trust in June of 2006. The 127 acre parcel was created through the New Bristow Village rezoning…. The rezoning led to the dedication of the heritage park for preservation. This along with an additional 6 acres that we purchased makes up the existing County preserved area.

The county is pleased to have worked with local, state, and national preservation organizations to preserve in perpetuity a significant portion of the battlefield. Recently we accepted a donation of 7 additional acres and in 2010 we preserved, through a proffer, and additional 40 acres. Once the proffer is fulfilled we will have preserved 180 acres, that is over 20% of the 1863 Battlefield.

We did not have any input into the Preservation Virginia list. We are focusing our efforts on the significant portion of the Battlefield that has been preserved and are providing tours and programs throughout the year.
So, what should be done? Here's what Preservation Virginia thinks:
Revisiting the zoning contexts in which these cultural landscapes appear may help to more effectively align the goals of local governments, citizenry, the development community, and historically-minded organizations. Bristoe Station Battlefield has already been identified as the Bristoe Station Historical Area in Prince William County's Comprehensive Plan; such recognition of the cultural landscape's importance should inform planning and development decisions to allow for smart development while protecting assets.

Likewise, the historical significance of the Williamsburg Battlefield could be addressed through local zoning overlays and comprehensive planning. At Bristoe Station, a proposed cemetery development of 80 acres threatens to destroy a significant portion of unprotected battlefield.

The local community should continue to work together toward a solution that will allow for development without destroying this hallowed ground. Overall, community-based solutions are needed to adequately balance landscape preservation with modern development.
A cemetery near the battlefield would require a change to Prince William County's comprehensive development plan. Efforts put on here we put on hold in February after the organization that wanted the cemetery, Chapel Springs Church in Manassas, asked to defer their rezoning request indefinitely, said Ray Utz, with the Prince William County Planning Office.
Send news and photos to Potomac Local
Subscribe to the weekday Breakfast Links email FREE!
Get
updates straight to your inbox.
A word from our sponsors...
January 4, 2018 Comments off