News

Hundreds of Gov't Jobs Remain Vacant in Prince William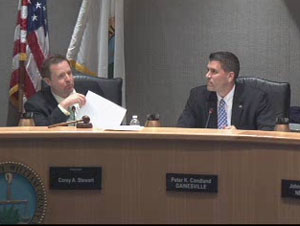 WOODBRIDGE, Va. — If government jobs go unfilled for more than 500 days are they really "critical" positions?
That question was raised during a marathon session of the Prince William County Board of Supervisors Tuesday as they wrangled over what to fund in the next year's budget, and how to fund it.
Supervisors agreed on a plan by Board Chairman Corey Stewart that sets the property tax rate at $1.148 per every $100 of assessed property value. It'll make the average tax bill $3,568, a 4.5% increase over last year, and will net $27.7 million in new revenue to fund two new libraries, more public safety personnel, and improvements to parks, if approved.
Of the new revenue, $15.8 million will go to the schools and $11.8 will go to fund county government.
County jobs going unfilled 
Gainesville Supervisor Peter Candland's failed budget plan – which was to generate $17.5 million in new revenue for the county — called for slashing 227 county government positions that have been vacant for more than 180 days for an overall budgeted savings of $3.7 million a year, according to information presented Tuesday. Jobs vacant for less than 180 days could still be filled under his plan.
Most of the positions are general or civilian government jobs, while others within the police department – like an animal shelter technician job that has been open for more than 500 days, or a sworn police sergeant position unfilled for more than 200 days, would remain unfilled. The proposal also called for cutting a vacant crossing guard position.
"Crossing guards are a chronic challenge every year," said Prince William police Chief Stephan Hudson, who said the position's low pay makes it difficult for his department to retain and recruit staff, and that it and other unfilled positions within the department are undergoing review.
Of the 48,000 resumes Prince William County received last year, 7,000 of the applicants who submitted them were considered for some of the county's 5,000 jobs. County officials cite things like criminal background checks, and rigorous training for police and fire personnel as some of the reasons why the hiring process can take longer than their target goal of posting a job and then making a hire no more than 90 days later.
Candland, who said his private sector employer is able conduct criminal background checks faster and hire sooner than the county does, wasn't buying it.
"I'm sure every department head is gong to come up here and say were doing the best that we can, but if you've had a position that has been vacant for some 400 or more days I don't think that is a 'critical' position," he said.
He called for other cuts to include removing a plan to build a new Catharpin Park in his district, as well as closing the Montclair and Gainesville libraries one day per week after they are constructed. But his plan to cut unfilled stuck in the craw of Neabsco District Supervisor John Jenkins.
"We are the Board of Supervisors and we make decisions on things that affect our offices. All of these other parts of the departments have managers, and those managers are people who are going to make decisions on who or what is needed in those organizations," said Jenkins. "I don't' see how you can sit at the very top of the organization at the Board of Supervisors and make line item decisions on how many people we need…"
What Stewart's plan would fund
Stewarts calls for hiring 25 new police officers, 11 new fire and rescue personnel, funding the construction of the Montclair and Gainesville libraries, restoring $850,000 in funding to the Clerk of the Court office, more funds for partner agencies that provide community services to the county, and will start building a fund to be used for a mandatory expansion of the county's jail it shares with the cities of Manassas and Manassas Park  in 2018.
"Our job is to get the job done with the lowest possible cost," said Stewart, who added taxpayers will "bite the bullet" during the first of the five years of his tax plan, but could see tax relief in later years depending upon the rise or fall of property values.
The Board is set to adopt a final budget on Tuesday at a time when elected officials in Richmond have yet to pass a statewide budget as Senate Democrats and Republicans in the House of Delegates continue to wrangle over Medicaid expansion, or Obamacare, in the state.
Send news and photos to Potomac Local
Subscribe Now for Free!
Get
updates straight to your inbox.
A word from our sponsors...