Sponsored Press Release

Canoe, Skateboard Ramp Found During County-wide Clean Up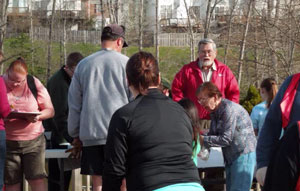 5th Annual Occoquan River Clean-up Results
The Prince William Trails and Streams Coalition successfully coordinated and conducted a multi-prong clean-up event from 9 different sites along more than 25 miles of the Occoquan River and 10.5 miles of Cedar Run.
The clean-up ranged from the Fauquier County/Prince William County line to the Izzak Walton area in Brentsville, and from the base of Lake Jackson Dam south to Hooes Run.
Over 55 watercraft (mostly Kayaks, some canoes, motorized Jon Boats, and Pontoon boats) put-in at appropriate sites to collect debris from 9am to 2:00pm.  More than 156 volunteers cleaned up debris on the water, land or assisted in moving the debris on shore to waiting trucks or dumpsters.
This was a collaborative effort that involved members of the Prince William County Parks and Recreation Department, Public Works, Prince William Trails and Streams Coalition (PWTSC), the Prince William Soil and Water Conservation District (PWSWCD),  three Home Owners Associations; rescue boats from Lake Jackson VFD and the Lake Ridge VFD, the Occoquan Watertrail League (OWL) Neabsco Action Alliance (NAA), Keep Prince William Beautiful (KPWB) and several bordering Homeowners Associations.
Other participants included the Northern Virginia Regional Park Authority, Prince William Izaak Walton League, Bradley Forest Recreation Association, and Lake Jackson Citizens Association.
Coordination was made with the Alice Ferguson Foundation for plastic bags and gloves who sponsored the Chesapeake Water Shed Clean-up effort.
A combined summary of debris removed from a 10.5 mile stretch of Cedar Run from the Fauquier County/Prince William County line to the Izzak Walton area in Brentsville, and a 25 mile stretch of the Occoquan River from below the Lake Jackson Dam passing five (5) put-in/take-out sites, including Riverview Estates HOA, Occoquan Forest HOA, Canon Bluff HOA, Lake Ridge Marina and Hooes Run is reflected below.
Volunteers collected over 7,900 pounds of trash, including 2 overfilled small 15 cubic yard dumpsters, including:
156 non-recyclable bags of trash
4 recyclable bags of material
38 tires
1 old washing machine
1 broken canoe and paddle boat
1 serviceable canoe
1 canoe paddle
1 child riding truck
Misc. large pieces of Styrofoam
1 fire extinguisher
1 large plastic dumpster
1 foam mattress
1 skateboard ramp
1 broken plastic lawn chair
4     – 5 gal plastic buckets
1   large traffic cone
Several large plastic and metal 55 gal barrels
Several pieces of wood, pallets, wire, garden hose, a slide, a container of gasoline, broken trash cans, leaf rake and many balls
Send news and photos to Potomac Local
Subscribe to the weekday Breakfast Links email FREE!
Get
updates straight to your inbox.
A word from our sponsors...