Kitchen Window Climber Has Neighbors, Dogs Rattled
News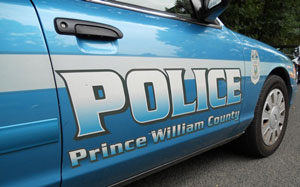 PRINCE WILLIAM COUNTY, Va. — Someone suspected would-be burglar is rattling dogs at homes at a neighborhood near Quantico when after the person tried to climb through a kitchen window.
A woman inside a home in the 19600 block of Kerill road in Triangle was rattled at 6:44 a.m. Monday when she heard her dog barking and then saw a man trying to climb through her kitchen window. She screamed and the man fled.
It turns out another neighbor was also visited by an unwanted guest.
"While on scene, officers were approached by a second homeowner on the same block who also reported to police that someone possibly attempted to enter her residence," stated Prince William police spokesman Jonathan Perok.
The second homeowner didn't see anyone inside her home but did see shoe marks on her basement door.
Police said no one was able to fully enter either home and nothing was stolen. They added that this attempted burglary could be connected to another incident on nearby Thomasson Drive that occurred on the same day.
Here's the statement police released on that incident:
Attempted Residential Burglary – On April 7th at 7:00AM, officer responded to a residence located in the 3700 block of Thomasson Crossing Dr in Triangle (22172) to investigate a burglary in progress. The homeowner reported to police that he heard a loud sound coming from another area of the residence. When the homeowner checked the kitchen area, he discovered an unknown male attempting to make entry through a secured door. The homeowner confronted the man which caused him to flee the area. Officers arriving on scene observed the man running in a nearby area which led to a brief foot pursuit that ended when the suspect ran into a nearby wooded area. A police K-9 was used to search for the suspect. No entry was gained into the residence and no property was reported missing.

Suspect Description:

Black male, between 16 & 21 years of age with a thin build and light complexion

Last seen wearing a black coat and blues jeans, carrying a black backpack
Send news and photos to Potomac Local