News

Could a Popular Beach be Hindering Tourism in Falmouth?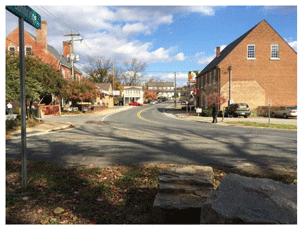 FALMOUTH, Va. — When Lynn Knight first drove to Falmouth she couldn't find the place.
The area – once a bustling port in the 18th and 19th centuries – sits on the Rappahannock River in Stafford County across from Fredericksburg. Knight, a consultant who was hired to figure out how to make Falmouth bustling again eventually did find the tiny village, and then she devised the Falmouth Master Interpretive Plan that details how to bring more people to the area with the hopes of boosting tourism and commerce.
Self-guided tour
The plan calls for a self-guided walking tour that would take visitors past some of the oldest and historic homes and buildings in Stafford County where they could learn about the man rumored to be the U.S.'s first millionaire, Bazil Gordon, who opened a store in the village in 1786 and exported cotton and tobacco from plantations along the Rappahannock River to England. There's also Duff Green who, in the early to mid 1800s when textile production was at its peak in Falmouth, created the Falmouth Manufacturing Company which became Stafford County's first stockholder-controlled company.
Another suggestion: build a permanent monument that could showcase the plight of the more than 10,000 slaves who crossed the Rappahannock River during their journey north to freedom as part of the Underground Railroad.
This list of people who made an impact on Falmouth during Stafford's formative years goes on to include founding father George Washington.
Today, some of the old warehouses have been turned into shops. One of the most successful is Amys' Cafe.
But number of parking spaces is limited and that could be what is curbing interest in the tiny village. The lack of parking is what keeps would-be tourists out of the area, said Knight. The remaining businesses in Falmouth want county leaders to devise a plan to create more parking spaces to build commerce and bring tourists, she added.
A popular beach
At the Historic Port of Falmouth Park, there is plenty of parking. But those who come during the summer months flock to the park's riverside beach to swim, not to tour the village.
County officials are debating changing the rules and keeping the park's parking lot open 24-hours a day so visitors could park and stroll downtown Falmouth. Stafford County Hartwood District Supervisor Gary Snellings said it's a start but added the popular beach is incompatible with the historic nature of Falmouth and needs to go.
"That beach, it's my understanding, is man made and it can be undone by man with using only a couple bulldozers," said Snellings.
Once the beach is gone it can be replaced with additional parking spaces, he said.
The Stafford County Sheriff's Office has not reported an increase in recent parking violations in Falmouth that would indicate drivers clamoring for parking spots. Most of the police activity in Falmouth, however, is logged during the summer months, said sheriff's spokesman Bill Kennedy.
The park is one of the busiest in the county and averages 160 visitors each Saturday and Sunday during the summer months. The river beach is also known as a safety hazard where some swimmers have  have drowned and others have become stranded on rocks during times of rising tides.
But some say closing the beach is not the answer.
"I want to keep the beaches open, and I want to keep the reservoirs as a place for people to swim, and I'd like you to get on board with that, Gary" Stafford Aquia District Supervisor Paul Milde told Snellings during a recent meeting.
'Nobody knows who they are'
Snellings is also concerned about tourism taking foot in Falmouth. He cited a list of well-known names of people who once lived in neighboring Fredericksburg, such as James Monroe, and Mary Washington, George Washington's mother whom a university and a hospital are named after. Many flock there each year to see their historic homes and offices. 
"The big difference with Falmouth is that the people who lived there mean something to us, but you go outside Stafford and nobody knows who they are," added Snellings.
Knight compared the two places and said while Fredericksburg has more small shops in its downtown, Falmouth is more authentic.
"Fredericksburg is in many ways a manufactured downtown where, it's kind of like a shopping mall within historic buildings. Falmouth is where things really happened; the buildings are really historic," said Knight.
Now the Stafford Board of Supervisors must accept the $20,000 Falmouth study. If they move forward with its recommendations, it could take up to five years to implement the walking tour, put new signage in place, and install plaques and park benches at a cost of just under $100,000. The study did not include a price tag for a permanent monument. None of the recommendations are currently funded in the county's budget.
The study was funded by the Virginia Department of Transportation as a way to mitigate any further loss of historic buildings as construction of a new interchange in the heart of Falmouth ramps up, at the intersection of U.S. 1 and U.S. 17.
Send news and photos to Potomac Local
Subscribe Now for Free!
Get
updates straight to your inbox.
A word from our sponsors...