Big Lots Suspect Flees, Leaves Behind Truck Rental Paperwork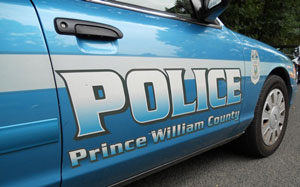 WOODBRIDGE, Va. — A U-Haul was used to steal nearly $9,000 in outdoor goods from a Big Lots store in Woodbridge.
When police pulled up to find the burglary in progress the two men fled the scene. But it didn't take long for police to figure out who was behind the crime because they used the truck rental paperwork left inside the cab of the truck to identify one of the suspects.
Here's more in an unedited press release:
Commercial Burglary l Grand Larceny [Previously Released] – On February 27th at 5:06AM, officers responded to the Big Lots Store located at 13969 Jefferson Davis Hwy in Woodbridge (22191) to investigate a burglary in progress. An employee of the store reported to police that she heard a series of loud noises coming from behind the store. When police arrived they encountered two unknown males and a U-Haul truck behind the rear of the store next to shipping containers. The suspects fled the area on foot when they encountered officers. A police K-9 was used to search for the suspects. During the investigation, officers determined that the men were attempting to enter the shipping containers by cutting the lock. No entry was made and no property was reported missing. Detectives from the Property Crimes Unit were able the identity one of the suspects through paperwork left inside of the U-Haul at the scene. Detectives were further able to connect this suspect and the U-Haul to a similar incident which occurred on February 9th at the same business. In that incident, the store's video surveillance cameras captured a U-Haul pull behind the business and two men exit. The men cut and removed the lock to a storage container before stealing close to $8,800 worth of outdoor furniture from inside. Following the investigation, detectives obtained warrants against the accused in connection to both incidents on March 12th. Attempts to locate the accused have been unsuccessful.

Wanted: [Photo from 2010]

Deron Winston MCDONALD, 52, of 4321 Duke Street in Alexandria
Described as black male, 5'11", 235lbs with a heavy build, black hair, and brown eyes
Wanted for burglary, attempted burglary, and grand larceny
Send news and photos to Potomac Local