Working Laptop Fails to get Creative Juices Flowing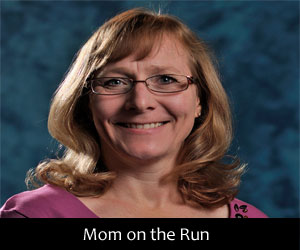 The laptop is new to me. It was my husband's, is a few years old, and no longer has enough memory to do what he needs to do. So he bought a new laptop, cleaned this one off, removed his password, and handed it over.
So exciting! I've been using my desktop for I don't even know how many years. Seven? Eight? It's a workhorse, this old Gateway, and hosts the WiFi router for the whole house as well as the printer. The desktop has stored away years of Christmas card letters, kids' high school essays, and sports schedule emails … it's an archive of my family's history.
And it is slow. Painfully slow. It takes forever to turn on, generally freezes when turning off, and is impossible to use for anything online. I really only need Word and email, though, so it's worked. My computing needs are not great.
But when my husband offered the laptop, visions of speed and freedom danced in my head. I could work from the comfort of the living room sofa with the TV on, or from the kitchen while I cook dinner! I could watch YouTube videos! I could – gasp – join the 21st century and be mobile! So, yes, please, I told him quickly, and waited impatiently for the day when it was ready to go.
I will be more effective with a laptop, I promised myself. I can research things without needing 30 minutes' lead time to get the computer on and warmed up. I can write – my columns, and maybe more! I would certainly be more creative with a laptop, able to capture my thoughts and ideas more quickly. Speed and power! I drooled. Yes. My efficiency would soar!
So here it is, finally, my big portable computing moment. My husband leaves the laptop in its pouch on the dining room table and walks away. I approach it nervously, pretending I'm not. I don't know a thing about setting up the laptop, but I do not want to ask for help. Surely I can figure this out. I know the general parts – power cord, mouse (because the built-in touch pad is quirky and sensitive), machine itself. I open the pouch and pull everything out, then lift open the laptop cover. I look hard at the black surface. There, on top. Isn't that the power symbol on the small round button? Gingerly I press it, and a blue light! Yes!
OK, then! Confident now, I pick up the power cord. Of course I know the plug end, and into the wall it goes. The other end is round; I check the side of the laptop and, helpfully, there's only one round hold. Another blue light! Success! As the laptop sings its opening chimes I try the end of the mouse cord in first one rectangular slot – nope – then the other. Yes, that one fits. I move the mouse experimentally, and voila! Cursor control!
Within minutes – and just a few, not the 30 or so I'm used to – the laptop is up and ready, its screen of familiar icons lit and waiting. Ha! I'm going to work right now! In the early evening, in the dining room, while dinner is cooking. I'm going to write, here, capturing the energy and creative juices as they flow, rather than trying to summon them at a prescribed time upstairs in the cold and silent office. I can write, and as needed I can just get up and stir the pasta and come back, and get up and let the dogs out and come back, and get up and check the chicken and come back. Easy.
I am thrilled. Yes, I will do more! I will be faster! I will be more creative! This is fantastic!
So – click – I open Word. I create a blank page. I wait for the words to come. I get up and stir and check the chicken. I come back, and sit and wait for words. I get up and let the dogs out, and back in. I sit back down, and prepare to write. I sit and sit, and no words come.
Hmm. Well, maybe I should get to know this laptop better. What other programs are here? I move the mouse to the bottom left-hand corner of the screen. I click on the Windows logo. I scan, and … oh! Games! I shouldn't, but … look how many! Chess, and Spider Solitaire, and hey! Mahjong Titans! I click and … ohhh. Such a fancy mahjong screen! Eight layout choices, music … well, just for a minute, right, to get the creative juices flowing?
Twenty minutes of Mahjong Titans later, it is clear: the laptop has enriched my life indeed.