Doberman and Has a Very Sweet Personality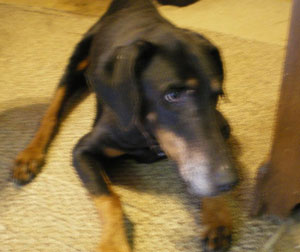 Hero is 13 yrs. old and has arthritis. He is a doberman and has a very sweet personality. Never been around cats. Needs to be tested for HW and brought up to date on shots. Dr. E has offered to help with that.
We are helping TLC Home Vet Care, we are listing these dogs who are losing their home. All dogs need to have a new home within 30 days. These are not SPCA dogs and we have no further information on the dogs that what's posted here. If you would like to give these dogs a home, email lori@staffordspca.org and I will put you directly in contact with the owner that is rehoming.