Bald Eagles Thrive at Quantico
By MIKE DiCICO
Quantico Sentry – December 2, 2013 8:00 am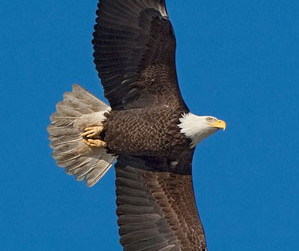 QUANTICO, Va. – The bald eagle was chosen as the United States' emblem, a symbol of strength, majesty and freedom, in 1787, but its relationship with the American people was uneasy for almost another 200 years, until its population dwindled to the point that a bald eagle sighting became a rare treat.
Now that bald eagle numbers are back on the rise, and that relationship is again being put to the test, Marine Corps Base Quantico finds itself in a region that ties together three different populations of the birds from as far as Canada and Florida.
"The Potomac [River] is a critical area for eagle conservation," said Jeff Cooper, nongame bird coordinator for the Virginia Department of Game and Inland Fisheries, noting that the raptors are drawn to brackish tidal waters by an abundance of prey, from the shad that spawn there to the blue catfish that were introduced to Virginia's tidal waters in the 1970s, to the waterfowl that winter there.
Though the regal-looking bird is now generally regarded with a sort of awe, founding father Benjamin Franklin famously wrote that the bald eagle is "a bird of bad moral character" and "a rank coward."
Farmers, too, have had their differences with this symbol of U.S. sovereignty and freedom.
"Raptors in general, in the old days, were just considered vermin, and they were shot by the thousands," Cooper said, noting that this continued into the 1960s and '70s. Add to this the effects of DDT, which was banned for use as a pesticide in 1972 due to its damaging effect on bird eggshells, and by the 1970s, there were only about 30 breeding pairs of bald eagles in all of Virginia.
After being placed under the protection of the precursor to the Endangered Species Act in 1967, the bald eagle was delisted in 2007, and Cooper said Virginia is now home to about 730 breeding pairs.
Many more of the birds, however, make certain areas of the commonwealth their seasonal home, and Quantico is at the center of one of those bald eagle "concentration areas."
As waters around Florida warm up in the summer, many of the fish head north, and the eagles follow, Cooper said. "So, for eons, there's been a migration northward to the [Chesapeake] Bay area, where there's a much more accessible food source and a more abundant fishery."
These summertime visitors begin to arrive around early May and peak in mid-June and July, Cooper said. They return home in the fall, and around December, bald eagles from New England and Canada begin to arrive, peaking in late January and early February. Their numbers vary depending how harsh the winter is.
Like many species, eagles found in northern climes are noticeably larger than their subtropical counterparts, and the wintertime migrants tend to feed on ducks and geese, as well as fish and whatever else they can find.
During both summer and winter, the visiting birds flock to the tidal waters of the Potomac, Rappahannock and James rivers, as well as locations across the bay. There, they gather in six different "concentration areas." One of these runs from Naval Surface Warfare Center Dahlgren, Va., north to Mason Neck National Wildlife Refuge, with Quantico right at its center.
Cooper said the migrant birds are enough to cause a several-fold increase in the local population, with more than 750 bald eagles between Dahlgren and Fort Belvoir, on both sides of the Potomac, during the peak months.
However, Quantico also has its own resident bald eagle population. This year, there are three active nests documented on the base, said Tim Stamps, head of the base Natural Resources Section. In recent years, there have been four, but the pair that occupied a nest near Lunga Reservoir appears to have moved elsewhere this year. Stamps said it's possible they're still on the base.
"Sometimes eagles will move from one tree to another, and then they come back the next year," he said.
The base got its first documented bald eagle nest in 1984, and a second nest was found in 1996. In 2000, the third pair built the nest near Lunga that now appears to be empty.
Bald eagles live 30 to 35 years in the wild, so they can occupy a nest for an extended period.
Their construction is not difficult to spot. "An eagle nest is just a huge mass of sticks in the fork of a tree," Stamps said, adding that they can weigh up to 1,000 pounds.
One of the three active nests is on the southern shore of Chopawamsic Creek, in Officer Candidates School Training Area 3, and another is on Quantico Creek near the Geiger Ridge neighborhood. The third is not far from the Single Marine Program House on Neville Road.
In addition to a nearby food source, Stamps said, bald eagles like to nest in tall trees in continuous, mature forest. All this makes the main side of the base, as well as neighboring areas, inviting locations. "I'd say the food supply and habitat are really of high quality," he said.
The base makes some accommodations to nesting bald eagles, although Stamps said nests generally have not been in high-use areas. During the nesting season, which officially runs from Dec. 16 to June 1, activities are restricted within 200 meters of an occupied bald eagle nest. For Quantico, this means hunting is not allowed during that period at Blind 1, which is near the nest on the shore of Chopawamsic Creek.
How a nest is treated depends in part on who got there first, Stamps said. If eagles build a nest near an existing building, human activities continue more or less as normal. But if there's a nest where the base wants to build something, construction must halt during the nesting season.
The Marine Corps Air Facility has nest maps so pilots can avoid flying within 1,000 feet of an active nest, and the facility also has a bird airstrike management plan, but Stamps said there still have been a few collisions with bald eagles in recent years.
People and bald eagles are likely to begin colliding in other ways as the big raptors' numbers continue to grow.
Since the mid-1990s, Cooper said, the area's resident bald eagle population has been doubling every seven years, a trend that continues today. Between Dahlgren and Washington, D.C., there is a nest every mile or so along Route 1, with more and more nests appearing on the edges of neighborhoods and runways, he said.