Dumfries United Methodist Church Plans Holiday Craft Show, Bazaar, Bake Sale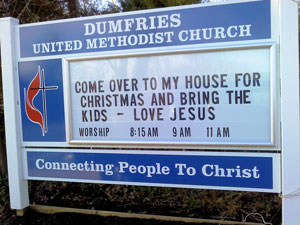 Submitted Church News
The women of the Dumfries United Methodist Church, 3890 Cameron Street will host their annual holiday craft show, bazaar and bake sale on Saturday, November 2 from 8 a.m. to 2 p.m. at the church in Dumfries.
The ladies have been crafting all year and have many hand-made, hand-painted items for sale, a bake sale table loaded with homemade goodies made by the ladies of the church, and a "second chance" table filled with once loved, small treasures all reasonably priced.
Breakfast and lunch will also be available. All proceeds support mission projects locally and around the world. For more information, please call 703-221-7440.