News

Woodbridge School Board Candidate, Williams Says 2013 November Election is About Bettering Schools, Not Competition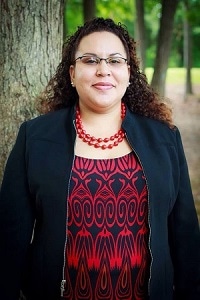 Loree Williams has been a resident of Woodbridge  for over 30 years. She is running up against current incumbent Steve Keen for occupation of the Woodbridge seat on the Prince William County School Board. She says this election isn't about competition; rather, it's about bettering the schools.
"There are no enemies in this race," she says. "Keen has served before and I think that he is a wonderful opponent and has done a great number of things for our county."
Williams is a wife and mother with two sons, one who is currently attending a Prince William County school. She says this gives her the opportunity to offer a fresh perspective that is not currently being represented on the board.
"I served as a PTA president at my son's elementary for two years and I also am currently serving on the PWC Gifted Advisory Board. When the position for school board came up, I felt like this was the next logical step for me to try to help our county's students, parents and teachers," she says. "Currently there is no one on the board that has young children and with the best interest in seeing our county's schools grow and change to meet the needs of the students that are in the schools," she says.
Challenges
Williams says one of the biggest challenges facing schools is adapting to new technologies.
 "Technology is becoming more and more imperative in our schools and education and most of the students are doing some type of online learning," she says. Williams says it is important that students and teachers both have the technological capabilities they need in modern society.
Additionally, Williams says she will advocate smaller class sizes to allow for a better learning environment for students and teachers.
"I am fully aware of how much time it takes for our teachers, especially when they have 33 students in a class, that's over 108 students they have to deal with in a day when it comes to grading papers and all the preparation they need for the class." she says. "It would be to our advantage if we reduce our class sizes to alleviate some of that stress from the teachers and to provide more one-on-one attention for our students."
Controversial Pool Proposal
An indoor aquatics facility could soon be coming to the 12th high school in Prince William County and has caused controversial opinions across the Woodbridge community. One of the first decisions the newly elected Woodbridge school board member will make is whether to authorize the school division to build the pool.
Prince William County Schools project that the pool's cost will be $10.5 million to construct and $800,000 per year to operate, in which usage fees will cover about 70-100 percent of the operating fees. PWCS says that it will serve the entire community, providing aquatic instruction, lessons and space for private and high school swim teams.
Williams says the pool could be beneficial to educational instruction, however, she says it is important to be mindful of the budgetary and upkeep factors that come along with the proposal.
"Because our mission for PWCS is to provide a world class education for our students, I could see how having a pool inside one of our schools would be an added benefit to that, but the operation and maintenance (issues) are something we need to look deeper into and come up with some definite and final decisions," says Williams.
2014-2015 Budget
The superintendent's proposed budget for FY 2014-2015 will be presented this February, shortly after the school board member is elected. One of the biggest issues talked about at the board of supervisors level is how the budget can be managed properly to see that schools are funded and teachers are retained. Williams says that if she is elected she will work to form a budget committee to review the school division's proposed budget.
"I do everything in my power to educate myself on all the issues pertaining to the schools, whether I'm elected to the board or not," she says. "If I am elected, it would only be to my benefit to continue that habit. I can't make an informed decision unless I, myself is informed."
Virginia voters will go to the polls on Nov. 5 for the 2013 General Election.
Candidate Profile
Candidate Name
Lorre Williams
Contact Information
Website: http://www.friendsofloreeywilliams.com/
Facebook: https://www.facebook.com/FriendsofLoreeWilliams
Candidate Stats
Age: 35
Political Party: Democrat
Running for: Prince William County School Board
District: Woodbridge
Opponent: Steven Keen
Profession: Executive Assistant for a private investment firm in Washington, D.C. (2010 to present)
Education:George Mason University
Degree: Bachelor's degree in integrative studies (2007)
Specialization in conflict resolution and peace studies
Family: Husband: William; Two sons: Lei, 12 and William, 3-months-old.
Other: Gifted Education Board of Prince William County (2011-present)
PTA President, Rockledge Elementary (2007-2009)