Going Bannanas Over Gourmet Pizza in Manassas Park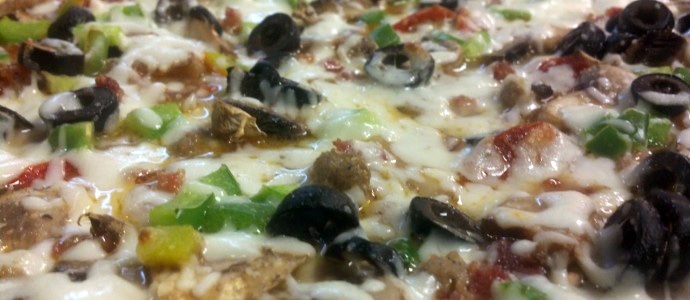 Potomac Local Leaders 
The owner and chef of Pizza Spot in Manassas Park first got his hands into the dough at just 16 years old.
After completing culinary school, Rajeev, who prefers to go by the last name "C," pursued a Bachelors Degree in hotel and restaurant management. Upon graduation, he quickly moved up to fine dining and service learning from renowned chefs at several leading hotel chains in Pennsylvania, Texas and Virginia including The Omni Hotel and The Four Seasons Hotel, all while completing an MBA.  
After 15 years, he was eager to return to the fast pace of restaurant work. Being inspired by a family of great cooks and a successful catering business, he knew he was born to cook. On July 4, 2010, he realized his life long dream and opened Pizza Spot in Manassas Park. As a resident of Manassas with his wife and daughter, the location and timing was perfect.
Vickers: Why is your pizza so good and can you describe your top three selling pizzas?
Rajeev: As authentic as pizza gets, we are not your average pizza joint. Offering the best in ingredients, we make our own dough and sauces fresh in the restaurant. We serve lunch and dinner seven days a week. Many of our regular customers call ahead for take-out or take advantage of free delivery (within 3 miles). Pizza Spot is known to have something for everyone. Our menu consists of a large variety of signature pizzas, calzones, pasta, salad, Panini and our wings. Our handpicked colossal wings range from sweet chili to fiery hot. Our chicken wings are prepared with a homemade seasoned marinade and feature several unique sauce flavors.
We offer 20 toppings for you to create your own pizza – hand tossed, deep dish or thin crust. Our top-selling Signature pizzas include:
The Godfather
Pepperoni, Italian sausage, ground beef, bacon, green peppers, onion, mushrooms and olives
The Greek Macedon
Pesto sauce, chicken, green peppers, onion, olives and feta cheese
The Margherita
Fresh basil, tomatoes and fresh mozzarella
The Hawaiian Hercules
Pineapple, ham, chicken and bacon. Topped with chef's special sauce
As a chef and food critic, I take pride in making each pizza as it is my passion. All my pizzas are creatively inspired by international flavors and cooked the traditional way on brick stones. My secret recipe comprises of 3 key factors – Ingredients, Temperature and Touch.
Vickers: What type of community work have you done in the past?
Rajeev:  Over the past few years, the ManassasPark community, residents and local businesses have been extremely supportive and in return, we take pride in providing delicious food as well as friendly service to everyone. As a local family owned restaurant, we are active in the Manassas community supporting several events and charities – Manassas Park National Night Out, local sports teams and bands, student discounts etc.
Vickers: who are your best costumers?
Rajeev:  We also participate in several marketing programs to keep our customers informed of new menu items, coupons and other specials. We encourage our entire customer base to join our Loyalty Program – The Pizza Spot Rewards, for additional savings and free food items.
Vickers: what's your vision for your business based in the Manassas  park community ?
Rajeev:  As we grow, we would like to attract and serve crowds from well beyond city limits. It is my simple philosophy that food should be fresh, fun and easy to prepare and healthy to fit the American lifestyle. Our food is sure to keep our customers coming back for more.
Want to go?
Pizza Spot
9107 Andrew Drive,
Manassas ParkVA20111

4 Responses to "Going Bannanas Over Gourmet Pizza in Manassas Park" (Leave a Comment)