Man Arrested For The Rape of a 15-Year-Old Girl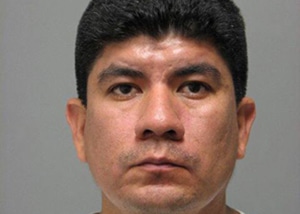 MANASSAS,Va.–  Police report, Manassas man arrested for the Rape of a 15-year old girl.
 More in a press release, edited to protect the victims identity:
Rape | Aggravated Sexual Battery –
On October 13th, detectives from the Special Victim's Unit responded to investigate a rape which was reported to have occurred in  Manassas (20109).
The investigation revealed that the victim, a 15 year old girl of Manassas, was sexually abused on multiple occasions by the accused, a known acquaintance, between 2010 and 2012 at their residence in the above area.
Following the investigation, the accused was arrested on October 13th.
Arrested on October 13th:
Miguel Angel ESEPJO, 37,  Manassas
Charged with 1 count of rape, 3 counts of aggravated sexual battery, and 1 count of taking indecent liberties with a child
Court date: unavailable | Bond: held WITHOUT bond