First Timer's Choice Breathing Skills No Match for Spin Class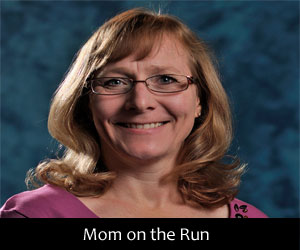 Mom on the Run 
It's 9:00 a.m. and I'm in the spin classroom at the gym, getting my bike ready. I've been taking spin classes for four or five months, and one of the many things I've learned is to arrive early to get the bike I want, to set it up, and to stretch out.
I'm prepping my preferred bike – they're all just a little different, with tension and seat variations and I certainly have favorites – when the man walks in.
"Is there going to be a class?" he asks.
"Yes," I tell him. "It starts in 15 minutes." I know most of the spin regulars, we are a small and committed bunch, and this man is not one of them, so: "Have you taken spin before?"
"No," he says. Then, "Do they have back-to-back classes?" My eyebrows shoot up in surprise. Ah, yes, the man has definitely not tried this if he thinks he needs two classes. I mean … everyone is dripping with sweat by the time spin is over. Everyone. For months my legs were in agony from the up and down, up and down, and still every class is painful and exhausting. So – two classes? "I'm looking for a really good workout," he continues.
"Don't worry," I reassure him. "This IS a really good workout." Ha! What an understatement. Spin class is a killer, even this kind of introductory Saturday morning class. But maybe the guy is in super shape, I think. Maybe he's a triathlete or something. So, "There is a body pump class right before this," I offer. "There are some people, including the spin instructor, who take that class and then come right up here to do spin. That's cardio plus weights. You could do that first."
The man nods slightly, kind of dismisses the idea, like body pump followed by spin still isn't challenging enough, and turns his attention to a bike. My gym has articulating spin bikes, they sway from side to side mimicking a real bike's motion. They're strange at first, and this guy is swinging the bike back and forth, back and forth, experimenting.
"Take that bike next to me," I suggest. "I'll help you through the class." He looks at me, questioningly. "I can explain terms to you and stuff." The man nods, moves to the bike to my right, and starts to adjust the seat and handlebar height. I show him how to set it up, suggest he drape a few paper towels over his handlebars to wipe away the sweat during the session, and offer a friendly warning: "This is a tough class. It's going to kick your butt."
The man stops what he's doing, sets his hands on the bike seat, and completely seriously says, "I'll be fine. I use Buddhist breathing techniques to control my heart rate."
I freeze and bite my lip, trying not to smile. I have introduced several people to spin class, runners and bikers and excellent overall athletes, people with strong muscles and great stamina, and every single one has huffed and puffed and sweated and groaned and barely finished their class. It took weeks before I was certain I wasn't actually going to die during class. So this guy – Buddhist breathing techniques? Is he serious?
He must see the doubt on my face, though, because he plunges on: "The first time I tried it, I went running, and I used to be able to run only one or two miles. With the Buddhist breathing techniques, I ran eight or 10 miles! I was just able to run and run. This will be fine."
"OK," I tell him. And this time I can't help but smile a little. "That's great. But it's still going to kick your butt. Don't worry about speed or going up and down. Just keep pedaling. Try to finish."
Other people are starting to filter in as the man looks at me and smiles. Poor silly Lianne. I obviously don't understand. "I'll be fine," he says. "Really." And as I stretch my legs and arrange my towel across the handlebars I begin to doubt my warnings. Maybe this guy is a super athlete. Maybe he's going to zip easily through this class and teach me a lesson about arrogance and fitness. I mean, Colleen and Christy and Tonya and I all suffered, but maybe … Buddhist breathing techniques?
The class starts and soon I'm focused and swept up. My heart pounds with the music as I pedal, cranking resistance up and down as I climb up and coast down imaginary hills. I keep an eye on the guy, as promised. I talk him through positions two and three. I explain how to "gear up" and what "muddy road" should feel like. I mostly keep quiet, though, I don't urge him on like I did for my friends' first times; this guy's got this, right? He wanted two back-to-back classes, after all.
It's only at the beginning of the third song, still in the early part of the class, when the man turns to me and pants, a word with each breath, "You … weren't … kidding. This … is … really … hard!" I can't help it. I grin through my sweat, and reply, "Yeah, but you can do it!" And I don't say a word about Buddhist breathing techniques.