'Liesl,' German Shepard Missing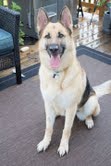 Family desprately looking for lost pet:
Missing- Our 5 year old pure bred German Shepherd named Liesl!

Liesl was last seen on our back deck on Tuesday, September 24th at 4:30pm in Fredericksburg, VA (Stafford County, Falmouth area off of Deacon Rd).

She has on a black collar with tags and is microchipped. She is light tan with darker coloring on her back, tail and nose. We have some heartbroken little boys, if you see her please contact me at 540-379-0526 or 540-841-3333 – Georgie.