Moser: Economy Chugging Along as People Stop Looking for Work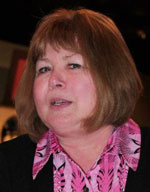 Opinion
Last week, I began to feel prospects dimming in the search for a government or contractor job. Seven months have passed since smart companies caught wind of sequestration and began paring their ranks. Bill, being a well-compensated employee was in the vanguard of layoffs. I've begun considering the possibility my husband may no longer find employment in the cleared jobs he's done all his life and perhaps would need to look outside the federal service sector.
First, I searched for "employers Prince William County." That term yielded some pretty good information, such as this story from the Washington Business Journal. The author, Michael Neibauer, is a staff reporter. His data wasn't exactly heartening if one is seeking a professional, technical position, as he summarized the employment prospects by declaring the top ten employers in Prince William County using the 2011 Comprehensive Annual Financial Report.
Seeking justification, I worked with my research partner, Google. I gained an excellent result with this document: the Virginia Community Profile, compiled by the Virginia Employment Commission. That document is the jackpot if you like simple statistics. There, on page 21, I found a list of the top 50 Prince William County employers.
For brevity, here's the top ten. I encourage you to look at the entire document.
1. Prince William County School Board

2. U.S. Department of Defense

3. County of Prince William

4. Wal Mart

5. Morale Welfare and Recreation

6. Sentara Healthcare

7. Wegmans Store #07

8. Minnieland Private Day School

9. Northern Virginia Community College

10. Target Corp
In addition to learning who the top employers are, there's lots of information about working in, or outside Prince William County. I can't say it was great to learn that computer and math careers fall in the top five of unemployment claims. (Page 17) Then, on page 22, I discovered 7016 persons work for the federal government and 17,683 persons work for local government. Well, there's something to work with.
My next search took me to the Human Resources page. There, I found 34 positions open, but only one in IT (Information Technology) and it was for a Geographic Information Systems Division Chief, nothing even remotely like an Oracle Database Administrator.
Looking at the remainder of the Virginia Community Profile, I saw diminishing numbers of employees. It appears if you are a professional Oracle DBA with many years of experience, you will not find a job in Prince William County, with or without a clearance.
In fact, after seven months of searching both within a 30 mile range and outside of it, using every conceivable job search that may yield results, such as: Indeed,  Simply Hired, Bright, Monster, Beyond, and Dice as well as every friend we have in the industry, we remain unemployed.
A shutdown of the Federal Government looms, certainly further decreasing opportunities. The economy is plugging along, the stock market is doing well, yet day after day, more people just give up looking for work. If you want a sobering look at the state of jobs, not just here, but all over the United States, have a look at this document from the Bureau of Labor Statistics.
It may seem increasingly difficult to remain optimistic. Yes, we're down…but we're not out!
I continue to hope for the best, but I am beginning to wonder if I have prepared for the worst.

6 Responses to "Moser: Economy Chugging Along as People Stop Looking for Work" (Leave a Comment)