In Memoriam: Kathleen G. Carter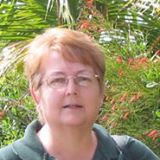 Kathleen G. Carter, 65, of Lorton,  died peacefully Thursday, September 19, 2013. Born in Norwood, OH on October 4, 1947, she was the daughter of the late George and Ruth Glins. Kathie graduated from Norwood High School in 1965.
Kathie was the devoted wife of 43 years to the late Dauton O. Carter and beloved mother to her daughters, Shannon Murphy (Dan) and Erin Carter. She was a loving grandmother to Sarah Anne Murphy and Madison Anne Murphy.
Kathie enjoyed a career writing computer based training manuals, first for American Management Systems and later for the Department of Homeland Security. She retired in 2010. She enjoyed traveling, cooking, beading and crafting with her granddaughters.
Visitation will be held Tuesday, September 24, 6pm-8pm at Miller Funeral Home, 3200 Golansky Blvd., Woodbridge, VA. A funeral mass will be Wednesday, September 25, at 11am at Holy Family Catholic Church, 14160 Ferndale Rd., Woodbridge, VA with a reception to follow at the church hall. She will be interred at a later date at Arlington National Cemetery alongside her husband.
In lieu of flowers, memorial contributions can be made to Dr. Andrew Cameron's Research Fund at Johns Hopkins Medicine. In the memo line of the check, please reference Kathleen Carter. Checks should be made payable to Johns Hopkins and mailed to: Fund for Johns Hopkins Medicine, Department of Surgery, 100 N. Charles Street, Suite 422-A, Baltimore, MD 21201.