Qarni Wants Higher Teacher Pay, Virginia Graduates to Grow Careers in State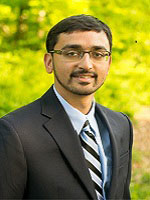 Atif Qarni
Candidate Stats
Age:

35

Political Party:

Democrat

Representing:

Manassas Park and Prince William County

District:

13 

Opponent:

Del. Robert G. "Bob" Marshall (R)

Originally from:

Parkville, MD

Profession:

8th grade mathematician teacher at Beville Middle School

Education:

George Washington University
Bachelor's degree in Sociology (2000)
George Mason University
Master's degree in History (2007)
Strayer University
Master's degree in Education Administration (2005)

Military:

Marine Corps 1996-2004

Family:

Wife: Fatima and two sons: Zane and Saber
Candidate Background
Atif M. Qarni, a Democrat running for the 13th district seat in the Virginia House of Delegates, says that the main goal of his campaign is to improve the lives of the families within his district. Qarni resides in Dale City with his wife, Fatima and his two sons, Zane and Saber. He is running up against Republican Delegate Robert G. "Bob" Marshall, who is currently serving his 11th term.
Education
As an eighth-grade math teacher at Beville Middle School in Prince William County, Qarni says education is a top priority on his agenda.
"We need to really restore the budget levels to where they were in 2009 and before," says Qarni. "As a teacher, I have seen resources being cut from our (public) schools first-hand. The state funding and county funding have been significantly reduced."
Qarni says reducing class sizes and raising teacher salaries are two important solutions to tacking the issues facing education in Virginia.
"My average class size this past school year (2012-2013) was 34 kids," Qarni says. "You can only imagine 34 eighth graders in a class room. It's not fair to the kids. They're not getting the full attention that they deserve."
Regarding teacher salaries, Qarni says that in order to retain qualified teachers, Virginia needs to offer a better pay for its teachers, specifically, "where the cost of living is very high but the teacher salaries are not very competitive."
Transportation
Qarni's other priorities include traffic reduction and improving job formation.
"I would like to help people spend less time on the roads and more time with their families," says Qarni.
He says it's important to monitor the new transportation funds that were generated from the transportation reform bill last winter in order to ensure they are being utilized properly.
"[Transportation reform funds] don't necessarily only have to be applied to spending on roads," says Qarni. "We can also pump in that money into mass transit. We can pump in that money to creating parking facilities [and] we can encourage the use of satellite locations."
Additionally, Qarni says the funds can be used to encourage people work remotely and utilize their Real Estate.
Jobs
When it comes to job creation in Virginia, Qarni says more can be done to serve the individual talents of those entering the workforce. He says that if you look at Virginia, many graduates are likely to leave and take their talents to other states.
"We need to have these individuals start their businesses here in Virginia or work for existing companies here in Virginia, and retain the talents here," Qarni says. "I really believe that this is where job growth and economic growth tie together, retaining the talents that future generations have."
In the future, Qarni says he hopes that his sons will choose to attend universities, work and develop their own careers in Virginia.
Medicare
With health care reform gradually expanding into Virginia, significant changes are expected to be made to Medicaid and Medicare. The Affordable Care Act, commonly called Obamacare, has received a large amount of press and mixed reactions in recent months.
"One of the issues with Medicare is that we have a fragmented health system in Virginia," Qarni said. "With that expansion coming, the communication between the pharmacies and hospitals can become really efficient, which can really save money that can be applied to more health care needs."
He adds: "If applied properly, Obamacare will be beneficial for the state."
Military
As a former sergeant for the U.S. Marine Corps Reserves, Qarni says he knows what it takes to serve as a combat veteran. Qarni joined the Marine Corps in 1996 and served for eight years. Qarni says the Military teaches many skills that are beneficial to the workforce and Virginia should continue to build upon being a military job center.
"We need to look out for those veterans that have fought for our freedom," says Qarni.
Along with these issues, Qarni campaign has also focused on women's health and reducing gun violence. He has recently received an endorsement from the Virginia Chapter of the National Organization of Women (NOW) and NARAL Pro-Choice Virginia.
"The 13th District deserves a Delegate who will focus on solving problems, not on an extreme social agenda," said Sen. Mark Herring. "That's why I am proud to support Atif Qarni. I know Atif will put his energy and his experience to work to do what's right for the people of Prince William County and the people of Virginia."