Moser: On Unemployment, Hope for the Best, Prepare for the Worst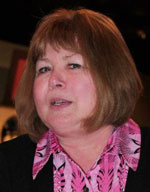 Opinion 
Unemployment has been on my mind a lot lately. (Well, since the beginning of March, it's been on my mind almost constantly.)
My husband, Bill, has worked for the government his whole life. The first 20 years for the U.S. Air Force and later for large companies like PRC (purchased by Litton in 1995, evolved into Litton PRC, then Litton Industries, Litton TASC, and then absorbed by Northrup Grumman).  More recently, he worked for SAIC.
The only job Bill ever left voluntarily was through retirement from Air Force. Every other career change came about because the structure of the company changed or the contract he was working expired without renewal. This span is the longest he's gone without work in 44 years. It's been difficult for both of us, financially and emotionally.
Still, you know my motto: "Hope for the best; prepare for the worst." 
With that in mind, I had the dreaded "talk" with my spouse. I asked, "What if you don't get hired at all this year? In four months, you'll be 63-years-old. I know there is not supposed to be anything like age discrimination and 63 doesn't seem too old in a world where it's common to live into the eighth decade. I know you're smart and your career as an Oracle DBA has always been in high demand, but the condition of the federal job market is so unstable right now. What if you just can't get another job comparable to the ones you've loved?"
Bill does not want to talk to me about that. He does not even want to think about that. I, however, feel compelled to consider alternatives, ready or not. I don't have a lot of experience in job searching so I started by defining the future of employment into these two categories:
1. What Bill does
2. What Bill may have to do
I started off with the idea that the jobs Bill does for a living may be available in the private sector. I accept his pay will be lowered. (Although, if you are currently making zero, any job is a raise!) Then I assume he will not be using his clearance, which is expensive to obtain and if allowed to lapse will be difficult to re-activate.
All right, I admit I'm unhappy his job may no longer be in the service of our country, but there will be some positive changes, like less commuting time! For 24 years, Bill has never had a commute less than an hour each way. (The worst commute was when he worked in Bethesda. The best commute was when he was able to take a van pool to the Pentagon.)
I want to share the progress I made, the results of my search and the "what's next" factor, but I don't want to bore you with an overlong article, so I'm going to continue the saga next week.
Meanwhile, if you have helpful advice or insight, leave it in the comments. I often find the comments to be more enlightening than a post and appreciate the sincerity of people who are interested in what I write and willing to help work on the problem. I'll be back here at potomaclocal.com next Sunday with Part II.

9 Responses to "Moser: On Unemployment, Hope for the Best, Prepare for the Worst" (Leave a Comment)