Funeral Services Announced for Slain High School Football Player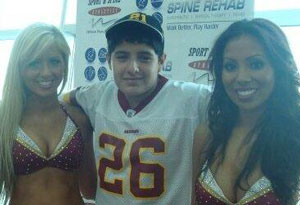 Update Tuesday 10 a.m. 
Funeral services for Kenny Diaz will be held 1:30 p.m. Friday at Our Lady of Angels Church in Woodbridge.
A visitation service for Diaz will be held at the Mountcastle Turch Funeral Home on Occoquan Road in Woodbridge, from 2 to 4 p.m., and 5 to 9 p.m. Thursday.
Family and friends are accepting donations in light of Diaz's death and have set up a website with a fundraising goal of $15,000. 
Update 12:30 p.m. 
Students at Woodbridge Senior High School vowed to wear red to class today.
According to friends of 18-year-old Kenny Diaz who was stabbed to death at Marumsco Acre Park in Woodbridge, it was his favorite color.
Here's the scene today from inside the school building, a sea of red.
Rip pic.twitter.com/Yi6yh6BpLS

— Lilian Soto (@LilianBitches) September 23, 2013
Update Monday 11 a.m. 
Woodbridge Senior High School officials posted this message about Kenny Diaz on their school's homepage this morning:
Students and staff of Woodbidge High School are united in sadness at the tragic loss of our friend, teammate and student, Kenny Diaz.

He will be missed. But memories of Kenny will sustain us as we work to heal and move forward together.
Update Sunday 10:30 p.m. 
Football fans and players at Woodbridge Senior High School were riding high Friday night after the varsity team's 42-34 win over Stonewall Jackson Senior High School.
When school officials, fans, and friends on Sunday learned linebacker Kenny Joseph Diaz, 18, who wore number 43 on the Woodbridge Vikings squad, was stabbed to death Saturday at a Woodbridge park, the mood had completely changed.
"There's no script for this," said Woodbridge Head Coach Dr. Karibi Dede.
Many of Diaz's teammates came to Dede for answers after they learned of his death. He was apparently stabbed at Marumsco Acre Lake in Woodbridge about 4 p.m. Saturday. A 911 caller found Diaz suffering from an apparent stab wound to the stomach, police said. He was taken to a hospital where he later died.
"I don't' really have any answers for them at this point…I've never really been through this… but I think the biggest thing is that we stick together and support each other," said Dede.
Prince William police say there is an active investigation happening now and that they are following leads in the case. The attack doesn't appear to be random, they added.
Dede will call a special meeting of his football players on Monday to talk about Diaz' death, and he says grief counselors will be on hand is students want to talk.
On Twitter, the high school's WSHSVikingNation account asked those who knew the victim to come to school wearing his favorite color on Monday.
To show respect for the loss of our brother Kenny Diaz. We will all wear his favorite color,RED,tomorrow to school. #RIPKenny #VikingFamily

— WSHSVikingNation (@WBVikingNation) September 22, 2013
Diaz was smaller than the average linebacker on the team. He had not been active during the football team's summer practices and didn't have as much playing time on the field as others on the team. But he started showing up at practices in August, and that's when he was noticed by his fellow teammates.
"He was well mannered and well liked by his teammates, your typical hs football player," said Dede.
The coach said he was not aware of anyone who would want to bring harm to the young football player.
"As the police department does their investigation, and as more details emerge, we'll have a better idea of what happened," he said.
Diaz is Prince William County's 4th homicide case this year.
4:30 p.m. 
WOODBRIDGE, Va. – Kenny Joseph Diaz, 18, of Woodbridge, was killed after suffering a stab wound to the stomach.
Diaz was found just before 4 p.m. Saturday by a 911 caller at Marumsco Acre Lake, at 14398 Melbourne Avenue in Woodbridge, bleeding an apparent stab wound, according to a police report.
The victim was taken to a local hospital where he later died. Police said the stabbing does not appear to be random and, and added detectives from the violent crimes division are working on an ongoing investigation, following up on leads.
Diaz played varsity football at Woodbridge Senior High School. A linebacker, he wore number 43 on his jersey.

8 Responses to "Funeral Services Announced for Slain High School Football Player" (Leave a Comment)