VDOT Chooses Metal Signs Over Electronic Versions for Weekend Construction Project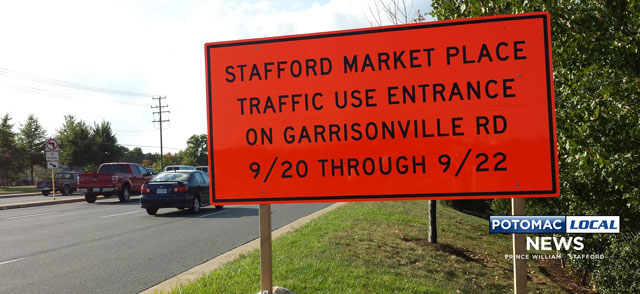 NORTH STAFFORD, Va. – Most metallic road signs tell you where to go, where you can't go, or where there's a greasy fast food restaurant at the next exit.
Most of the static signs don't have printed dates, except for three new signs created for road work taking place this weekend on Va. 610 (Garrisonville Road) at Stafford Marketplace in North Stafford.
"Stafford Marketplace traffic use entrance on Garrisonville Rd. 9/20 through 9/22," the signs' state.
They're posted along Va. 610 and on the intersecting Staffordboro Boulevard where a $12.9 million paving project is underway to add 1,000 new parking spaces at a commuter lot. More paving work is also scheduled to take place next weekend.
It cost the Virginia Department of Transportation $3,339 to create metallic signs for the one-time construction project, said VDOT spokeswoman Kelly Hannon. Normally, variable message board signs are used for temporary construction. You've undoubtedly seen them along the side of the road warning of temporary lane closures. They've even been hacked in some cases and had their text changed to warn of "zombies ahead."
But all of the message board signs in VDOT's Fredericksburg District are in use this weekend at the Virginia State Fair in Caroline County. And, when VDOT looked at the option to rent a message board signs instead of making a metallic ones, they chose metal.
"It would have cost $49 per hour to rent a sign, and we would've needed them for a total of 118 hours, so that's $5,782," said Hannon.
VDOT owns the message board signs they loaned to the state fair, and the fair will compensate the state for their use.
There are other forms of getting the word out about upcoming road and lane closures. But few are more effective than road signs, said Hannon.
Normally, VDOT would keep some variable message board signs on standby in case of an accident on Interstate 95 or some other traffic calamity. But don't worry. This weekend, they've got those signs covered, too.
"In the event of an emergency on I-95, we would use the variable message boards from ICA, our interstate contractor, and the Safety Service Patrol vehicles, which have variable message boards mounted on their trucks. This standard operating procedure for interstate incidents," Hannon added.
Once the construction project in North Stafford is finished, the metal signs will be recycled, said Hannon.