Utah Rep & Committee Chair Seeks Review on U.S. 29 / Va. 234 Closure, Battlefield Bypass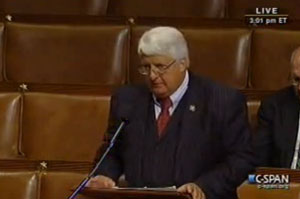 MANASSAS, Va. – The Bi-County Parkway debate now has the attention of a congressman from Utah.
Rep. Rob Bishop, R, the Chairman of the Subcommittee on Public Lands and Environmental Education, and represents Utah's First Congressional District, requested the National Park Service not sign a programmatic agreement for the proposed Bi-County Parkway until the subcommittee had a chance to review it.
The 10-mile parkway would link Interstate 66 in Manassas to Dulles Airport in Loudoun County and under the agreement, could mean the closure of portions of Va. 234 and U.S. 29 inside Manassas National Battlefield Park. 
As part of the North-South Corridor of Statewide Significance, the road could ultimately extend to Interstate 95 in Dumfries to carry what Virginia Transportation Secretary of Transportation Sean Connaugton called "light cargo" to and from Dulles Airport.
"The most recent draft…raises significant concerns regarding the adherence to the provisions of Public Law 100-647 which addresses the closure of public highways known as routes 29 and 234 upon the completion of a replacement facility commonly referred to as the Manassas National Battlefield Park Bypass," penned Bishop.
MORE to the STORY: Read Bishop's entire letter
To the delight of those who live inside the park and use Va. 234 and U.S. 29, and to those against the proposed Bi-County Parkway that would run through a portion of the National Park, the Prince William County Board of Supervisors this resolved to keep open both roads open inside the park until a Battlefield Bypass is built. The National Park service would like to see those portions of the heavily-traveled commuter routes closed to improve the park visitor's experience.
Delegate Tim Hugo, R-Fairfax, Prince William, Gainesville Supervisor Peter Candland, and "Say No the Tri-County (Bi-County) Parkway" organizer Mary Ann Gadban met with Bishop last week, according to a spokesman in Candland's office.
But not everyone is against the proposed highway. Prince William Board of Supervisors Chairman Corey Stewart and the Prince William Chamber of Commerce support the road and say it will spur more economic growth in the county and Manassas.