Obituary

In Memoriam: Teje Josephine Etchemendy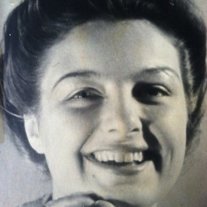 November 25, 1921-September 12, 2013
Teje Josephine Etchemendy (nee Sablatnig) died on September 12, 2013, on the feast of the Most Holy Name of Mary, at The Virginian in Fairfax, Virginia, of natural causes, surrounded by her family and having received Last Rites.
Teje Etchemendy was born in Berlin, Germany, to Josef Sablatnig, an engineer and inventor of airplanes, and Martha Sparkuhl, a fashion artist. Josef had studied under the Wright Brothers, invented his own line of aircraft, and set many flight records.
She was named Teje after the Egyptian Queen Tiye, whose bust is in the Altes Museum in Berlin. She joked that she was named after the "ugly" queen (as opposed to Nefertiti). My mom was, in fact, very beautiful. She was also very artistically gifted. She began studying at the prestigious Berlin Academy of Fine Art, but Hitler shut down the university and she was commanded to report to work in a munitions factory. To avoid this, my mom decided to check into a hospital to have what she called her "political appendix" removed. Eventually she ended up in Vienna, working for Deutsche Zeichenfilm, drawing the cells for an animated film.
She used to tell me about the time she was interrogated by the Nazis for many hours. She worked for the radio station Rot-Weiss-Rot and then got a job as a secretary for the American military, even though she could type with only three fingers. But she was fast.
It was there that she met my dad. She took one look at the handsome, curly-haired officer as he came striding in from the field, and said to herself: that is the man I'm going to marry. It was a romance that lasted almost 64 years, until my dad–a World War II and Korean War vet, highly decorated with the Legion of Merit (twice), Bronze Star (twice), and the Purple Heart (five times), among other medals–passed away in 2011.
Teje converted to the Catholic faith before they were married on November 26, 1947, at Saint Gall–a tiny church in my dad's home town of Gardenerville, Nevada. She loved Nevada, with the clear air, the wide open skies, and the snow topped mountains. But she happily traveled all over the world with my dad. She loved their assignment in Alaska most of all.
Ever since she was a young child, she loved Russian fairy tales, so she began translating them from the German. She eventually published her own re-telling of the
Russian fairy tales, Tales of Old Russia, along with her original water colors. She illustrated two other books, another book of Russian fairy tales, and a science fiction story by Nancy Etchemendy. For more than thirty years, she researched ancient Britain for her magnum opus, a five-volume historical novel, The Quest of Perceval. She also translated all of her father's letters.
In addition to being an artist and author, she loved music, cooking, sewing, and reading. She painted numerous renditions of Beethoven, and used to say she wanted to meet him in heaven. In Vienna, she had lived in the Moelker Bastei, one of Beethoven's residences.
She had a great devotion to the Blessed Mother and to Saint Therese of Lisieux. She said a daily rosary, sometimes several, especially when she couldn't sleep. She hated driving on the freeway, and I remember how she would drive with all her fingers up, to keep track of the Hail Marys. She was a long-time member of Saint Therese the Little Flower church in Reno, Nevada. She loved Nevada and her home in Reno, where she lived for thirty-seven years. She never would have moved away, except that she suffered such an incapacitating stroke that she could no longer live by herself.
I will be forever grateful for the opportunity to visit with her every day this past year and a half that she lived here in Virginia. Even when she could no longer do anything she used to do, she still had those bright, interested blue eyes and her sense of humor; she loved seeing her great-grandchild and she loved nature. In one of the last photos I took, she was laughing with the hairdresser after having her hair done.
She taught me to love the Blessed Mother, to appreciate classical music and the arts, and to always be willing to learn. She always had three books she would be reading at once: a cozy mystery, a serious work of non-fiction, and the Bible.
Some of her greatest qualities were: her generosity, her love for the Catholic faith, her love for art and nature, her devotion to my dad, her enthusiasm for learning, and her gracious welcoming of friends and family into her home.
She was pre-deceased by her husband, Colonel William Etchemendy (June 17, 2011) and her brother Ole Sablatnig (1990).
She is survived by her daughter, Laraine Bennett, son-in-law Art, grandchildren Lianna, Ray (and wife, Laura), Sam, and Lucy Bennett, and great-grandson, Dylan.
She will be buried at Arlington National Cemetery with her husband. The funeral Mass will be celebrated by Father Vander Woude on September 27th at 11 AM at Holy Trinity Catholic Church.
In lieu of flowers, the family requests donations sent in her name to one of her favorite charities:
Basilica of the National Shrine of the Immaculate Conception
400 Michigan Avenue, Northeast
Washington, D.C. 20017
http://www.nationalshrine.com/site/c.osJRKVPBJnH/b.4747327/k.FDD2/
centerSupportcenter.htm
Eternal Word Television Network
5817 Old Leeds Road
Irondale, AL, 35210
https://www.ewtn.com/donatenow/
Little Sisters of the Poor
http://www.littlesistersofthepoor.org/donate
A word from our sponsors...