In Memoriam: Emily Tuscano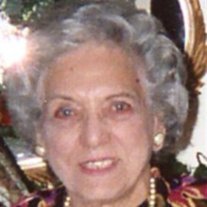 EMILY TOSCANO age 91 passed away on Friday, September 13, 2013 at Sudley Manor House in Manassas, VA.
She was a member of All Saints Catholic Church in Manassas.
Mrs. Toscano was preceded in death by her husband Paul Toscano.
Survivors include her daughter Mary Ann Jenkins, her two grandchildren, Joseph Heinzinger, Peter Heinzinger, and her great grandson Dillon Heinzinger.
A mass of Christian Burial will be held 11:00 A.M. Monday, September 16, 2013 at All Saints Catholic Church, 9300 Stonewall Rd., Manassas, VA with Rev. Jeb Donelan officiating. Interment will be in Holy Sepulcher Cemetery, New Rochelle, NY.
Expressions of sympathy may take the form of: A memorial mass in honor of Emily Toscano, contributions to Little Sisters of the Poor, 1503 Michael Rd., Richmond, VA, or to the charity of your choice in loving memory of Emily Toscano.
Condolences may be sent to: www.piercefh.com