Moser: In Prince William, Where Does the Middle Class Live?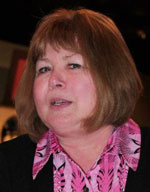 Opinion
At some point in my life, I began describing myself as "solidly middle class."
I don't know exactly when that occurred. I know I was very poor growing up, but I don't recall thinking, "I am poor, therefore, I am lower class." I know I was often given clothes from someone's child who had outgrown them, and I do recall my cheeks burning when it crossed my mind that the person who gave them to me might see me wearing them. To the best of my recollection I never encountered any humiliation, but I may not have recognized it at any rate, because I was more excited about having "new" clothes than I was worried about the donor!
Through most of my husband's military career, we qualified for free and reduced price lunches for our children. In the first ten years, we actually qualified for WIC, but I don't ever remember thinking we were lower class. I was nearly offended when were told by school officials we qualified for these programs. I was not offended that some people needed these programs, but rather, that anyone might think WE needed these programs. We didn't use those available benefits. Instead, to make ends meet, I began working in military clubs, first as a waitress, later as a supervisor, and toward the end of our tour at Scott AFB, I worked as a night manager.
My husband, Bill, and I worked opposing shifts so we didn't have to pay for child care. We had one car, and lived in substandard housing on base. That term may be obsolete, but at the time  it meant no central air conditioning, no carpet, small rooms and very old. (For all you folks that think military pay is great because military get "free" housing, I hope you'll read this page that describes the current situation for housing). It is much better than when we were young, but still distributed by rank and grade. I may have occasionally felt a bit of "colonel envy," but I still never felt lower class.
As corny as it sounds I have always believed if you work hard and are willing to make sacrifices, you will ultimately obtain a payback on your investment of time and energy. I don't want to be rewarded…I just want what I have earned to pay off.
That kind of thinking rules the way I perceive our older neighborhoods. I am such an advocate for older communities because I don't see the time and effort invested to make them pay off. My perception (and I assure you I am not alone) is that our older communities are being allowed to fail. Like kids with new toys, we have cast aside the old ones. We keep building vast new developments, but neglecting the very heart of our communities.
I don't really believe there is such a thing as a caste system in Prince William County, but for the sake of argument, tell me: Where do the lower class live? Where do the middle class live? Where do the upper class live?

26 Responses to "Moser: In Prince William, Where Does the Middle Class Live?" (Leave a Comment)