Fire Station Time Capsule Offers Glimpse into Haymarket's Past
By LEIGH GIZA
For Potomac Local News – September 15, 2013 10:22 am
Interactive Photo Gallery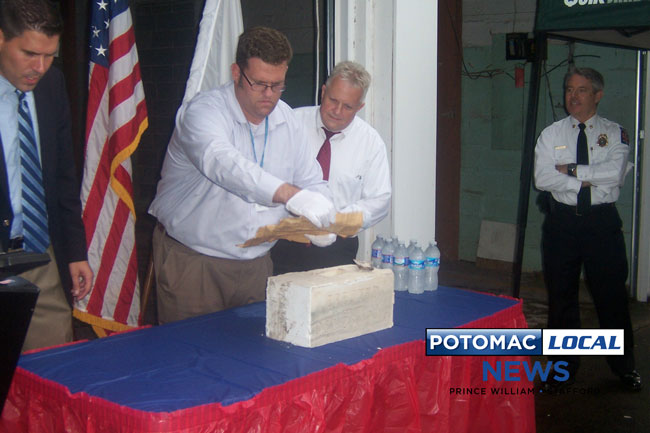 Picture 1 of 6
Prince William County Preservationist Peter Krause, center, gently removes a newspaper from 1946 that was inside the firehouse time capsule. Looking on, from left to right, are Gainesville Supervisor Peter Candland, Haymarket Mayor David Leake, and Prince William Fire and Rescue Chief Kevin McGee. [Leigh Giza / For Potomac Local News]
HAYMARKET, Va. – A box sealed away inside a building for more than 65 years was recovered, and its contents provided a window into a community's past.
About forty people gathered Thursday evening in the driveway of the old Haymarket Firehouse on Washington Street to witness the opening of the contents of a time capsule that were sealed inside the cornerstone of the building in 1946.
The cornerstone was removed from the building and its contents were carefully removed from it by Robert Krause, preservationist for Prince William County's Public Works Department. With gloves on his hands to protect the items, he removed a folded, yellowed front page of the Manassas Messenger newspaper dated October 19, 1946, which featured a short article about the dedication of the building, which took place four days later on October 23. He also took out several coins that were inside the cornerstone.
After the items were removed from the cornerstone, they were placed on a table to allow attendees to get a close look at them. According to Krause, the capsule contents will be curated by the county before they are made available for public viewing, possibly in the Haymarket Museum.
Jeff Saylor, who works for the Buildings and Grounds Division of the county's Public Works department, said it took him and one other person using a concrete saw "the whole day" on Wednesday to extricate the cornerstone in preparation for its removal from the building Thursday evening. He didn't think it would take that long to do, but "it's heavy," he said.
The firehouse was completed in 1947, and it served the community until 1990, when a new one was built at a location about a mile southeast on Va. 55 (John Marshall Highway) in Gainesville. That station serves the Gainesville and Haymarket communities; there is another county fire station north of Haymarket on Va. 55 which serves the Evergreen, Bull Run Mountain and Catharpin communities.
The ceremony was held a month shy of the sixty-seventh anniversary of the cornerstone placement to ensure the contents of the time capsule would be removed before the building is purchased by its new owner. The firehouse is currently in the process of being sold by the county to a private owner who, according to Haymarket Mayor David Leake, plans to use the space to sell wines and cheeses.
Former and current Prince William County firefighters, Prince William Gainesville Supervisor Peter Candland, Haymarket Mayor David Leake, State Delegate Bob Marshall, R-Prince William, Manassas Park, and Prince William Fire and Rescue Chief Kevin McGee all made comments during the ceremony.

One Response to "Fire Station Time Capsule Offers Glimpse into Haymarket's Past" (Leave a Comment)