Local Business Rallies Support for Bi-County Parkway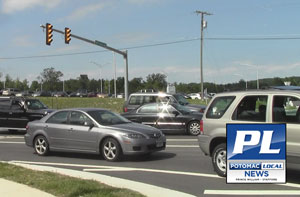 PRINCE WILLIAM COUNTY, Va. – The idea of a Bi-County Parkway in Prince William and Loudoun counties sits well with 107 businesses and organizations.
They, with the help of the Prince William Chamber of Commerce that has been outspoken in their support of a new highway linking Dumfries to Dulles Airport, sent a letter to state officials stating the roadway will bring improved mobility in an ever-growing region, and help attract high-paying jobs to a tech park in Manassas.
"People will come and the consequences will be gridlock on Route 15, Route 234, and Route 28 — the only significant alternatives to traveling north and south — The Bi-County Parkway is essential to achieve your vision the Innovation Technology Park. Access to Dulles Airport will make Innovation more attractive to technology and bioscience companies that want to recruit," said Prince William Chamber Chairman and Apple Federal Credit Union Regional President Bill White.
The letter and White's comments come a week after residents and a group of GOP politicians opposed to the parkway — which would travel the route of Va. 234 in Dumfries to Interstate 66, and then on a new 10-mile stretch of a road through a portion of Manassas Battlefield Park to Dulles Airport — gathered to voice their opposition to the highway.
Opponents claim the roadway will bring increased cargo truck traffic through Prince William County and, per an agreement with the U.S. Park Service and transportation officials, would close a portion of U.S. 29 and Va. 234 that runs inside the Battlefield Park.
The Prince William Chamber maintains a small group of individuals are opposed to the highway, that the plan for a Bi-County Parkway has been on the books since 2001, and that transportation officials are working diligently with homeowners associations to hear their concerns. So far, there has been no response from officials in Richmond to the letter.
Mike Vanderpool at Vanderpool, Frostick, and Nishanian Attorneys supports more study of the roadway and urges residents not to rush to judgement.
"My wife travels extensively, and she is constantly battling her way to Dulles Airport, so, from the perspective of Manassas City residents, a direct route to the airport would be very beneficial," said Vanderpool.
The Bi-County Parkway remains in its infancy and has not yet entered the "design phase." Virginia Transportation Secretary Sean Connaughton said he would like to have an environmental impact study for the roadway completed by the time Gov. Robert F. McDonnell leaves office in January.
Businesses and organizations in support of a Bi-County Parkway
Businesses
Access Point Public Affairs
Apple Federal Credit Union
Appliance Connection
ARGroup
Bennett, Atkinson & Associates, P.C
Bowman Consulting Group
Bridgman Communications, Inc.
Buchanan Partners LLC
C.C. Bartholomew/ Long & Foster Realtors
Cardinal Bank
Communicate By Design
DATA
DBI Architects, Inc.
Dominion
Dewberry
Didlake
DuvallWheeler, LLP
Equinox Investments
Fortessa, Fortessa Tableware Solutions
Guernsey Office Products
Harvest Life Changers Church
HCA Virginia Health System
Heritage Landscape Services
Hubert Construction
I-95 Business Park Management, LLC
Inova Loudoun Hospital
JP Events & Consulting, Kelly Insurance Agency
KT Enterprises Inc.
KT Irrigation
Leesburg Pharmacy
Loudoun Cares
Loudoun Insurance Group, LLC
McLean Insurance Agency
MDA Technologies Group LLC
Mercure Business Park Association
Micron Technology, Inc.
MRP REALTY
MTCI – Management and Training Consultants, Inc.
Nova Medical & Urgent Care
Novant Health
NOVEC – Northern Virginia Electric Cooperative
NVR, Inc
Paciulli, Simmons & Associates, Ltd.
Extraordinary Transitions/Long & Foster REALTORS
Pangle & Associates
QMT Windchimes
R. E. Daffan, Inc.
R.W. Murray Co
REHAU Incorporated
Reston Hospital
Reston Limousine
Rinker Design Associates, P.C.
Road Star Internet
RxAlly, LLC,
S.W. Rodgers Co., Inc.,
Segmental Wall Solutions
Sentara Northern Virginia Medical Center
Sevila Saunders Huddleston & White
South Riding Nurseries
Superior Paving Corporation
Telos, TETRA Corporation
The Lane Construction Corporation
The Peterson Companies
TML – A Xerox Company
Total Development Solutions
U.S. Transactions Corp.
Unanet
Uno Chicago Grill
Vanderpool, Frostick & Nishanian, PC
Veatch Commercial Real Estate
VIKA Incorporated
Virginia Paving Co.
Virginia Sign & Lighting
Volkert, Inc.
Associations
2030 Group
American Concrete Paving Association Mid-Atlantic Chapter
American Council of Engineering Companies-Virginia Chapter
Apartment and Office Building Association of Metropolitan Washington
Associated Builders and Contractors- Virginia Chapter
Clarke-Hook Corporation Committee for Dulles
Dulles South Alliance
Dulles Virginia Association of REALTORS®
Home Builders Association of Virginia
NAIOP Northern Virginia,NAIOP
Commercial Real Estate Development Association
Northern Virginia Association of REALTORS®
Northern Virginia Building Industry Association
Northern Virginia Transportation Alliance
Old Dominion Highway Contractors Association
REALTORS® Association of Prince William
Virginia Asphalt Association
Virginia Association of General Contractors
Virginia Association of REALTORS®
Virginia Transportation Construction Alliance
Virginians for Better Transportation
Washington Airports Task Force
Individuals
Barry Mark, member NVTA Board
Deborah Tompkins Johnson
Pamela Jones, Inc. – Owner
Chambers of commerce
Greater Reston Chamber of Commerce
Dulles Regional Chamber of Commerce
Fairfax County Chamber of Commerce
Greater Springfield Chamber of Commerce
Loudoun County Chamber of Commerce
Prince William Chamber of Commerce

6 Responses to "Local Business Rallies Support for Bi-County Parkway" (Leave a Comment)