No Longer Facing Rules, Being a Role Model, Mom Makes Plans for Free Time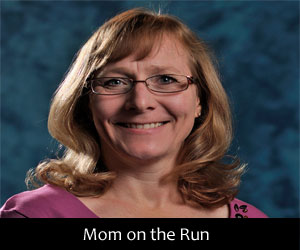 Mom on the Run: The Next Chapter
The text from Christy is out of the blue: "Wanna have dinner w/me tonight? Just u & me, and early (we do have school tmrw)." The message closes with a smiley face.
I stop and think for a minute: tonight? Um … I hadn't planned on it. I've got things to do. My husband isn't home, but there are chores; laundry, and – finally – taking a flamethrower or its chemical equivalent to my son's bathroom. Um ….
Ah, forget it, I think. Cleaning the bathroom, really? Over dinner with Christy? "Yes! I'm in! 6ish?" Woohoo! I grin and do a silly happy dance. So exciting! A spontaneous weeknight girls' night! With Christy, my buddy from the gym who I really only get to talk to while we're sweating it out on the yellow mean elliptical machine, or quickly in the locker room.
Chores, schmores. That bathroom has been filthy for months, another day or two won't hurt it. Right? And I start my planning – what I'm going to wear, what time I should leave. Fantastic!
The only problem with the dinner with Christy, really, is that it's yet another step down the slippery slope. All of a sudden, with my kids both in college and out of the house, my new mantra is, "I can do whatever I want." It was a shocking revelation some months ago, and I've spent the summer applying it, first with tentative baby steps and now more frequently and boldly.
It all started with the newspaper. I've always read the whole newspaper every morning. I start with the front page, work my way through local news, then read the Style section, saving the comics and crossword puzzle for last – mental dessert, after the hearty news fare. One day I was short on time, though, and decided I didn't want to waste my abbreviated breakfast hour on the news. I would hear that on the radio on my commute to work, or check the headlines online. Instead, I just read and enjoyed the Style section and the comics. And lo and behold, the world didn't grind to a halt. Now, shockingly, it's a rare day when I read the whole front page section.
The next step was drinking directly from a carton of milk. I was standing there in the kitchen, nobody was around, and I didn't feel like making the long walk to the cabinet – probably four whole feet! – for a cup just for one swig. And then I was going to have to wash the cup, too. And hardly anybody drinks milk besides me anyway. As long as there's no backwash … I lifted the carton, took my gulp, rescrewed the lid, and put it back in the refrigerator. Nobody ever knew, and nobody got sick. Freedom!
It spiraled down from there. "I can do whatever I want" has meant staying up way past my bedtime to talk to a friend. Completely illogical but ravishingly beautiful blue suede heels arrived in the mail just a few days ago. And I have a mad, deep, and lustful crush on an adorable – adorable! – sporty yellow car. I've always wanted a yellow car, it gets great mileage, I've driven my minivan for 11 years and mostly: I can do whatever I want.
I don't have kids around to answer to or care for anymore. I don't have to be a role model, or eat vegetables, or buy a new winter coat in sensible, match-everything black.
And tonight, I don't have to clean my son's bathroom. I can do whatever I want, and I'm going out. On a schoolnight. See you at six o'clock, Christy!