Pumpkin Frenzy Hits Farmers Market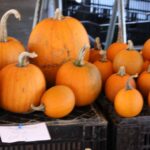 A Fresh Focus
Labor Day has come and passed.  Do you know what this means?  Yes, school is in session again, but that's not all.  Yes, traffic is terrible again, but that's not what I'm talking about either.  
Brace yourself- because it's the time of year that people anticipate for many months. It's pumpkin season.  Starbucks has featured the pumpkin spice latte again, and grocery stores are stocking the shelves with Halloween candy (really, who's buying it this early?). However, consider getting your fall pumpkin fix at the Farmer's Market instead.
Ricks Roasters Coffee Co. has featured a pumpkin iced coffee that is delicious. You can purchase an actual pumpkin from Roberto's Produce to use to make a homemade pie, or to decorate you porch. Soon you'll find pumpkin in some bakery treats at the market.
My first year post-grad, I lived in Spain. While I loved the experience, there was something missing from my fall—pumpkin. What was considered to be pumpkin in Spain is what we know as butternut squash. Not the same, friends, not the same.  When my parents came to visit me that winter, they brought me a can of pumpkin, which I used to make a pie. My Spanish friends had never seen anything like it (but definitely enjoyed it).
So as it turns out, pumpkin is a very American treat.  I learned recently that in the last two years, pumpkin mentions on menus is up 38%.  So show your pride for the great American pumpkin obsession and get your pumpkin fix at the Farmer's Market!