Empty-Nester Grocery Shopping Means Smaller Sizes, No Peanut Butter & Jelly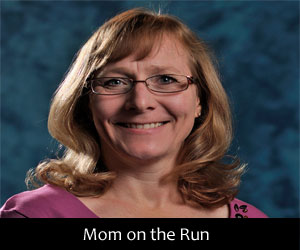 Mom on the Run
I'm in the grocery store, wheeling my cart slowly, slowly down the aisles. Up and down, up and down. If I don't go through the store in the same order, not skipping any aisles, I forget things. I may not remember I need mayonnaise until I'm in the actual condiments aisle, confronted with it. So up and down I go for the whole length of the store, every time.
Today, though, is different. I suspect there are a lot of things I don't need to remember; today I'm shopping for just me and my husband – my first empty-nester shopping trip. With just a few exceptions, annual kids-at-camp weeks, I've shopped for two grown ups and one or two kids for the past 21 years. But now both kids are at college, and that makes today's trip very strange.
I'm half-way through the grocery store already, and my cart isn't even a quarter full. In the produce section I got oranges and bananas for myself, but no grapes for my son or strawberries for my daughter. I bought one russet potato for my husband and one sweet potato for myself, just one of each, not even bothering with a plastic bag.
In the meat section I had to dig for a small package of ground beef. A few years ago, when I generally fed all four of us plus my daughter's boyfriend, I always bought two-pound packages; that's how much it took to make enough tacos or cheeseburgers for everyone. For the last few years, down to one kid, I bought one pound. But today, I figure I'm looking for three-quarters of a pound of hamburger. There isn't one that size, though; the smallest package is just less than a full pound, so I guess we'll have leftovers.
I troll right past the peanut butter and jelly – the partial jars already in the pantry and fridge will last just the two of us quite a long time. Same with salsa, relish, and my stock of canned soup. I don't even need to buy pasta; all we need is a half box, maybe less, per meal. I hesitate, then go ahead and pick up a loaf of bread. Even if we have some at home, it'll probably be stale by now.
It's strange, this empty-nester grocery shopping. It's not depressing or sad, really, I've been thinking about and planning for it for a good while. But it is eye-opening, how large all the cans and packages are, and how frustrating a bag of eight hamburger buns is, because they're just not the same after having been frozen and thawed.
So I wheel slowly, looking for smaller units. Aisle after aisle, nope, don't need this; nope, have plenty of that. For everything I do want, I put the smallest size container in my basket.
Finally I make it to the dairy section, where I stand and look at milk for a good long while. I checked before I left the house, and I still have three unopened half-gallons. It's remarkable; I can't recall the last time I didn't need to buy milk. But I wheel away, no milk in my basket, and record yet another milestone moment.